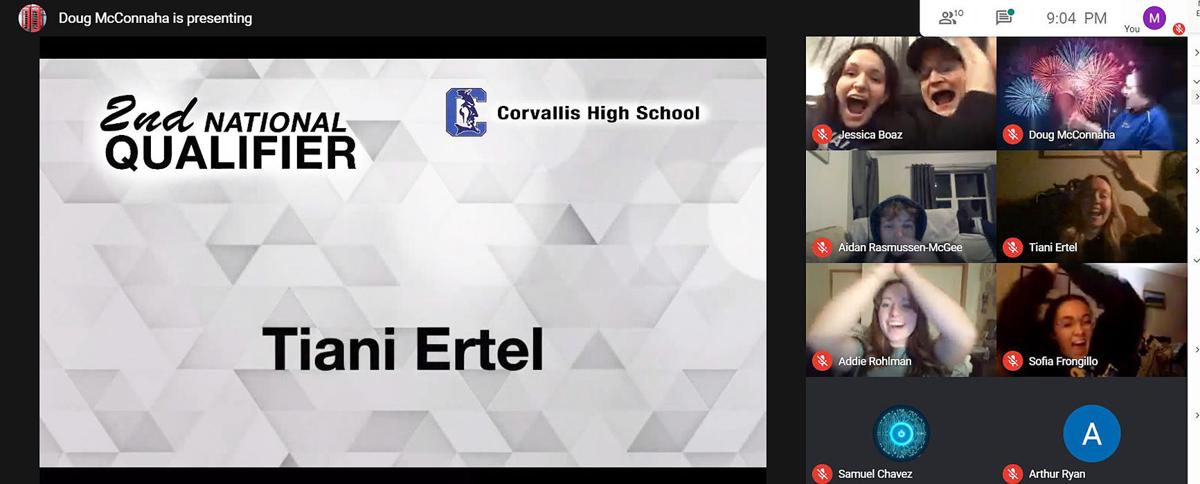 Corvallis High School qualified two students for the national competition in June with the National Speech and Debate Association at the virtual competition this weekend, hosted online by Sentinel High School.
The Western Montana event had 17 schools, eight were Class AA, seven were Class A and two were Class BC.
CHS senior Tiani Ertel placed second in humorous interpretation of literature with a cutting from the play "Arsenic and Old Lace" by Joseph Kesselring and senior Sofia Frongillo placed fifth in dramatic interpretation of literature with a cutting from the performance "Stepping Into the Ring" by Nicole Johnson.
CHS qualified seven alternates to the national competition. Senior Addie Rohlman is first alternate in informative speaking with her speech on "Haunted Places in Montana." Senior Arthur Ryan is second alternate in dramatic interpretation with "The Cask of Amontillado" by Edgar Allan Poe. Senior Jessi Boaz is third alternate in dramatic interpretation with "Diary of a Covid-19 Doctor: 14 Days in a NYC Hospital" by Arghavan Salles. Senior Amaya Jensen is third alternate in oratory. Senior Aidan Rasmussen McGee is fourth alternate in Lincoln-Douglas debate. Juniors Sam Chavez and Jacob Nelson are fourth alternates in duo interpretation of literature.
Corvallis Coach Doug McConnaha said the National Speech and Debate Association provides students a "fantastic opportunity for students from all over the U.S., and several other countries, to come together to compete, to meet and to experience competition at an entirely different level."
"Normally, we would be doing fundraising, reserving airline tickets and hotel rooms, and practicing to compete in unknown venues," McConnaha said. "This year however, we will be focusing on honing the speeches for virtual competition. We are looking forward to how the NDSA organization will create a memorable, yet virtual, national tournament. Either way, in-person or not, it's still the national tournament and we are planning on making a strong showing for Corvallis and Montana."
Stevensville High School qualified three alternates.
A freshman public forum team of Malia Gunterman and Nya Seibert are second alternates and senior Chyenne Vincent is a third alternate in informative.
SHS Head Coach Alex Miller said she is astounded by how well her debate team did this year especially as freshmen holding their own against seniors.
"They're two of the hardest working individuals I have ever met, and they definitely deserve to be alternates for nationals," Miller said. "Secondly, Chyenne has worked so hard on their informative this year, redoing their posters multiple times. They always took their feedback and worked with it. Their effort showed this last weekend, and they accomplished something amazing. I am beyond proud of all three of these individuals."