A Lone Rock area family lost their home to a fast-moving fire early Friday morning.
A search continues for their three dogs frightened away by the fire and sirens.
Three Mile Volunteer Fire Chief Russ Geise said a 12:33 a.m. call reported a house burning east of the Lone Rock School on the Three Mile Creek Road.
"By the time we got there, it was completely engulfed," Geise said.
It appeared the fire started in an addition off the back of the modular home, something Geise said may have allowed the occupant enough time to escape and get the family's three dogs out. It's not clear at this point if a house cat made it outside.
"We tried to deploy lines around the house as quickly as we could," he said. "In those modular homes, everything goes up so fast. Once a fire gets started, it's hard to stop it."
Homeowner Kelly Stalkfleet was in Missoula last night with her two young children. She has a broken leg.
"We lost everything in the fire," Stalkfleet said. "I am just grateful that my father-in-law was able to get out safely. I'm very thankful for that."
Stalkfleet said the three dogs were rescue dogs from Missoula Animal Control. She's had all of them since they were young.
"So far, there have been no sightings of them," Stalkfleet said Saturday afternoon. "I know they'll show up somewhere. Somebody will find them."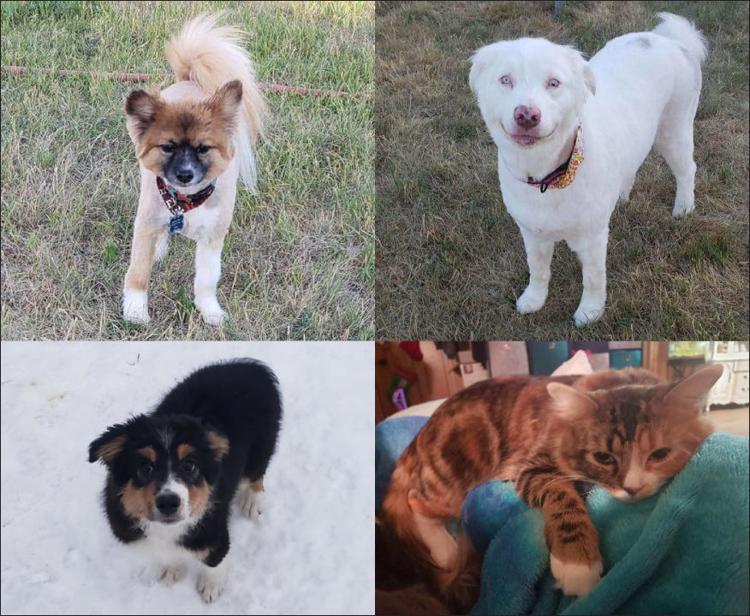 The dogs include a large white Aussie mix named Izzy. She is deaf and mostly blind. There is also a smaller dog named Zippy and a collie-mix called Bernie.
Stalkfleet said nothing was salvageable inside the house.
"There were photo albums in there and my wedding ring," she said. "There are a lot of sentimental things that you can't replace. It's hard to wrap your head around, and then to have my three dogs missing makes it that much harder.
"Right now, I'm not quite sure where to start," Stalkfleet said.
Some neighbors have agreed to help care for a large number of farm animals that Stalkfleet has rescued over the years from shelters in Missoula and Hamilton. They include goats, geese, ducks, chickens, pigeon and pot-bellied pigs.
A GoFundMe site was expected to be set up Friday afternoon.
"I've been amazed at the number of people who have been willing to go out and look for my dogs and offer help to my family," she said. "I'm overwhelmed at how wonderful and amazing people can be."
Get local news delivered to your inbox!
Subscribe to our Daily Headlines newsletter.