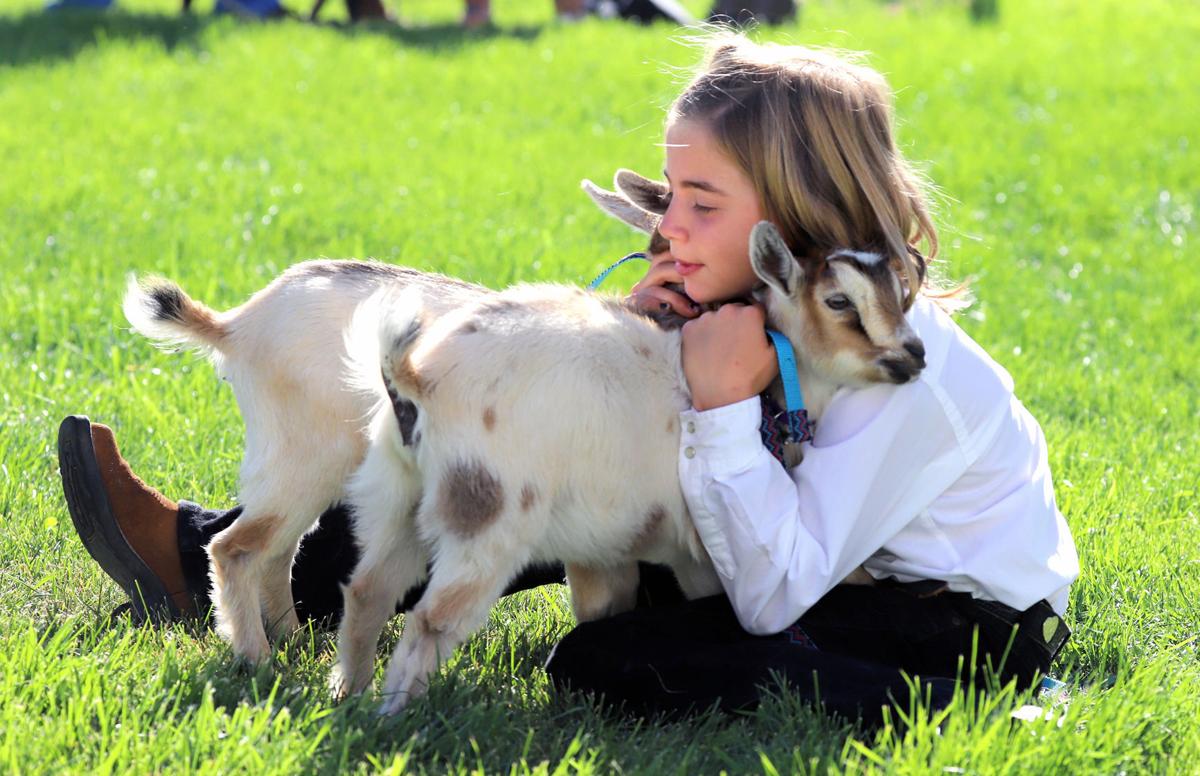 While there won't be a Ravalli County fair this year, all of the hard work put in by 4-H and FFA members hasn't been forgotten.
During the last week of August, many of the youngsters in those two organizations will come to the fairgrounds to show off all their projects in a socially distanced kind of way.
The Ravalli County Extension Office is hosting horse and dog shows, as well as individual interviews for projects that run the gamut from photography to cooking.
And those 170-plus youngsters who have spent the summer raising cattle, sheep, pigs and goats will have the opportunity to make some money in the first-ever virtual sale that will happen over a week starting Tuesday, Sept. 1.
Extension Agent Patrick Mangan said the virtual sale will operate similar to a silent auction. Bidder and sellers will be able to see the current bid on every animal up until the sale ends at noon on Saturday, Sept. 5.
Once potential bidders have registered, they will be able to access the auction platform that will display pages filled photos of the young people posing with their livestock projects. By clicking on one, people will see a couple more photographs, a description of the animal and a short statement from the entrants.
Mangan said the cover photographs will be taken on Aug. 22 and 23 when the young people and their families bring the animals to the fairgrounds to be weighed.
Bidders will have a variety of options. They can place a bid at any time, set a maximum bid on an animal or say up front they want to be part of the resale program that allows local processors to set a floor price and the buyer to donate the remainder to the young person who raised the animal.
"I think this will be a great opportunity for people outside the Hamilton area to participate in the annual sale," Mangan said. "There may be people who have wanted to take part in the past but couldn't be at the fairgrounds on the morning of the auction. There could be people in Nebraska who want to support their grandkids. This is a great platform that will allow more people to participate."
Mangan said the registration process is an easy and one that everyone in the extension office would be happy to help people complete.
"Livestock kids have a big investment of time and money in their projects," Mangan said. "We are hoping for a successful sale. These programs help kids learn all kinds of lessons, some hard, some easy. Right now we're stuck with adaption, learning how to do things in a new way and realigning expectations."
The youngsters raising livestock have had to look at marketing in whole new way due to COVID-19. Instead of just going out and talking to potential buyers, they've learned that it might work better to make a call first to find out what people are most comfortable with.
"All ag markets are changing," he said. "Commodities are being delivered differently right now. These are some interesting lessons that we are getting to apply this year."
While some of the young livestock producers have found different markets for their animals, Mangan said the bulk of 4-H and FFA kids who started in the program this year have stuck with it.
Many of the 431 4-H members in 21 clubs in Ravalli County do something different than raising livestock for sale.
On Friday, Aug. 21 those young people will make their way to the fairgrounds to show their work and complete interviews with community volunteers. 
"They will have their opportunity to go through their thought process and show their projects to a judge," Mangan said. "There will be some special awards presented for high-quality projects."
On Saturday, Aug. 22, another group of 4-H members will bring their canine friends to the fairgrounds for the annual 4-H dog show that features tests in agility, obedience and showmanship. The following Saturday, Aug. 29, horses will be front and center as youngsters show their skills in western and English riding as well as some groundwork.
In a letter to the community, Ravalli County 4-H leaders they hope these efforts will help young people realize possibilities and discover their importance.
"Health, head, hands, community, doing to learn, heart, larger service, clearer thinking, living to serve, and greater loyalty. We say these words as 4-H and FFA members in our mottos and pledges at the start of every meeting," the letter said. "This year we find ourselves living these words, daily. We weigh the impact in our lives and the deeper understanding they convey about who we are, and who we want to be in our communities. This has been a year with many lessons; about adapting, about accepting, and about being resilient in the face of adversity."
Get local news delivered to your inbox!
Subscribe to our Daily Headlines newsletter.