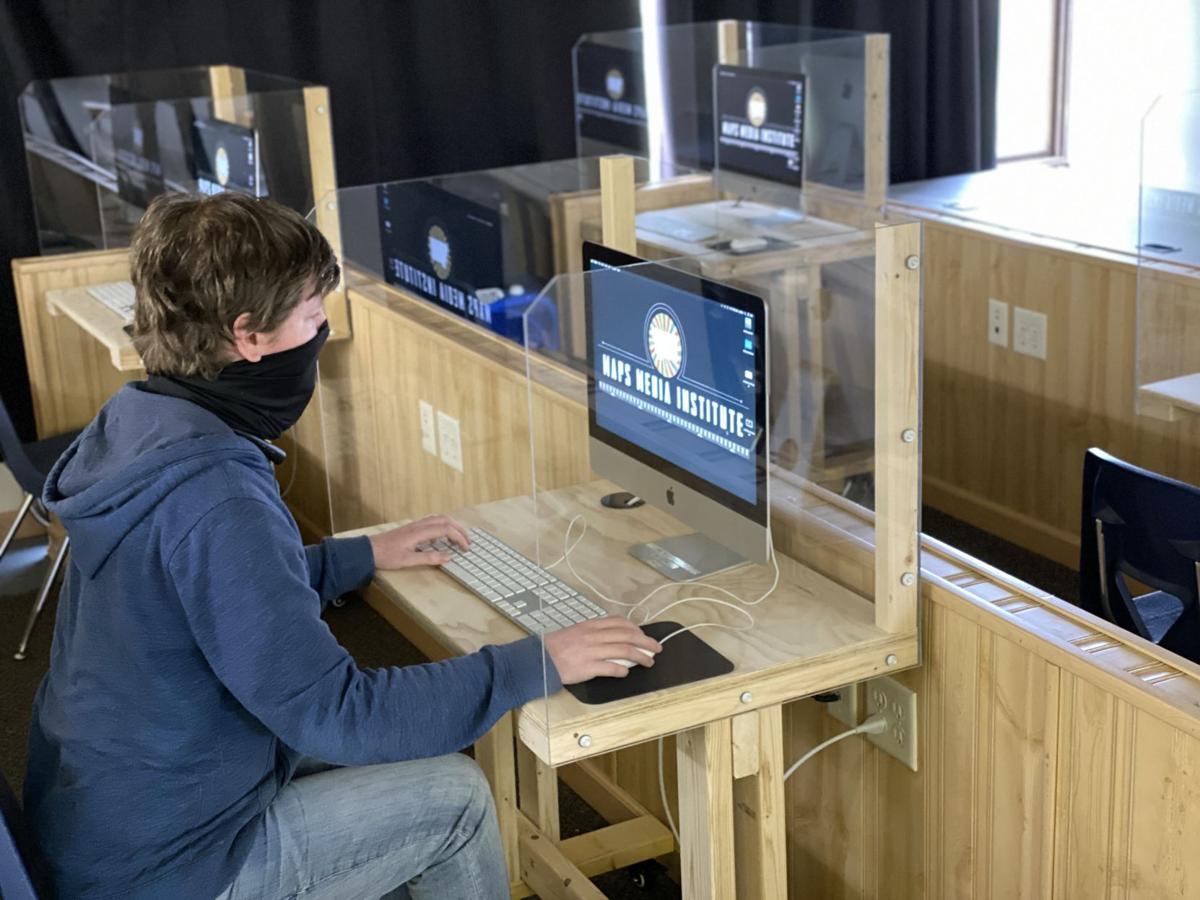 Confronting a global pandemic wasn't part of the MAPS action plan for 2020.
Just a year ago, MAPS Media Institute was celebrating a significant milestone, looking forward to growth in new directions and expanding their award-winning program to students statewide.
2019 marked MAPS 16th year of providing intensive, free-of-charge after-school and summer media-arts classes for 8th to 12th-grade students in Ravalli County. They also added a second, year-round program in Helena through a collaboration with the Holter Museum of Art. Statewide, their educational outreach program, the MAPS Media Lab, was facilitating intentional media arts projects on the Flathead, Blackfeet, Fort Belknap and Fort Peck Reservations – one of which, Browning Rising Voices, won the National Student production Award from the Academy of Television Arts and Sciences.
A 2017 award from the National Arts and Humanities Youth Programs (NAHYP), honoring MAPS as one of the top twelve creative youth development programs in the county, was proving to be well placed.
And then everything stopped.
Or rather, everything paused.
"In mid-March, our initial actions were to keep our students safely connected," said Executive Director Clare Ann Harff. "Last spring was a tremendously disorienting time for everybody. We wanted to provide students with something familiar, something they could continue to count on. Our incredible team of artists saw the wild, unpredictable circumstances of a global pandemic as a challenge to deliver the most dynamic, engaging and professional online learning experience possible."
As a media arts organization, MAPS was already well situated to engage with students remotely. Classes continued to the end of the academic year via video conferencing, and the MAPS team set to work developing a new, interactive website with modified curriculums to best accommodate remote learning. MAPS also invested in a fleet of iPads for all students to have equal access to the necessary technology to actively participate in classes.
The mission of MAPS is "to empower, inspire and prepare Montana's next generation for future success through professional media arts instruction, engaged community service and compassionate mentoring", giving young people the tools they'll need to succeed in the 21st century. The current public health crisis gives re-invigorated meaning to that goal, according to Harff.
"Montana's students have powerful stories to share, and those stories aren't put on hold during a pandemic. If anything, they become more urgent, and the need to share them is as crucial as ever." After a successful 8-week online summer program of weeklong crash course intensives, the MAPS team spent the rest of the summer readying the studios at the Hamilton headquarters for re-opening to Ravalli County students.
MAPS' 17th year will look a little different from years previous, as Harff explained. Enrollment is no longer open throughout the year. Rather, students are now required to enroll separately for each class, which are scheduled in three, ten-week sessions and the class size is limited to 10 students, with waiting lists maintained. All students will be required to attend a virtual or phone orientation, along with a parent or guardian before entering MAPS studios to review Health and Safety protocols and discuss MAPS planning in the event of building closure and the switch to remote classes.
Program Director, Caitlin Coss Shay explains: "Through an incredibly generous donation from Don's Home Center and supportive rent relief from our landlord, St. Francis of Assisi Caatholic Church, we built 45 custom desks with plexiglass shields for computers, added a third classroom, invested in additional HEPA air filters, and other PPE type equipment. It's been six months since the building closed to the public and we are ready to open our studio doors at last!"
Everyone is invited to check the new studio website, mapsmediastudio.com. While the majority of this site is only accessible to enrolled students, anyone can check out class overviews and learn more about our statewide programming - both online and remote. Returning Ravalli County students will find this part familiar, with classes in Music, Technology, Design, and Film taught by the accomplished quintet of Cove Jasmin, John Springer, Justin Lewis, Caitlin Coss Shay, and Dru Carr. Classes will be in person, and if needed, will seamlessly shift to interactive remote learning. "At its core, MAPS teaches communication skills to help students express themselves more articulately and effectively. Together, the MAPS team of professional artist educators help our students find their voices in a newly-distanced world," said Harff. "In this way, their work moves us all towards a hopeful future."
Get local news delivered to your inbox!
Subscribe to our Daily Headlines newsletter.