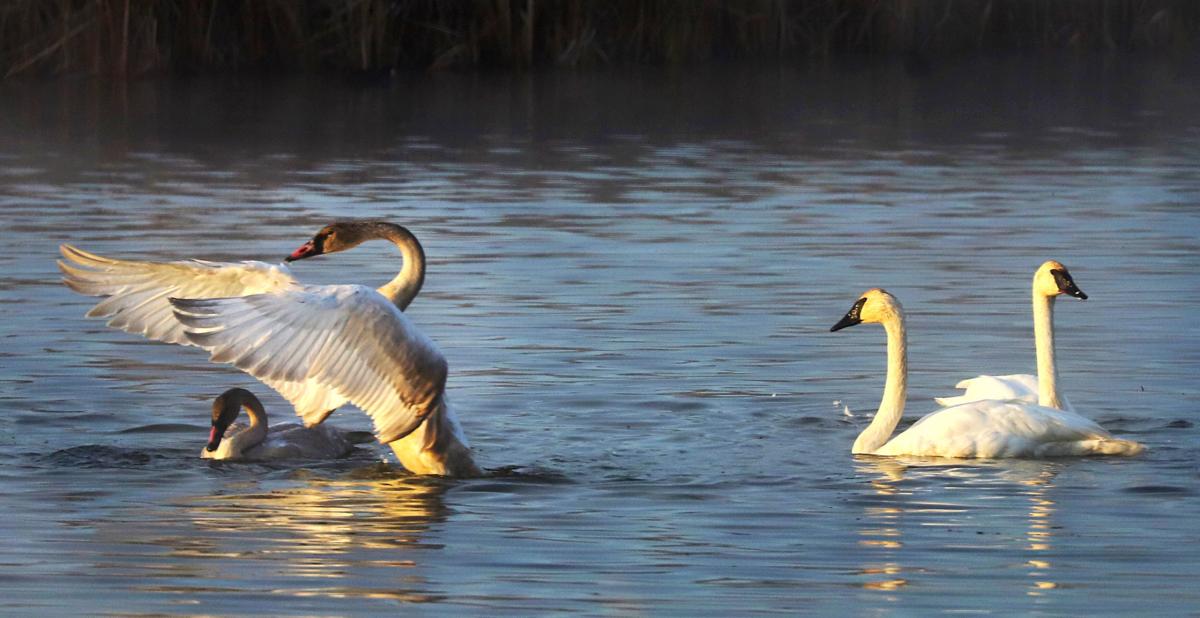 For the second year in a row, the Lee Metcalf National Wildlife Refuge has a brood of trumpeter swan cygnets.
The refuge's manager, Tom Reed, said they were first spotted Sunday.
Reed saw what appeared to be three cygnets Wednesday. They were near the same muskrat lodge a pair of trumpeter swans used last year to hatch the first documented wild trumpeter swan cygnets in the Bitterroot since restoration efforts began decades ago to bring the birds back from the brink of extinction in the lower 48 states.
Reed thinks it may be the same pair that reared last year's cygnets, which remained at the refuge through the winter and into spring.
Last year's cygnets haven't been seen over the last few weeks. Reed thinks their parents may have encouraged them to leave as they prepared their courtship that led to this year's brood.
"If that's what has happened, it's a glorious thing," Reed said.
It would mean that a wild trumpeter swan breeding cycle has started at the refuge, which could lead to years of new cygnets at the popular refuge just north of Stevensville.
Last year, once the cygnets grew a bit, the trumpeter swan family was a common sight in the ponds along Wildfowl Lane that goes through the heart of the refuge.
"People watched them all winter," Reed said. "They were very protective of them, which was wonderful."
This week's cold rain that settled over the valley is a concern for the newly hatched cygnets.
"It's really the worst thing that you can have for any kind of broods," Reed said. "Right now, there are babies everywhere. We'll have to see how they do with this weather."
Reed said he didn't see the young swans Wednesday.
"I think that's a good thing," he said. "Their parents probably have them hunkered down somewhere in the cattails."
The trumpeter swans nested in a remote piece of the refuge.
Since he first spotted them at the nest site, Reed has been working to keep the water levels steady to ensure that they didn't get washed away.
Trumpeter swans can live well into their 30s. The hope is that cygnets reared at the refuge will return someday to the Bitterroot Valley to raise their own broods. The swans can grow to be 6 feet long with a wingspan that can top 10 feet.
Get local news delivered to your inbox!
Subscribe to our Daily Headlines newsletter.