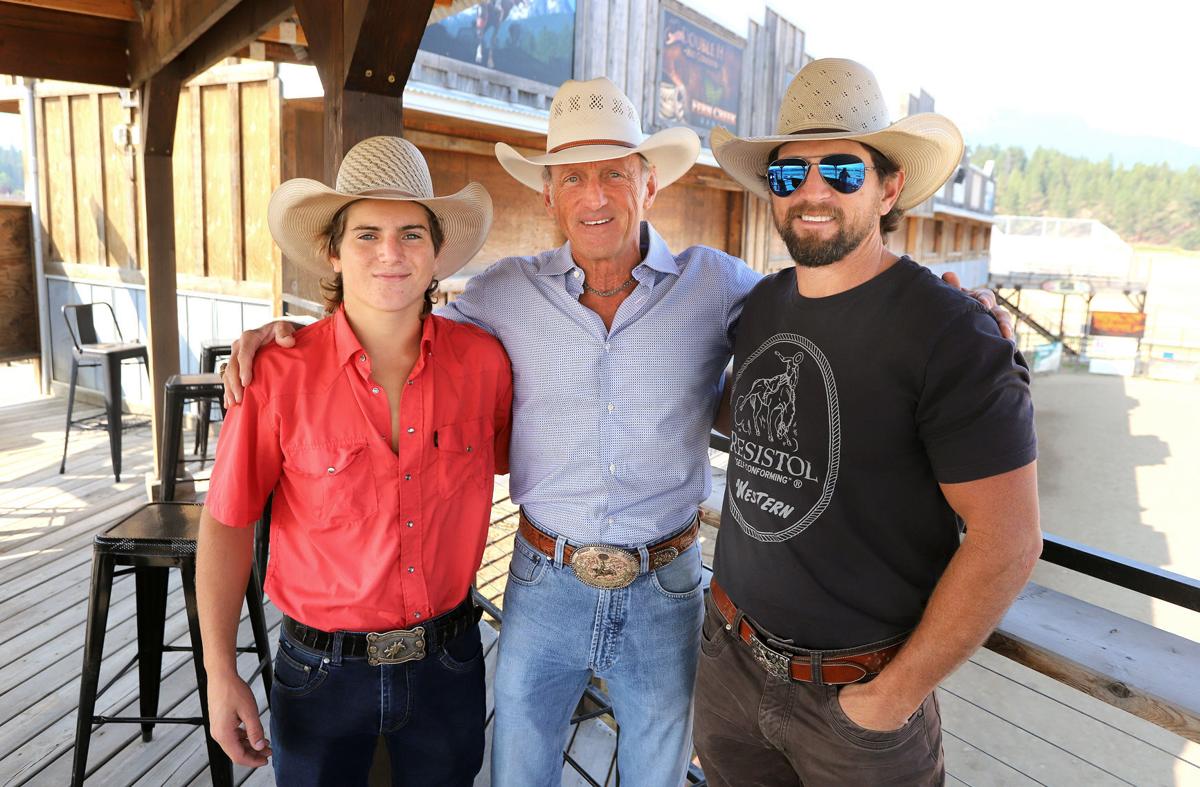 A phone call and a handshake.
That's what it took to bring the best bareback riders in the world to the Darby Rodeo Arena on Labor Day.
The first annual "Yellowstone Riggin' Rally" will invite the top 24 bareback riders in the country to the small town arena for a chance to compete against the best of the best.
Bobby Steiner has no doubt they'll come.
"The best of the best bareback riders don't get a chance to be gathered all in one place very often," said Steiner. "There will be people coming here who are on the bubble. Right now, we don't even know for certain who's going to make the cut."
Every one of them is vying for a chance to be one of the top 15 who will earn a chance to ride at the national finals. Steiner said there could be folks sitting in that 22nd or 23rd spot who will come to Darby and earn enough to propel them into the finals.
"Some of these guys are going to be laying it on the line out here," Steiner said. "Over the last few weeks, they've been going everywhere there's a rodeo so they can try to qualify."
The idea of putting on a world-class rodeo at the Darby arena has been rumbling around inside Bobby Steiner's mind since the first day that he happened by the arena years ago.
"I don't know of any place in the world that has a better backdrop than this," Steiner said. "It's as cowboy as cowboy gets. They've put something together here that's very unique."
Steiner traces his love for Montana back to the 1970s when he was making his run toward a world championship bull riding buckle. He earned that title in 1973 at the age of 21.
"When you're traveling like that, you go from arena to arena with blinders on without having a chance to smell the roses," Steiner said. "But when I came past Lolo, I saw one of those places that I knew I would never forget. It was one of those few places where the blinders came off."
That happened the first time he saw the Bitterroot Valley as he traveled from a rodeo in Missoula to one in Hamilton.
Steiner and his son, Sid, now have places in the Bitterroot.
Following in his father's footsteps, Sid won the world championship title in steer wrestling in 2002. Sid's 16-year-old son, Rocker, is already turning heads for his ability to ride bareback broncs.
This week the three gathered at the Darby Rodeo Arena with its longtime organizer, Cal Ruark, to talk about the logistics of putting on a world-class event that will be filmed by the Cowboy Channel and watched by the cast of the popular television series, "Yellowstone."
Like just about everything this spring, the coronavirus pandemic created challenges for those in the world of rodeo. In May, the Steiners put together an event for bareback riders at their ranch near Austin, Texas.
That first "riggin' rally" was successful enough to catch the eye of national sponsors and others in the rodeo world.
"Everyone grabs their riggin' and comes on over," Sid Steiner said. "It's like a Harley rally. They have their motorcycles, and we have our riggin'."
Bareback riders don't use a saddle or rein. Instead, they cinch on a rigging made of leather and a rawhide composite piece that's sometimes compared to a suitcase handle. The rigging is placed just behind the horse's wither.
If everything goes right, the rider leans back and spurs with an up and down motion in rhythm with the motion of the jumping horse.
What's it feel like to come flying out of the chute atop a bucking bronc?
"It's kind of like sticking your hand in a suitcase, throwing the suitcase on a train and then driving the train off a cliff while someone beats you with a bat," Rocker Steiner said.
Already a champion wakeboarder, Rocker Steiner said his first experience at 13 riding a bronc was "awful." The horse came out of the chute walking and then it pitched him onto the hardest part of the arena.
"I just wanted to do it again," Rocker said. "I don't know why, but I did."
After riding bulls, Bobby Steiner said he thought it would be easy to ride a horse bareback when he decided to give it a try years ago.
"It was like they put me in a barrel and rolled me off the top of that mountain," he said. "It's so much more intense. Bull riding is a balance game. Bareback riding is totally different. It's extremely violent. You have to stay ahead of that animal all the time or you will be darted into the arena. It requires a more all-out effort."
The idea of creating the first PRCA-sanctioned Riggin' Rally in Darby came following a chance meeting between Bobby Steiner and Ruark.
Steiner was looking for a place for his grandson to practice his bareback riding. Ruark was more than happy to say yes to a member of the legendary Steiner family.
Once they started talking, things just started falling in place.
"I've come by this arena hundreds of times," Steiner said. "I've brought people here to take a look at it. Here's this town that was doing such a good thing … I think it's a tribute to Cal and his bunch. The only thing that I think they're going to need is some more bleachers."
"I think next year, it's going to be hard to get a ticket," he said. "When people come out and see what this event is all about, they're going to want to come back."
"It's like a field of dreams. If you build it, they will come. There won't be any of the top-ranked bareback riders who won't want to be here."
The word about the upcoming rodeo has already started to spread. All of the reserved seating has already been sold.
The gates will open for the Yellowstone Riggin' Rally at 4 p.m. on Labor Day, Sept. 7. The rodeo gets underway at 6 p.m. Tickets are on sale at Murdoch's, Darby's Wine and Spirits and 406saloon.com. Advance tickets are $25 and $30 at the gate.
"I feel really fortunate to be part of all of this," Ruark said. "This family has so much savvy about rodeo. The one thing that I feel really good about is Bobby told me right up front that he didn't want to come in and take over the town. He wanted all of us to be part of it. That's exactly what's happened."
"He talks the talk and walks the walk," Ruark said.
"I knew that we had something special here, and we just needed the right combination for everything to come together," he said. "It's been a dream and now it's finally happened."
Get local news delivered to your inbox!
Subscribe to our Daily Headlines newsletter.