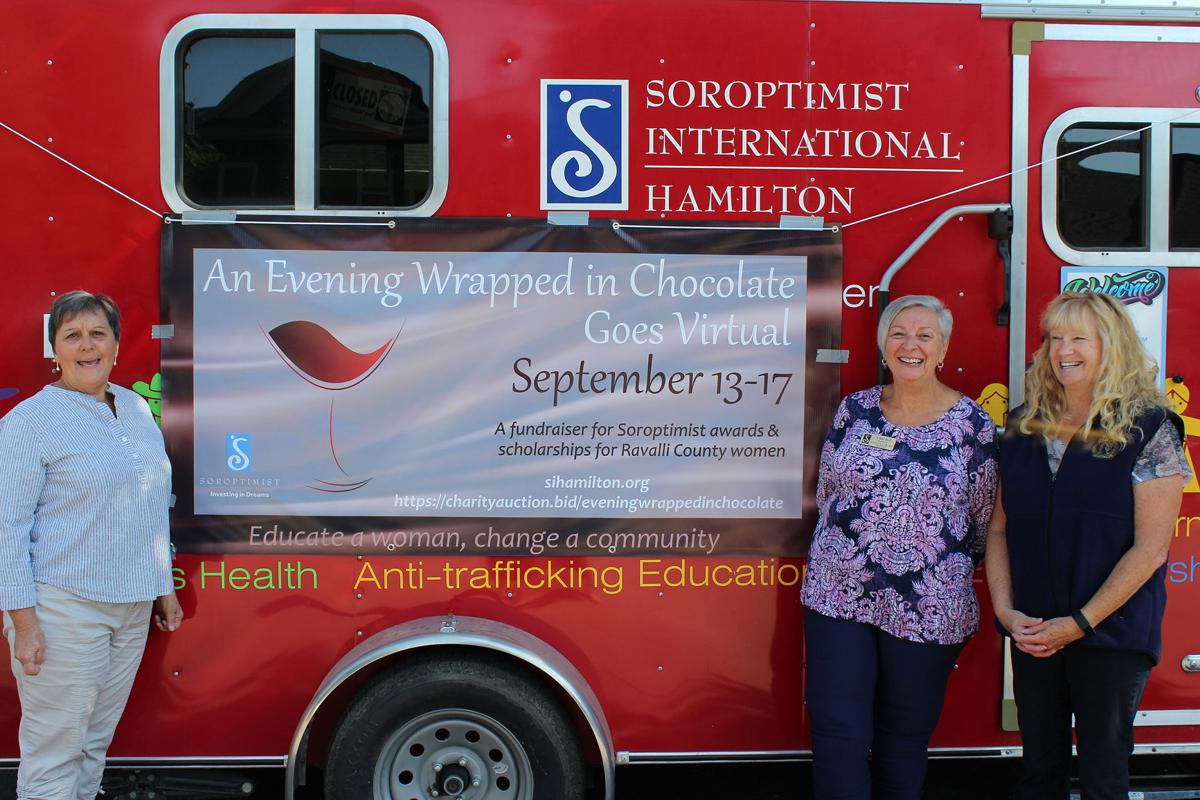 Soroptimists International of Hamilton is hosting a virtual fundraiser online auction Sept. 13–17 called an "Evening Wrapped in Chocolate" for scholarships and awards for women and girls in the community.
The virtual event is hosted at the Daly Mansion by Hamilton SI President Teri Polumsky and Hamilton Mayor Dominic Farrenkopf. The online show has auction items to bid on, testimonials by members and powerful short videos from previous scholarships recipients.
SI member Mary Lyn said the club members feel a true connection to each award winner.
"Education is the best way to empower women and our scholarships are designed to help women on a very personal level," Lyn said.
Bidding starts at 9 a.m. on Sunday, Sept. 13, and ends at 10 p.m. on Thursday, Sept.17. The online catalog has gift certificates, staycations like glamping, gorgeous jewelry, great art, fine spirits, hostess gifts, scrumptious baked goods and plenty of chocolate.
The virtual fundraiser is online at https://charityauction.bid/eveningwrappedinchocolate and you can see auction items like the commemorative Jim Beam whiskey decanter from Ken Bell's collection and the staycation of two nights glamping. Go to the site to register, then bid on over 100 auction items, fund a need and join the wine pull.
The Evening Wrapped in Chocolate is the fourth annual scholarship fundraiser and the proceeds from this event are used exclusively for scholarships. This year's goal is $20,000 to fund the 20 different scholarships, all designed to empower women and girls.
"We are so proud of each of our awardees," Polumsky said. "Many have overcome dire circumstances in their quest for education and each of these women and girls has a story to tell, oftentimes the story is one that is difficult. All of our awardees are success stories — each one is working to reach out and live their dream and we are so happy to be able to help in that quest."
Polumsky said that often award winners finish their education and become members of Soroptimists International.
"We often hear from award winners as they are on their path to a better life and the members of our club are always here to provide encouragement," she said. So, whether you give $1000 or $5, every donation helps. "Its value will be multiplied many times over as it is used to empower women who are striving to better their lives."
Soroptimists International of Hamilton was chartered on June 14, 1974, and has been helping women ever since. SI started a domestic abuse shelter — Supporters Of Abuse-Free Environments (SAFE in the Bitterroot), members manned crisis lines, set funds in place to give all women access to mammograms. SI reached beyond America to meet needs of educating and improving the lives of women globally. The Friends Afar project supported school with supplies, purchased stovepipes and ventilation for village huts (most of the women in a village suffered with blindness at an early age due to constant smoke from cooking fires).
Soroptimists of Hamilton supports many local efforts from the Literacy Program to Genesis House, but the main focus is on education. SI strives to build a culture of community service by having granting scholarships to high school girls who are actively providing service to their communities.
"I love our scholarship programs because we provide real help to women who may not have access to other scholarships," Polumsky said. "We empower women, we provide opportunity, we encourage our award winners and our scholarship winners inspire us. They persevere through difficult circumstances and most importantly, they live their dream!"
Watch the Soroptimists International of Hamilton's virtual fundraiser online auction, Sept. 13–17, and hear about Empowerment from Mary Lyn, Opportunity from Kathleen O'Leary, Encouragement from Meri Teline, Inspiration from Brandi Stewart, Perseverance from Bridget and Live your Dream from Sue Allen Segment.
Bid, donate, meet a need and continue the mission of empowering women by the Soroptimists International of Hamilton.
"We will continue to provide opportunity, encouragement, inspiration and help women persevere in their efforts to live their dream," Polumsky said.
Event organizer Patti Martin said the easiest way to reach the online event is sihamilton.org and click on the invite. She encouraged everyone to "bid early and often," adding that people could plan ahead and experience the joy of early holiday shopping.
"Help a woman get a scholarship," Martin said.
Member Vikki Bell said was a non-traditional student, going back to college at age 45 so she knows the value of assistance.
"I know our grants and scholarships are very helpful for people diving back in education," Bell said.
Get local news delivered to your inbox!
Subscribe to our Daily Headlines newsletter.