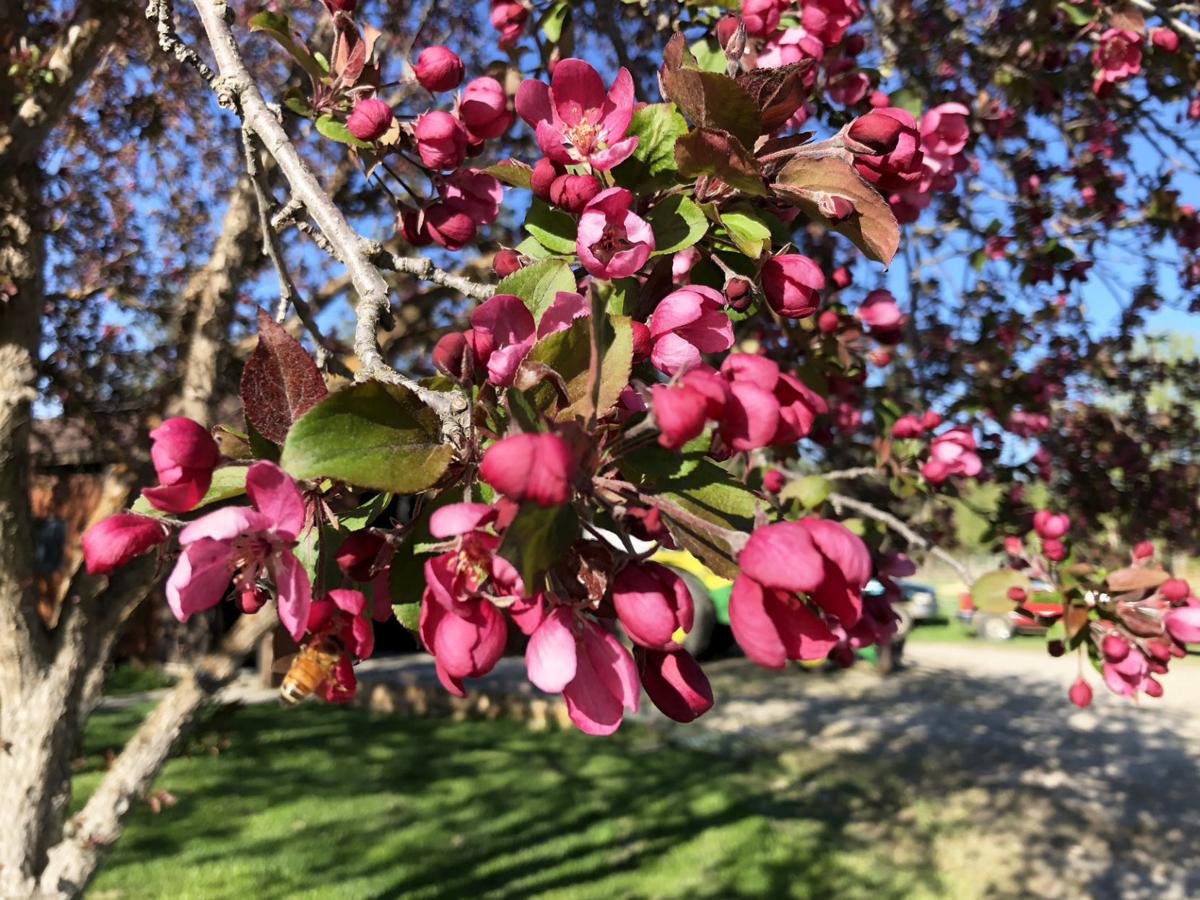 Spring is a time of great anticipation and excitement in gardening and world of trees. As ground plants begin to grow quickly, trees break bud and leaf out, and then begin to flower in a riot of color. The newly emerged foliage seems to have an especially bright green glow in the spring sun.
Soon after the leaves emerge, so do some of the pests and pathogens that can cause us headaches for the rest of the spring and into the summer. Here are a couple of things to be on the lookout for this early part of spring, and if we need to take some action, then how we can go about that.
Apple trees:
Our apple trees are in full bloom right now, and what a show they put on. You may see some differentiation in flower bud development as a result of some of the frosty nights we had while the buds were swelling. You may also see some browning leaf margins or branch ends due to some of the frosts we had while the trees were opening their buds.
The adult codling moths have begun emerging and flying through our orchards. In Stevensville, adult codling moth biofix occurred on Saturday, May 16. It is important to note here, it is not yet time to begin control sprays for codling moth. Don't spray fruit trees, or any tree when they are in full bloom. The developing codling moth eggs will accumulate heat units and be ready to hatch sometime a couple of weeks from now. Be sure to get onto the codling moth alert call list and email list at the Ravalli County Extension office, which will alert everyone when the window for control is opening and the hatch is beginning.
This spring is setting up to have conditions that can foster and encourage the development of fire blight in apples and pears. Fire blight is most active in times when precipitation and moisture combine with warm air temperatures during the bloom time. We have those conditions converging this year. As the spring proceeds, be on the lookout for the branch ends dying off, curling over and blackening. Those symptoms can be a sign of a fire blight infection. If you see fire blight developing on your fruit tree, be aggressive about pruning the infection out as early as you see it. Cut off the infected branch 18 to 24 inches above the infected foliage, into clean wood that isn't showing symptoms. Sanitize your tools as you prune.
Other fruit trees:
Many of our other fruit trees are not facing much for pests as of yet. Aphid populations will soon be on the rise, and will show up on peach, plum, and cherry. Aphids have several natural predators out in the environment, so you may choose no action, and observe the aphid lions and other predators as they get to work eating the aphids. Aphids are also easily controlled by insecticidal soap or Neem oil treatments, be sure to get the soap or oil on the underside of leaves, where aphids tend to live.
Pear slugs, or sawfly larvae, may also make an appearance sometime soon on pears and other trees. They will eat leaf material and can skeletonize leaves. Spinosad, Neem, or other light touch insecticides will control persistent populations of pear slugs.
Conifers:
If you have spruce trees that are affected by the white pine weevil, and lose their leader in the summer, then now is the time to employ control spray measures to protect the new leader of the spruce tree. Several different types of insecticide are suitable for control, and spray only the top whorl of branches and the leader in the control of white pine weevil.
Cedar-apple rust is making an appearance on juniper trees this year at this time. The orange, gelatinous fungal fruiting body kind of looks like an alien, but it's just a fungus. Soon that fruit body will release spores, which can land on the foliage of the co-host of this fungus, apple trees. No control is needed on your juniper tree for this fungus, it will soon dry up and disappear. Cosmetic pruning is a possibility, but be thoughtful about the end result and appearance of the juniper after you prune away infected branches.
Pine Western gall rusts are also more active this time of the year, looking swollen and orange, getting ready to spread spores. These are galls that we can prune out for cosmetic reasons if we want to, and if we can reach them, but otherwise there's no control to do.
The spring is early yet and there are plenty of growing days ahead of us. The window for controlling codling moth will open in a couple of weeks, but certainly not yet. Until then, enjoy the walks in the garden and around trees, keep an eye out for some of the early pests, and enjoy the lengthening days and warming temperatures out in the yard.
Get local news delivered to your inbox!
Subscribe to our Daily Headlines newsletter.