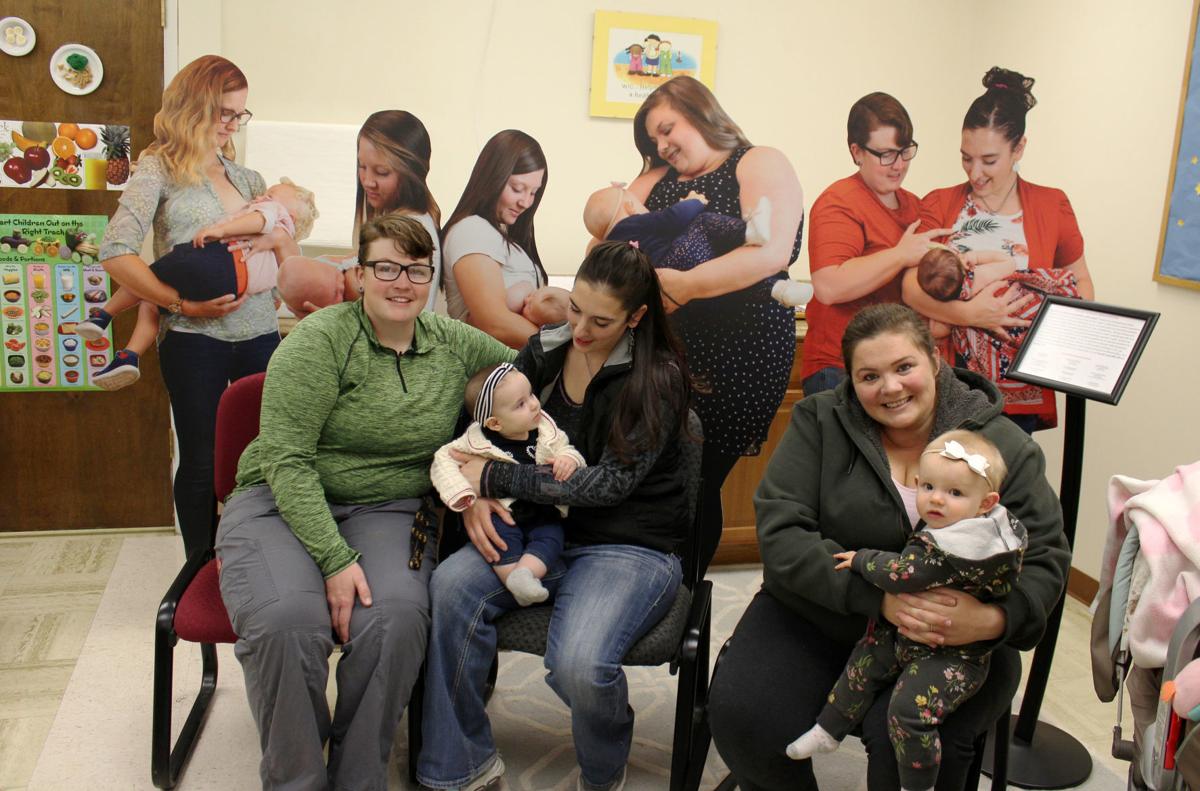 Ravalli County Women Infants and Children (WIC) has produced life-size photo cutouts of moms breastfeeding their infants to help educate the community about breastfeeding in public.
WIC will host an open house on Nov. 5.
WIC Director Teresa Messerman said her office is hosting the "unveiling/open house" to introduce the community to the project, then will make the cutouts available to various groups for relevant community events.
"Breastfeeding is an investment in public and community health," Messerman said. "The American Academy of Pediatrics views breastfeeding as a public health issue and not a lifestyle choice. We are excited about the possibilities this project has in generating important conversations in our community."
The "Bitterroot Breastfeeds" mobile exhibit features life-size photographs of local breastfeeding families who volunteered their time and their images to celebrate and "normalize" breastfeeding.
Participants include: Bridget Neff with son Liam Potter, Brina Toney and son Sterling Mefford, Tanni Morris and son Ryker Morris, Crystal Cupp and her daughter Amelia Whitman, and Miranda and Amber Martin and baby Marley Martin.
Crystal Cupp has five children, one at college, three attending Hamilton Middle School and baby Amelia.
Cupp said breastfeeding is important.
"There is always a sigma tied to it but hopefully this will bring awareness to it, that it is OK," she said. "That's scientifically, what your body is for — to breastfeed your baby. There is a 12-year gap from last time I did this and doing it all over again did have challenges."
Cupp consulted with a breastfeeding expert weekly at the beginning with Amelia.
"I just had questions," she said. "Doing it all over again is a little scary and it is nice to have support. I make it a point not to breastfeed in public unless I absolutely have to. I haven't had any backlash, so that has been nice."
Miranda and Amber Martin are partners with baby Marley Martin and six other children.
Amber Martin said she is happy to participate in the project.
"I'm extremely honored to do it," she said.
Breastfeeding" is a wonderful, natural thing," Miranda Martin said. "Unfortunately, there are lot of people who don't think it is."
The couple said they have many friends and acquaintance who won't breastfeed.
"They are so scared to be victimized by it," Amber Martin said. "One of our friends stopped after five weeks because she felt so awkward doing it in public. People were just staring at her or telling her not to do it. I've had it happen to me twice. People say you should do it behind closed doors or in the bathroom."
"But we don't eat in the bathroom," Miranda Martin said. "Do you want to eat in the bathroom? No, that's gross. Sometimes you have to help with your hands and the bathroom is full of germs."
Amber Martin said breastfeeding is, "such a beautiful, natural thing but some people don't see it as good."
Miranda Martin said people have the option of not looking if it bothers them.
The couple is eager to have the cutouts around the community.
"I think it will give new moms courage," Amber Martin said. Breastfed babies have less constipation, they throw up less and have better sleeping habits. "I belong to a breastfeeding support group and if more women were involved, they would breastfeed," she said.
"Our community should be our support system and our influence," Miranda Martin said. "If there was a community effort it might be felt as more natural."
Montana ranks first in the nation for exclusive breastfeeding at 3 months and 6 months, but there is still a stigma that may discourage comfortable and uncomplicated breastfeeding, especially in public. Montana law (50-19-501) protects a woman and infant's right to breastfeed anywhere they are otherwise permitted to be, with or without use of a cover.
Messerman said that for families embarking on their own breastfeeding journey, community support and normalizing breastfeeding can make an incredible difference in the duration and ease of breastfeeding.
The life-size photo displays were made possible, in part, by a grant from the Montana State Breastfeeding Coalition, and they were modeled after similar projects in Missoula (2018) and Butte and Billings (2017).
The open house will honor the models, the photographer and the collaboration between WIC, Public Health and Marcus Daly Memorial Hospital.
Photographer Craig Messerman said the photo shoot with the mothers and babies, "went great and was a lot of fun."
"I think we all feel that it's an important message to get out there to make breastfeeding as socially acceptable as possible and these women really wanted to help," he said. "I'm very happy with the results."
Attend the Ravalli County WIC "unveiling/open house" from 4-6 p.m. on Tuesday, Nov. 5, in the Ravalli County WIC office, 205 Bedford St. Suites P and L, in Hamilton. To host the "Bitterroot Breastfeeds" mobile exhibit, contact the WIC office at 406-802-7180.
Get local news delivered to your inbox!
Subscribe to our Daily Headlines newsletter.