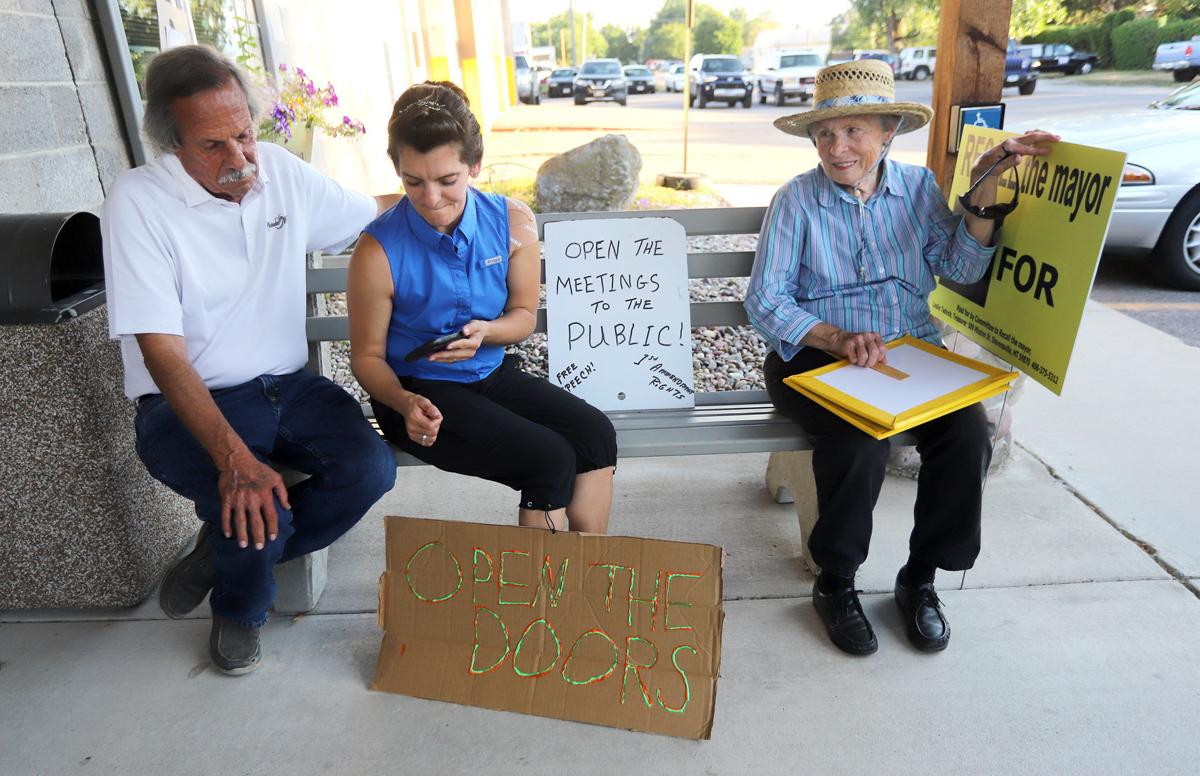 Worried that their voices aren't being heard in town affairs, a group of protesters took to the streets Thursday night in Stevensville to air their grievances in a very public way.
Holding placards calling for free speech and open doors, about two dozen residents of the town marched through downtown in hopes of drawing attention to what they say is an effort by Mayor Brandon Dewey to lock the public out of participating in local government.
On Friday, Dewey said his administration was doing everything in its power to provide people with a variety of means to offer input on town businesses at a time when many don't feel safe meeting in person due to the pandemic.
"This has certainly been a difficult thing to respond to for all of us," Dewey said. "We are doing the best we can in a definitely no-win situation that we have here."
Already embroiled in controversy on numerous fronts — including a recall election for Dewey in November — the council's decision to begin meeting remotely in July as COVID-19 cases increased in the Bitterroot Valley has added to the stir.
Former council member Stacy Barker said the mayor hasn't allowed some people to offer input and failed to read comments into the record.
"The public has not been able to voice their opinion," Barker said. "People are wondering what's happening to our town. I think he is afraid to meet with the public. People want to voice their opinions on what's happening in Stevensville."
Barker said people are concerned about a lack of public input in the recently completed budget process that included doubling the mayor's salary to $2,000 a month. Barker said the mayor's vote broke a 2-2 tie to pass the budget.
People are also worried they might not be able to participate in the upcoming hearings on a major subdivision proposed for the east side of town.
Former council president Steve Gibson said there was a good mix of people at the protest, including some who have not been involved in town politics before.
The issue of public participation in local government is one that's important to people of all walks of life, Gibson said.
"This isn't an issue that's related to COVID," Gibson said. "We can understand all of that. This is an issue of public participation … He's closing that off to people. The public is not being allowed to participate."
Gibson served two terms in the Montana Legislature, including a stint as vice chair of the appropriation committee. Before that, he served as the Montana Juvenile Corrections director with a budget of $23 million and 200 employees.
"I've never seen anything like this in my life," Gibson said. "It's sad. Stevensville is a great little town, but it feels like it's being destroyed."
On Friday, Dewey said he thinks that some of the people protesting are more interested in having a debate than expressing input that would be helpful for the council's decision-making process.
Virtual meetings have removed the opportunity for members of the public to stand at the podium and point their fingers at local government officials, Dewey said.
"This situation is what it is," he said.
Dewey said his salary increase was proposed by the council. He said he voted to break the tie because he didn't want the town's budget held up.
"It's no secret that, coming in, I did believe the mayor's salary was too low considering the amount of work that's required," he said.
Dewey said the town has addressed the issue of gathering community input on the proposed 137-lot Burnt Fork Estates subdivision by adding two more hearing dates than what's required by state law. He hopes the situation with the coronavirus in the county will allow those meetings that start Sept. 10 to be held in a public place.
Dewey said he understands that some people don't like virtual meetings. At the same time, he knows others won't attend a public meeting due to the pandemic.
Dewey said he knows that he's in a situation where he can't please everyone.
"No matter what, I'm going to upset half of the people in this community," he said. "Half of them want to do it virtually. Half of them want to do it in person. Half want to wear masks, half don't. Half want to social distance, half don't."
"There's no win," Dewey said. "No matter what, I'm the bad guy…It's hard to find middle ground here."
Get local news delivered to your inbox!
Subscribe to our Daily Headlines newsletter.