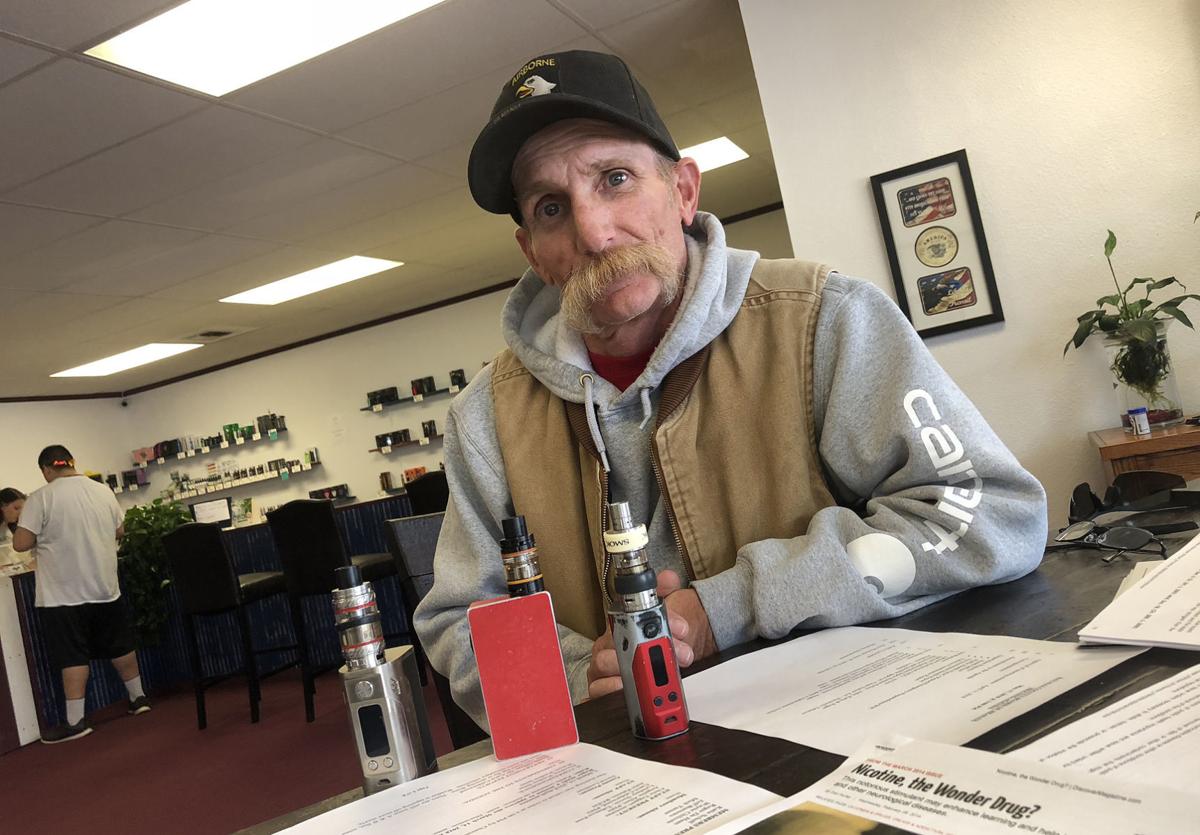 A lawsuit seeking to stop the ban of flavored vaping products in Montana uses the same language as a similar suit filed in Michigan by attorneys of a Washington, D.C., firm that focuses on regulations of vapor, nicotine and tobacco products.
The Montana lawsuit filed by three vape store owners and a state trade association is set to be heard Wednesday, Oct. 30, in Ravalli County District Court.
Ravalli County District Judge Jennifer Lint signed a temporary restraining order on Oct. 19 that prohibited Gov. Steve Bullock and the Montana Department of Public Health and Human Services from enforcing emergency rules that would have prohibited the sale of flavored vaping products for 120 days.
Originally, the ban was set to begin Oct. 22.
The petition filed by the Montana Smoke Free Association, Freedom Vapes, Liberty Smoke and Ublaze Vapor that asked for a temporary restraining order and preliminary injunction on the emergency rules contained sections that mirrored a similar complaint in a Michigan court filed by attorneys Eric P. Gotting and Azim Chowdhury.
The attorneys are partners in a Washingon D.C.-based firm of Keller and Heckman, LLP, whose website said had a "focus on the vapor, nicotine and tobacco product regulation." The firm's website said it differs from others by using "in-house scientific staff" that works with the firm's attorneys.
Much of the Montana lawsuit's section on the health effects of Electronic Nicotine Delivery System (ENDS) products that is entitled, "Health Benefits of Ends Products" copies the Michigan complaint that sought to enjoin Michigan's Sept. 18 emergency rules to halt the distribution of flavored nicotine vapor products. The same sources from the Michigan complaint were also used in the section titled "Health problems erroneously attributed to ENDS products" in the Montana petition.
"Large portions of the lawsuit in Ravalli County is lifted word for word from complaints written by national, big nicotine firms being filed across the country," said Jessica Rhoades, the governor's health care policy advisor. "It's clear that Big Nicotine is pulling the strings in Montana in order to protect industry profits and create a new generation of addicts."
At the direction of Bullock, the Montana Department of Public Health and Human Services planned to implement emergency administrative rules prohibiting the sale of flavored vaping products for 120 days while authorities investigate the cause of a rash of pulmonary illnesses nationwide that have been attributed to vaping.
"Facing the explosive growth in youth vaping, as well as the recent, sharp increase in vaping injuries and deaths, the state responded as Montana law requires: taking swift action to protect the public, especially the most vulnerable, our children," said Raph Graybill, the governor's chief legal counsel.
The state has identified five cases, including one death, of pulmonary disease associated with the use of e-cigarettes. Two cases were announced Monday. They include a teen from Cascade County who was hospitalized over the summer and again in October, and a person in their 30s from Lake County who was hospitalized this month.
Both people had a history of vaping THC. The federal Centers for Disease Control and Prevention and the U.S. Food and Drug Administration recommend that consumers stop using vaping products that contain THC. The CDC also recommends people refrain from using e-cigarettes that contain nicotine.
The Montana vape shops said the ban would force them to close and lay off their employees.
Ron Marshall of Hamilton's Freedom Vapes said earlier his three stores depend on the sales of flavored e-liquid products to remain in business. Marshall said many of his customers use the product to wean themselves off of cigarettes and ENDS products. He said his stores do not sell products with THC.
Neither Marshall nor his attorney, Megan Winderl, immediately responded to requests for comment on Tuesday.