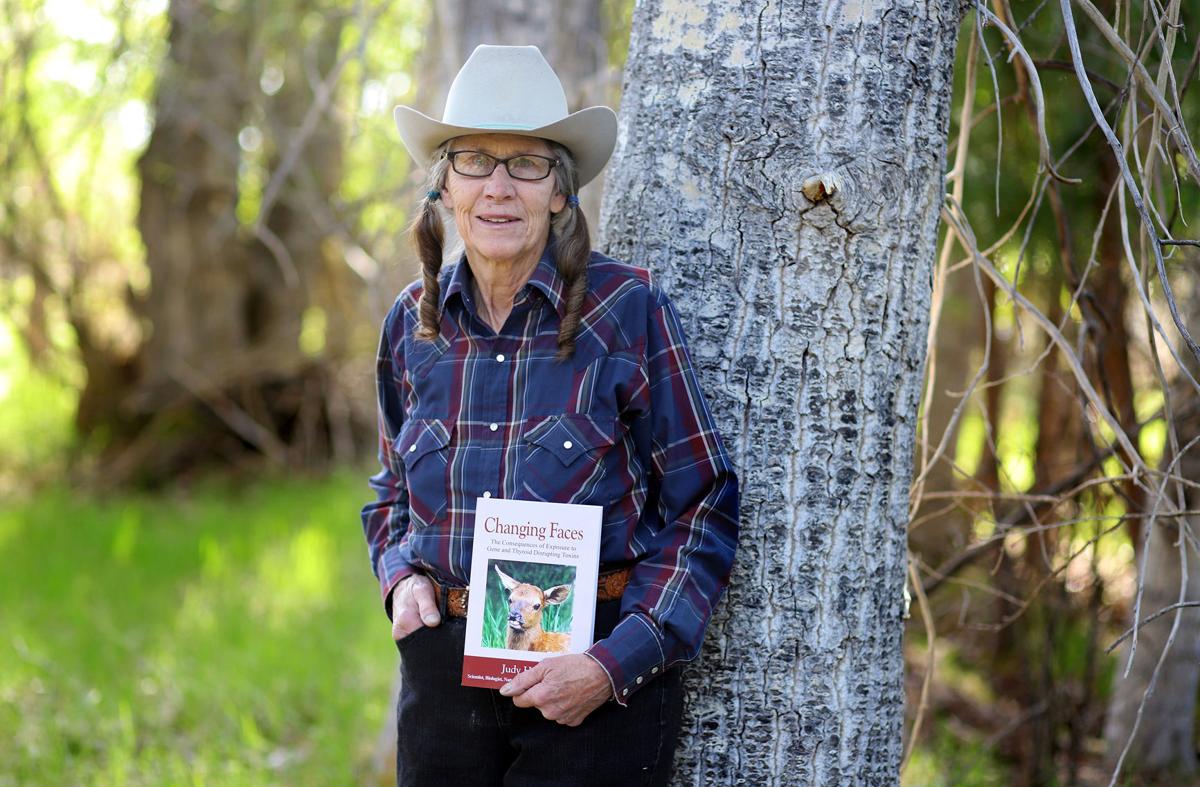 Judy Hoy has spent the past 23 years yelling from the rooftop that something bad was happening in her world.
For the most part, no one wanted to listen to what she had to say.
On April 30, her name was in the lead sentence in an article titled "As Pesticide Turns Up in More Places, Safety Concerns Mount" in Scientific American, a magazine that dates back to 1845.
The article's focus was on research completed at South Dakota University in 2015 and 2016 on the impacts of a class of pesticides called neonicotinoids on captive deer.
South Dakota University natural resource management professor Jonathan Jenks had read a study Hoy published in the Journal of Environmental Biology in 2002 about her observations of deer with pronounced underbites and genital deformities, particularly on bucks. It discussed her concerns that the deformities could be tied to pesticide and herbicide use.
"There was a concern about the amount of imidacloprid (the mostly commonly used neonicotinoid) pesticides being used in the Dakotas," Jenks said. "When we were putting together a research proposal, we did a literature search and ran onto Judy's publication. What she had documented was circumstantial evidence on birth defects on deer that could be associated with the pesticide."
Jenks and other researchers gave the university's captive deer herd water spiked with imidacloprid and then measured its presence in the animals' spleens. Researchers found that animals with larger amounts of the pesticide in their spleen had pronounced underbites. Fawns also died. A standard necropsy showed the fawns that died had higher levels of the pesticide than the ones that survived.
But that wasn't the most surprising part of the study.
Researchers also found imidacloprid in the portion of the captive herd that had not intentionally been exposed to the pesticide.
They also worked with field biologists in North Dakota to gather samples from free-ranging deer. About 52% of those animals came with rates up to 2.5% higher than the deer that were directly exposed to the pesticide.
"That was a total surprise for us," he said.
Of the free-ranging deer that were exposed to the pesticide, 77.5% had levels that equal or above the fawns that died in the experiment.
Jenks said he's not certain how his control herd ended up testing positive for the pesticide. And he doesn't know why some of the free-ranging deer were exposed and others were not.
"This was the study on large mammals," he said. "It would be nice to see if other studies would support what we found. … It would be nice to have some replication."
Developed by Bayer in the 1980s, neonicotiniods lethally target an insect's nervous system. The pesticide was considered less toxic to vertebrates. Unlike other pesticides that are sprayed over fields, it could be applied directly to seeds or through irrigation, which allowed it to be incorporated into the tissue of the plant as it grows.
The Scientific American article said there is a growing body of research that challenged the theory that pesticides delivered that way would be less likely to spread into the environment.
Hoy traces her concerns that something was wrong back to the spring of 1994.
"Back then you couldn't go outside at night without a flashlight because there were western toads everywhere," Hoy said. "They were on the lawn. They were on the driveway. They were everywhere and I didn't want to step on them."
Hoy and her husband, Bob, had lived on the same 100-acre place southeast of Stevensville since 1980. They'd grown used to the toads.
"By August that year, I couldn't find a single western toad at night with my flashlight," she said.
That same summer, she noted that none of the 150 or so baby marmots that she had counted that spring were alive by mid-summer.
"I thought that was kind of weird," she said.
That same summer, on the days when the wind came out of the west, she and her friends would start coughing whenever they were outside.
"I would literally cough until I vomited," she said. "I couldn't figure out what was wrong."
Hoy was licensed to work as wildlife rehabilitator. That next summer, she saw lots of animals with birth defects. The only western toad she found that year had no right foot.
Her husband worked with the Montana Fish, Wildlife and Parks. Part of his job was to pick up road-killed deer. Some of those ended up as food for the carnivores that Hoy cared for at their home, including a turkey vulture with a taste for testes.
"The first thing I always did when Bob would bring home a deer was I would cut off the testes and give it the vulture," Hoy said. "In the early spring of 1996, I started to cut up a deer and found that it didn't have a scrotum."
Out of the next seven deer that her husband brought home, all but one lacked scrotums.
Hoy said she started getting reports of domestic animals with severe underbites.
"I knew something horrible was happening," she said. "I've had to sit here for over 20 year and watch little animals die. It's really getting tiresome to find little animals on their side kicking until they die."
For the years that followed since, Hoy has been rebuffed by the Montana Fish, Wildlife and Parks and local and state health departments about her concerns about pesticides and the widely used herbicide, glyphosate, more commonly known as Roundup.
Last week, a California jury awarded a couple more than $2 billion in damages who claimed their non-Hodgkin's lymphoma was caused from their use of Roundup since the 1970s. It was the third time a jury ruled against Bayer AG, the parent company of Roundup producer Monsanto.
"People have acted like they didn't believe me for the last 23 years," Hoy said. "Maybe, because of all of this, they might change their minds."
She published a book in 2017 called "Changing Faces: The Consequences of Exposure to Gene and Thyroid Disrupting Toxins."
"I believe we should be paying attention to what she is saying," said Dale Burk, a longtime environmental journalist and book publisher from Stevensville. "I think she may be the Rachel Carson of our time and our place."
Carson's 1962 book "Silent Spring" changed the way the nation thought about pesticides, and eventually led to the nationwide ban on DDT and other pesticides.
"The heart of what she's been attempting to draw people's attention to — whether it's dealing with the impact on human or wildlife health or simply our environment — is something that we need to pay attention to," Burk said.
Burk thinks the recent recognition in Scientific American and the study completed in South Dakota could well be a turning point.
"It has elevated her work out of the petty politics of this local place," Burk said. "Her work has always been motivated by a desire to get the information out in world that's been hostile to her. When you grant her the position that she understands the urgency of this message, therefore it's been frustrating to her when she can't get others to see.
"Now she's finally getting the affirmation that she's on the right track," he said. "I know it's been tough for her. I respect and admire what she's done."
Get local news delivered to your inbox!
Subscribe to our Daily Headlines newsletter.