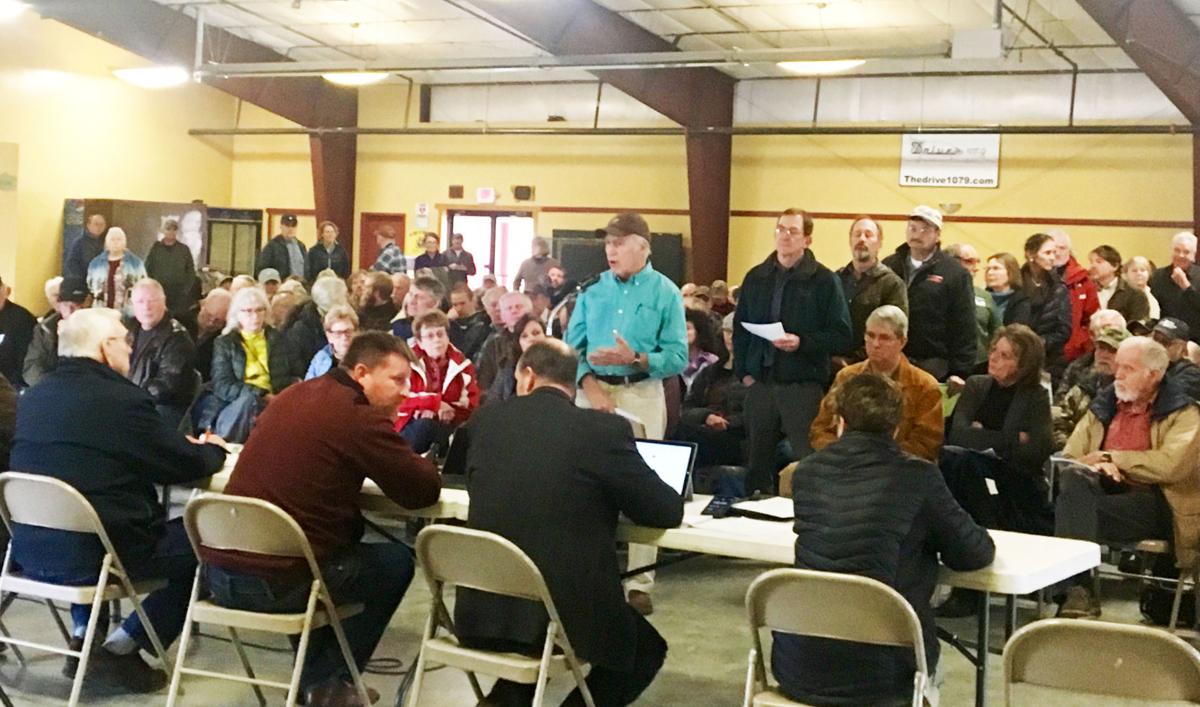 Despite comments running almost three to one against their letter supporting Sen. Steve Daines' bill on wilderness study areas, a defiant Ravalli County Commission unanimously refused to rescind the letter on Wednesday.
Instead, commissioners insisted that the September 2017 letter, and Daines' effort to remove five wilderness study areas in Montana from consideration, are part of the democratic process. Commissioners tried to assure the estimated 200 people who gathered in Hamilton Wednesday that their voices would be heard.
"I have notes and your comments and emails will go into the record, as will any other information handed to us today," Commissioner Jeff Burrows said. "We will take the information and continue to use it to inform us."
After turnout to comment on the commission's earlier action overwhelmed the Ravalli County commission's meeting room, the public hearing was moved to the Ravalli County Fairgrounds. About 75 people testified, with about 55 in favor of the commission pulling its support of Daines' S.2206 bill, and 20 applauding the commission's actions.
Burrows said they also received more than 100 emails, with 78 not supporting the commission's letter, 31 supporting it, and 16 where "we couldn't figure out which side they were on; they were just general comments."
Those opposed to the commission's support of Daines' bill said it wasn't representative of their opinions, and that both the commissioners' and Daines' effort to remove the five areas from Wilderness Act protections was based on science that was about 40 years old. They added that the commission and Daines should step back and work with area residents to come up with a more collaborative proposal that would release some of the wilderness study areas, while turning other portions of them into full-blown wilderness areas.
"This is a complex and controversial subject, and you asserted there's overwhelming support here without any veracity," said Russ Lawrence, president of Bitterrooters for Planning. "Your failure to recognize any meaningful public input is like your Legacy Ranch decision. People are watching and listening and you have legal responsibilities to listen to them."
Bill Geer, president of the Montana Wildlife Federation, added that they shouldn't even have been having Wednesday's meeting.
"This meeting and hearing should have been held by Sen. Daines before it ever got to this point," Geer said. "Attempting to do this collaboratively would bring us together in a less contentious fashion… for a sensible resolution."
Skip Kowalski of Stevensville noted that now is the time to update studies to see whether they should be released from protections not offered on other national forest lands.
"There's no reason for an immediate legislative remedy that doesn't receive adequate public comment," Kowalski said.
But others in the audience, as well as the commission members, said the time for studying these five areas has passed.
"I want to see people have the opportunity to access lands that my ancestors had to log," said Jim Burrill of Hamilton.
And Pat Earnest of Hamilton scolded the crowd for what she called the public "slandering" of the commission.
"I know you care about us, and Senator Daines cares about us," Earnest told the commission. "I support the letter you wrote in September and Senator Daines' bill he put forward in December. The research has been going on for years."
Daines introduced bill S. 2206 in December, which lifts possible wilderness designation in five study areas in Montana, opening the door to multiple uses that could include oil and gas development, logging, mining, grazing and motorized and off-road vehicle use.
The areas, which total about 449,500 acres, include the Blue Joint and Sapphire wilderness study areas in the Bitterroot; the Big Snowies WSA near Lewistown in Fergus County; the Middle Fork Judith WSA in Judith Basin County; and the West Pioneer WSA east of Wisdom in Granite County.
The wilderness study areas include public lands that, by definition of the Wilderness Act, provide "outstanding opportunities for solitude or a primitive and unconfined type of recreation" and also may contain "ecological, geological, or other features of scientific, educational, scenic or historical value." Use is restricted in wilderness areas to preserve those attributes.
The areas have been protected from development since they were put up for consideration as wilderness areas in 1977. The lands were to be studied for five years before recommendations were reported to the president; while the studies were done, the lands' status hasn't changed since then.
Commissioners said that once the wilderness study area designation is lifted, the commission and public will have ample opportunity to weigh in on the management of those lands when the U.S. Forest Service updates its travel and management plans.
"This is how the public process starts," said Commissioner Chris Hoffman. "The bill is introduced to the Senate, discussed and they determine to pass it or not. Then the collaborative public process begins. That's how our government works, whether you like the way it ended up or are on the other side."
Daines' bill, which he calls "Protect Public use of Public Lands," was before the Senate Committee on Energy and Natural Resources on Wednesday. (See related story.)
Clearly exasperated, Commissioner Greg Chilcott noted that this has been an unresolved issue for 41 years, with studies completed in 1987 without any action by Congress. He said the Bitterroot National Forest's own study showed the Sapphire WSA didn't have wilderness characteristics, nor did a portion of the Blue Joint WSA.
"Senator Daines' bill recognizes the data analysis and study done by the Bitterroot National Forest; his bill is based on that," Chilcott said. "He's taking the data provided by the forest and trying to get the United States government to act on it. This land will stay public land, forest land.
"… This isn't something we dreamed up in the middle of the night and snuck in the cloak of darkness to write this letter. It's been well-discussed in Ravalli County for decades."
After the meeting, Marilyn Wolfe, a Stevensville resident and member of the Montana Wilderness Association, said she was "appalled" that the commission ignored the majority of the public's comments.
"This meeting showed that Sen. Daines does not have the local support he claims his bill has," Wolfe said. "It also goes to show he should have held public meetings before crafting his bill."
Jason Howell, president of the Montana Snowmobile Association, said they're excited to see Daines' bill move through the legislative process.
"This has been decades in the making and just goes to show how the politics in Washington D.C. can cripple Montanans from recreating and enjoying our public lands," Howell said. "After 35 years, it's finally time for Congress to release these areas that are not suitable for wilderness so there are less restrictions and we can increase access to our public lands."
Get local news delivered to your inbox!
Subscribe to our Daily Headlines newsletter.