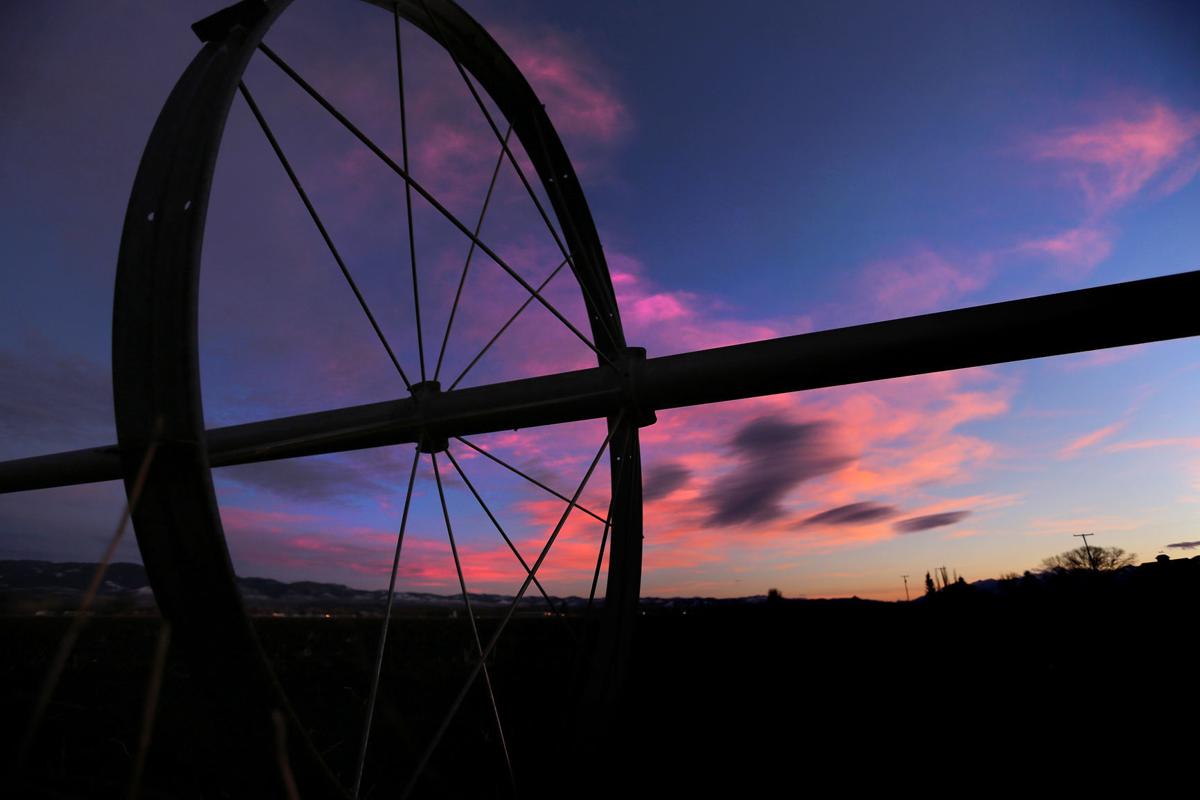 It's be a challenging year for Daly Ditches manager Tim Meuchel, but Mother Nature might lend a helping hand this weekend.
Over the last couple of weeks he and others with the Hamilton-based irrigation district have been encouraging the 2,000 users that depend on them for irrigation water for everything from crops to their front lawns that they need to cut back as much as possible.
"We're down to the stems and seeds," said district commissioner Dennis Moore. "Once we tap into the reservoir and without getting some rain, we probably have less than two weeks of irrigation left."
The district started drawing from the reservoir earlier this week. 
A potentially potent series of storms could help make a difference this weekend.
National Weather Service meteorologist Dave Noble said the first wave of the storms will arrive early Friday morning. Some areas in the Bitterroot Valley could receive between a quarter-inch to a half-inch of rain before that system moves into northwestern Montana.
On Saturday, the main upper level trough of moisture is expected to bring in a line of strong and potentially severe thunderstorms that could bring hail, torrential rainfall and damaging wind gusts to parts of the valley.
The forecast calls for a possible half-inch to three-quarters of inch of rain in the valley, and up to an inch in the mountains through Sunday.
Some areas directly under the largest thunderstorms could receive up to two inches of rain.
In the past 50 years, Noble said he found four or five instances when moisture levels matched the quantity expected in this storm for this time period.
"It's certainly above the normal moisture that we receive for this time of year," he said. "Because these thunderstorms are pretty wet, there is a threat for some flash flooding near recent burn scars that could bring debris flows and mud."
All that additional water could make quite a difference for people depending on Daly Ditches for irrigation through the end of season.
Moore said the irrigation company typically doesn't have to tap into Daly Dam until around Aug. 20. The dam holds between 10 and 13 days of irrigation water.
The biggest challenge the district faces is managing water for people living in subdivisions use for watering their lawns, he said.
"Our plea to them is try to limit watering to Sunday and Wednesday," Moore said. "We're hoping that people will be willing to help out the people in agriculture who are making a living off the crops they grow. We know that ranchers and farmers need to use their water judiciously as well."
At this point, Moore said some people at the end of the ditches aren't getting any water at all.
"We're walking a fine line here," he said. "We really need to have people respond."
Meuchel said the irrigation district has sent out flyers to homeowners in different subdivisions asking that they do whatever they can to conserve water.
"A lot of people are really trying to do whatever they can to kick in something and try to help," Meuchel said. "Some just do it. They know you're short and they just do it."
Noble said people do need to be careful this weekend when the thunderstorms arrive. So far this year there have been 11 fatalities caused by lightning in the country.
The most recent occurred in North Dakota last Sunday when a man doing trail work was struck. Other fatalities occurred to people who were boating, hiking, standing in a parking lot, working on a roof, fishing or attending a family get-together.
"People go outside during a storm and don't think they are going to get hit," Noble said.
Get local news delivered to your inbox!
Subscribe to our Daily Headlines newsletter.