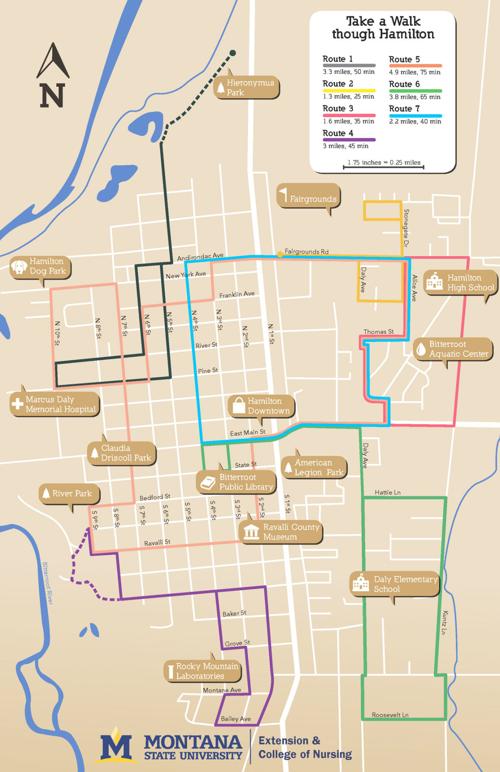 Residents of Hamilton will be able to step up their exercise program by checking a map listing routes, distances and the amount time the route should take to travel through beautiful neighborhoods.
MSU Extension Agent Katelyn Andersen has been working with two MSU nursing students on behalf of the community.
"We are creating a walking map to help encourage people, working individuals, families or people visiting Hamilton, to get outdoors and walk for the health of it," Andersen said.
Andersen said she had been thinking to create a map for a healthier community for a long time and when she traveled to a larger city, there was a pocket size map of the city with walking routes, which validated the idea.
She connected with the students in August.
Sarah Gray and Lindsey Manning, nursing students in the "Community and Public Health" class at the University of Montana, selected the project to make a difference and help the community.
"We started with a community health assessment in October and found only 2.55 percent of Ravalli County's population walks or bikes to work," Gray said. "We were astounded by that low number in such a beautiful county."
Gray said they decided to create a map with highlighted areas to encourage community members to get moving and orient tourists to local paths and interesting areas of town.
On a beautiful September day, Gray, Manning and Andersen took a bike ride through the community and started planning routes.
"Katelyn was an amazing tour guide," Gray said. "I went to Google Earth and mapped our routes as a starting point. We came up with seven routes of varying lengths."
The students designed routes by population areas. The routes pass through neighborhoods near Rocky Mountain Lab, the retirement community and hospital, parks, the Ravalli County Fairgrounds (with public restrooms) and more neighborhoods. The last route will include Steve Powell Park.
Each route lists the distance and the time it should take based on the average pace of walking.
"This was a very exciting project for us because as nursing students we spend most of our time in the hospital," Manning said. "It allowed us to not only use our nursing skills to help the community but we were able to be creative with making the map and designing a brochure with facts about fitness and nutrition."
"We were able to explore beautiful Hamilton and really capture what Ravalli County has to offer," said Gray.
The students also connected with community stakeholders, the city council and Bike Walk Bitterroot.
The goal for distribution of the map and pamphlet is to place it in high traffic areas like hotels, downtown shops and the hospital and make it a link on the extension office website.
"We see this as a stepping stone and we hope others will expand the map to include other routes and hiking trails in the area," Gray said. "Everyone we talked to thought it would be a good idea, but no one else has done one in Hamilton."
The nursing students said it was a good use of their time from August to December.
"It was a lot of work but well worth it," Gray said. "We hope even a small thing like a map makes a big impact on the community as a whole. The routes are in neighborhoods people live in."
"We got to meet neat people in great organizations around Hamilton," Manning said. "We were able to collaborate. I was astounded by the input of stakeholders who are also hoping to move the community to be healthier. I learned how important it is for everyone to work together."
Andersen said community outreach often takes many partners and that it is important to build relationships with stakeholders.
"I'm going to go back to them all and see if they have additional suggestions," Andersen said. "Working together provides many perspectives, ideas and support. I see this as just one facet of improved health for the community."
Andersen said the extension program is about providing knowledge and hoping to see changed behavior.
"We just want people to know that they need to walk but we want them to make those changes, and that's not just with walking but with any education that we provide," Andersen said. "We want it to have a behavior change that shows a larger impact and a larger reach. After they incorporate walking they will have better health."
Andersen said she was blessed to have the two nursing students work with her on the project.
"It was great to hear their experience from a nursing and health perspective," she said. "I learned that different communities have walking maps that health care providers have prescribed the walking path as part of their overall health; visit bikewalkmontana.org/montana-trails-rx/."