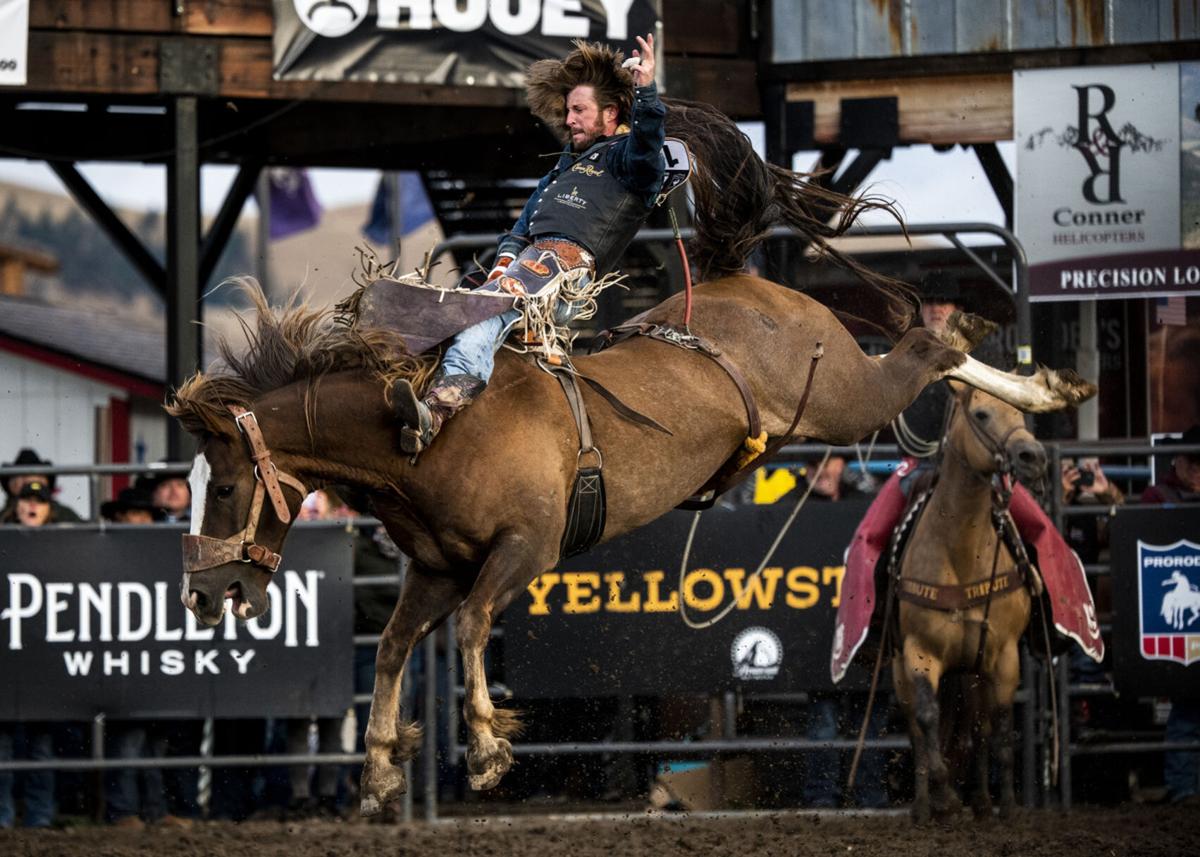 DARBY — The nasty weather didn't seem to bother Orin Larsen or western Montana's hardy rodeo fans a bit.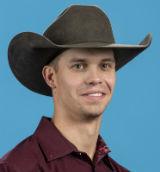 Larsen, a Canadian cowboy, earned over $11,000 for taking top honors in the Yellowstone Riggin Rally Monday night. A record crowd of roughly 2,000 fans braved the soggy, windy and chilly conditions at Darby's Rodeo Arena, cheering on the top 24 bareback riders in the Pro Rodeo Cowboys Association world standings.
"I've been to a lot of rodeos and never seen one like I saw last night," said Cal Ruark, organizer of the event and president of the Darby Rodeo Association.
"The caliber of the cowboys, the stock, the electricity in the crowd ... It was probably one of the nastier nights for a rodeo, but everybody had a great time, asking if we could bring it back next year."
Some members of the cast of the popular TV show "Yellowstone" attended the event, which was inspired and partially sponsored by the show. Darby has become a destination for tourists seeking to get a peek at the "Yellowstone" filming location on a ranch near the town.
Larsen reached Monday's finals by scoring 86.5 points in the first of three sections. The slate was wiped clean for the finals and Larsen, who ranks sixth in the world standings and has over a million dollars in career earnings, delivered a ride of 92.5 on Famous Dex.
"It was definitely cool to ride in front of Hollywood celebrities, and having the town come out was a cool event," Larsen told prorodeo.com. "I'm just thankful to everyone involved, the Steiners, 'Yellowstone,' the whole motor to work this rodeo. It was definitely a cool experience, and I think there's definitely an opportunity for it to take off."
The Bobby Steiner family, which has history of rodeo success and owns a ranch in the Bitterroot Valley, was behind the Yellowstone Riggin Rally. Ruark talked to the family Tuesday morning and "they're just tickled to death and on board to bring it back next year."
The Steiners' plan is to have a Riggin Rally South in Texas in the spring and a Riggin Rally North in Darby in the late summer/early fall.
The Yellowstone Riggin Rally will premiere on RFD-TV and The Cowboy Channel Monday at 11 a.m. Mountain time. It will appear again on The Cowboy Channel and RFD-TV at 5 p.m. that night, and on The Cowboy Channel next Tuesday at 6 p.m.
"They're going to see a bareback riding like they've never had before," Larsen said. "It's a cool event and a cool place to have it — in a tiny town with a lot of talent both with the animals and bareback riders."
Ruark noted that only one cowboy was bucked off all night Monday.
"The first ride out of the chutes was marking 89 so you knew the bar was set high," he said. "There were four 90-plus rides."
Richmond Champion, who moved to Stevensville just over a year ago, finished fourth. His best score was 88.5 in the finals.
Finals: 1. Orin Larsen, 92.5 points; 2. Tilden Hooper, 92; 3. Tanner Aus, 89; 4. Richmond Champion, 88.5; 5. Chad Rutherford, 88; 6. Cole Reiner, 87.5. Total payoff: $33,840.
Matt Naber, PRCA media coordinator, contributed to this story.
Bill Speltz is Missoulian Sports Editor and has served as Sunday columnist the past 14 years. Do you have a story idea? Email Bill at bill.speltz@missoulian.com.