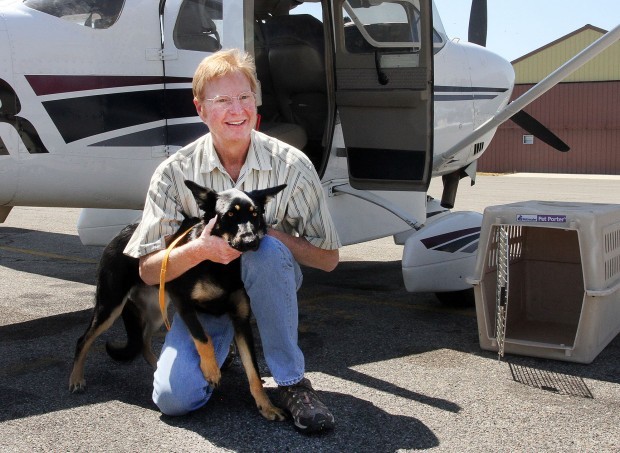 Apollo's time was running short.
Sitting inside a pen at the Idaho Falls animal shelter, the young German shepherd couldn't have known that people in four different states would soon come to her rescue.
The little dog had been picked up as a stray and dropped off at the shelter a little while back and no one had stopped by to claim her. With the shelter almost overflowing, there was a chance the dog might have been euthanized if something didn't happen soon.
Through the miracle of the Internet, her journey to a new life with a caring family was about to begin.
Hundreds of miles away at the Bitter Root Humane Association Shelter in Hamilton, adoption specialist Mariane Maynard heard from a Helena family who had been looking for a young German shepherd for more than a year now without any luck.
At the same time, Corvallis' Judy Paul of the Montana Companion Animal Network had just made the trip to Idaho Falls to bring back a van load of dogs to the Hamilton shelter.
"They were overflowing and we had room," Maynard said.
Somewhere in that interaction, Paul passed Maynard a photo of Apollo and she sent it on to the family in Helena Wednesday.
On Thursday, Apollo arrived at the Hamilton airport in the backseat of Peter Rork's Cessna 206 as the first Dog is My CoPilot delivery to Ravalli County.
"It all happened in a day," Maynard said. "It was an amazing thing."
Rork is president of the fledgling nonprofit organization that provides air transport to rescued dogs and cats in need of a new home.
At least twice a week, Rork leaves his home in Jackson Hole, Wyo., to fly pets in states all over the Mountain West. Since May, the semi-retired orthopedic surgeon has averaged about two trips a week.
"The whole idea behind this is to move animals out of kill shelters to places they can find a new home," Rork said. "It's very rewarding."
Rork hopes to recruit other pilots to ferry animals around the West. He and his partner, Judy Zimet of Arizona, are finishing up the final touches to obtain their nonprofit status. Anyone interested in their efforts can learn more at www.DogCoPilot.org.
About 10,000 animals are euthanized every day in this country.
Rork said he likes knowing that he's part of a network of people who are trying to do something to save their lives.
"Every dog has a home somewhere, they just have to find it," Rork said. "I'm happy to help them find it."
Paul said the service Rork provides is a wonderful benefit for animal rescue organizations like hers.
"Otherwise, those of us on the ground floor have to take time out to drive these animals over sometimes very long distances," she said. "That can become quite a burden to volunteers."
The Companion Animal Network was founded in 2008 in the Bitterroot Valley. The all-volunteer group works through its website, www.mtcan.org, to find new homes for pets.
"We don't have a facility or employees," Paul said. "People probably see us most often down in front the Gas and Grub on Saturdays. That's our main effort to get outreach."
Vicki Dawson of the Bitter Root Humane Association said it's not unusual anymore for all these different organizations to come together to help find homes for dogs like Apollo.
"In the old days, shelters were very isolated," Dawson said. "The Internet has opened up a whole new world for us. There's a change of attitude and a lot more exchange between all these organizations that care about animals."
"When we can help each other out, it saves lives," she said.