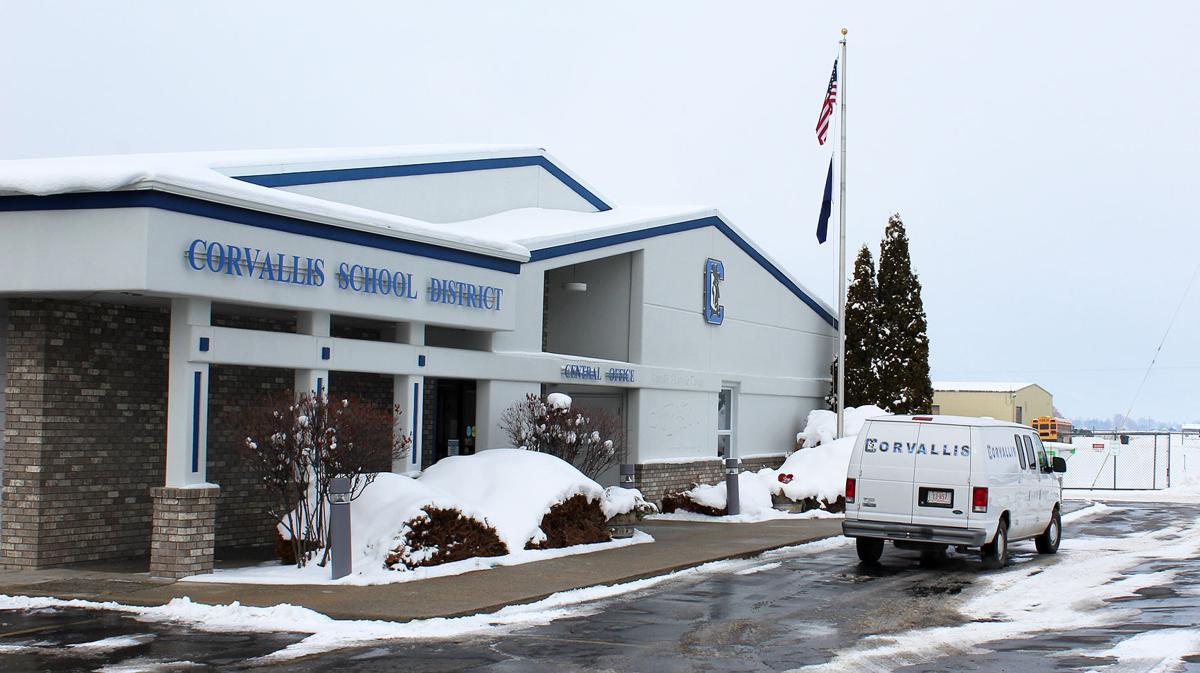 Governor Greg Gianforte removed the mask mandate for Montana on Friday and the Montana School Board Association verified that local school boards have the authority to require masks.
Corvallis School Board in an emergency board meeting Monday voted to keep the school's mask policy in place.
On Tuesday, the Florence-Carlton School Board voted 5-0 to remove the mask mandate starting Monday. The Ravalli Republic will follow up on that decision in another article. 
On Friday, Feb. 12, Superintendent Jon Konen sent out two surveys to staff and parents of families enrolled in Corvallis School District to gauge where people stood on the mask issue. He said the surveys were conducted to provide feedback for board decisions and to engage the community.
"The mask mandate was [removed] quicker than we thought it was going to be," Konen said. "If everyone remembers the two different triggers that Gov. Gianforte had set out, one was making sure the vaccine was out, widespread, and two was the legislation that was going through the Montana Legislature [to protect businesses from lawsuits]. It recently was passed."
He shared some of the results of the staff survey as 138 responses from 208 staff, 43% said remove the masks, 57% said keep the masks in place.
"Fifty-five percent of our staff believe removing the mask requirement after the vaccine is distributed is the best option," Konen said. "Fifty-nine percent still want students to wear the masks also."
Results from the parent survey of 859 responses, 76% said to remove masks, 24% said to keep masks in place, 85% said that if masks are removed their student will still attend.
"We have people on both sides of this," Konen said. "5.7% of our remote students will return, they will come back to campus, that's about 49 students. 9.2% or 79 responses which equals 119 kids if we would remove the mask mandate would go remote right away. That's about 70 net, between the two."
Konen said he would recommend keeping the face coverings in place until after all staff has had the opportunity to be vaccinated.
"I recommend we reevaluate any changes at the end of the next quarter or grading period," he said. "With the amount of students that are either coming in or going out we would have some major staff changes right away."
He said moving five or six teachers from in class to remote education would be a big disturbance to education because of the impact on the school.
He also said the COVID numbers have gone down for the school.
"I'm ready to be done with masks and some of these protocols that we've been doing but since we put them in place they have been working and we've seen our numbers go down," Konen said.
He said more adults than students have had COVID and he worries that if mask protocols are removed the staff is more susceptible.
"Only 31 out of 208, 15% of our staff, have had COVID which means 85% of our staff can still contract COVID-19," Konen said. "Safety is my number one concern for staff and students."
He said that if the school removes the mask protocols there will be an increase of quarantines. He explained that currently, the school uses seating charts to establish close contacts and only has to quarantine 3-15 nearby students but with no masks, entire classrooms will need to quarantine.
"Let's say the positive case was in three classrooms and each class has 20 students you're looking at anywhere from 40 to 60 some students that will be quarantined rather than 3-15," Konen said. "Unfortunately, they pushed teacher vaccinations back from 1B to 1C and that has a big impact. With 1B teachers would be getting the vaccine now. They are looking at closer to summer for teachers to get vaccinated across Montana."
Konen said he is worried that the school would have to go remote with the number of substitutes needed if staff was sick or needed to teach remotely.
Trustee Todd Wyche said operational guidance from the CDC is to keep school mitigation strategies in place.
Trustee Shawn Boelman said to look at the core purpose of the school, "providing the best education we can in the safest environment."
"I believe we have to keep the mask mandate in place because of educating the whole child," Boelman said.
Trustee Tonia Bloom agreed.
"This is a safety issue to me," she said. "Having the mask mandate is one of the best ways we have of keeping our school open and our kids able to participate in extra-curriculars as well as the classroom."
Board Chair Becky Anderson said to consider what is best for everyone.
"When a parent answers that survey they are answering for their specific child," Anderson said. "When our staff is answering it, they are answering it for their personal use as well as students in their classrooms, students on their bus, students that they support in other activities. When we look at this [the mask issue], we have to think about the student, the staff, our administrators as well as our community."
She said the board needs to look at the "big picture" for everyone, not what they want for just their own children.
"One thing that struck me when I was reading our staff survey answers is how many of them feel uncomfortable coming to work if there are no masks, for the students or for themselves," Anderson said. "To me, losing those staff because they don't feel comfortable coming to school is a huge challenge."
She said administrators wrote a letter to the school board, concerned that they wouldn't be able to keep the school open if the school didn't maintain the mask policy because teachers wouldn't feel comfortable in their jobs.
"I hear the community, I understand that people are tired of the masks, but we need our teachers to keep our schools open," Anderson said. "I support Mr. Konen's recommendation."
Trustee Mark Fournier was the sole dissenting vote against keeping the school's mask mandate.
Other schools in the Bitterroot Valley have also dealt with the change in the mask mandate.
The Hamilton School District will continue to require masks in its schools.
"Maintaining the District's masking policy is necessary to respect our families' decisions to enroll their children in either virtual or in-person learning during the current academic quarter," said Superintendent Tom Korst, in a letter to the community on Feb. 11. "Because the COVID-19 pandemic presents an ever-changing set of circumstances, the Board of Trustees will re-evaluate the District's mask policy ahead of the fourth academic quarter."
Stevensville School Board is having a special board meeting on masks on Wednesday, Feb. 17, in the choir room and online. See their website for the link.
Darby Superintendent Chris Toynbee said Darby is continuing to wear masks but will review the policy in the future.
"We are still waiting for more information from the governor's office," he said.
Victor Superintendent Lance Pearson said everyone will continue wearing masks.
"Victor has had a great deal of success avoiding the coronavirus and we believe the masks have allowed us to have in-person school," he said. "We will not be dropping our mask mandate anytime soon as we sincerely care about our students, teachers and vulnerable populations in our community."
Lone Rock School is continuing to operate under the school board approved COVID-19 reopening plan but may address it in a future school board meeting, according to Superintendent Robert DoBell.
The Hamilton Christian Academy is reviewing their policies surrounding safety and health for students and staff.
"We have been fortunate to have avoided any closures of any classes thus far and have experienced no community spread," said Head of School Stephanie Beck. "We wear masks and my favorite part is that I worked in four to five outdoor breaks required for all students to get fresh air, remove their masks and get exercise. It has been super!"