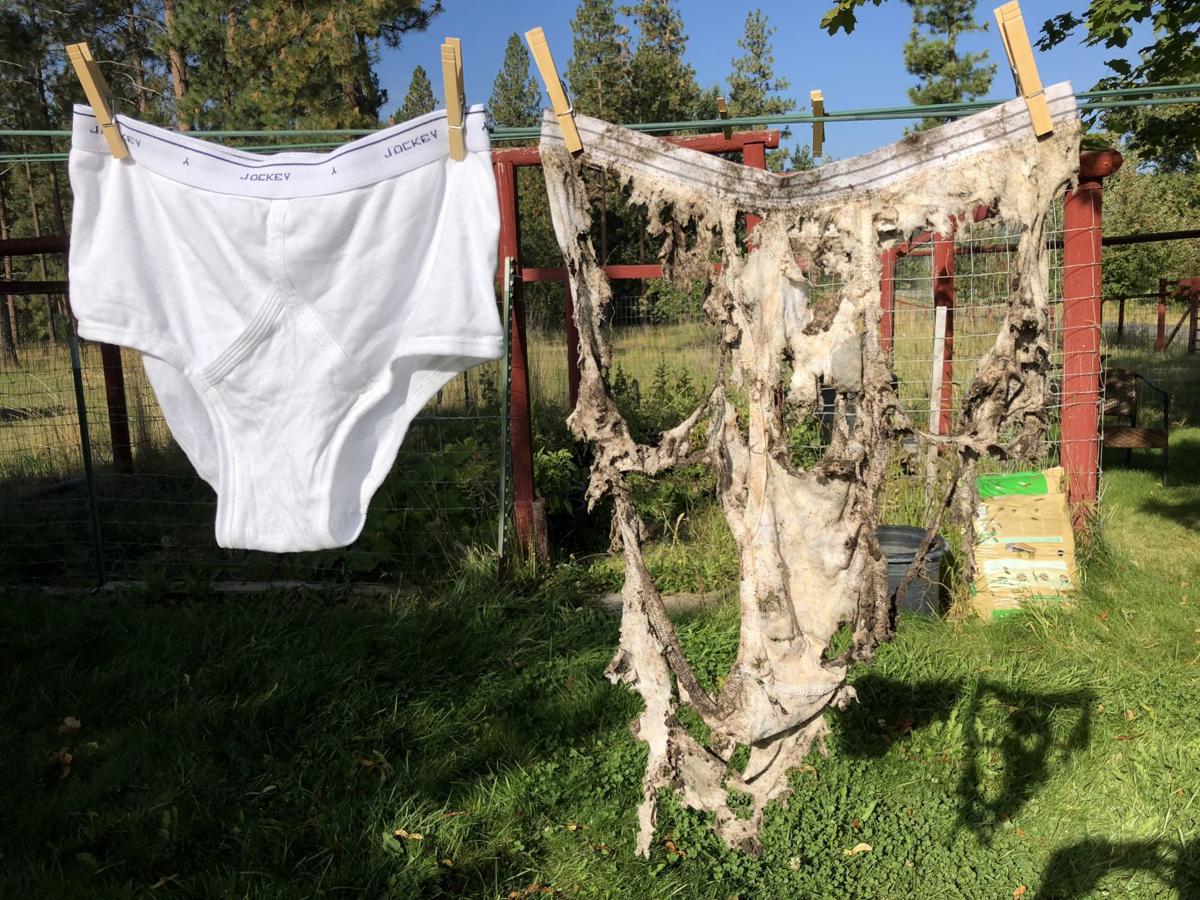 "You want me to do what?" the master gardener asked incredulously.
"You should steal a pair of your husband's old tighty whities and bury them in your garden for 4 weeks," I explained. "Come on, it's for science!"
"I'll use a tea towel," she answered.
"Underwear are more fun," I smiled. But I gave in, we would learn the same answers with either undergarment or tea towel. That's how we began our Tighty Whitey Soil Challenge and our journey to understand soil microbiology. It's not about fashionable underwear, or soiling your undies; it's about soil health.
Soils are a complex ecological web of organic and inorganic components. They are an entire ecosystem within themselves, one scientists are just beginning to understand. For typical soils, around half, or 45%, is composed of mineral soil components; gravel, sand, silt and clay. The other 50% of a healthy soil is pore space, pockets of air between soil particles, and half of that pore space is filled with soil water, stored in those pore spaces for later use by plants.
According to my math, that leaves me with a leftover 5%. It is this small fraction of soil I want to talk about a lot more. This is the soil organic matter. Soil organics are the components of soil that are, or once were alive. It is composed of dead and decaying plant residues that are slowly integrating into the soil. Soil organics also include an entire community of bacteria, fungi, and invertebrate lifeforms that feed on the plant residues and organic matter, breaking it down and releasing the nutrients bound within back into the soil system, where plants can take them up and use them to grow vegetative structures and carry out daily metabolic functions.
This 5% of soil, the organic matter can play an outsized role in the health and functioning of the soil ecosystem, and plants have evolved with this community of soil microbiota. Plants will release substrates from their roots, called exudates, to feed this soil microbiological community and keep them healthy, active, and in close proximity. The microbes feed on the exudates plants release, and feed on the soil organic matter, releasing the nutrients plants want close to root systems.
It's a very important and dynamic system, one that supports plant growth and vegetable production in multiple ways.
You can do your own qualitative test on the health and vitality of the soil microbial community in your garden soil when you do the Tighty Whitey Soil Challenge. This is where the underwear comes into action. Find yourself a clean pair of 100% cotton undies (it can have an elastic waistband, no worries), and get out there in your garden.
You'll want to dig a hole in your soil about six to eight inches deep, and wide enough to spread the underwear out horizontally and flat in the bottom of the hole. After you arrange the underwear in the bottom of the hole, fill the hole back in with soil, then use a stick, rock, or flagging to mark the location of your buried undergarment treasure.
Treat your garden the way you would normally manage it, with the regular watering regime and any other strategies you use to grow plants. After four weeks, dig up your underwear, and investigate what the soil microbial populations have done to the fabric.
To soil microbes and fungi, your cotton underwear are the same organic substances they feed on day in and day out during the growing season. By burying your tighty whiteys in a shallow grave you gave the soil organisms a new source of carbon-based organic matter to chow down on. Your resulting holey pair of underwear show the amount of organic matter, or in this case cotton, the microbes digested in that month window of time.
If your tighty whities are a tattered, decomposed mess, then it is a good sign that you have a thriving microbial community actively engaged in building your soil. But if your underwear are mostly intact, and look like they have only experienced a hard day out on the rugby pitch, then that can be a sign that the microbial community in your soil could use some attention.
There are a lot of strategies to feed the soil microbial community if your tighty whitey test shows they are lacking. Incorporating organic matter into your soils will increase the number and diversity of soil microbia over time. The more we feed microbes, the more there will be, and the more diversity in types we will see. Cutting back on tillage and turning over the soil can also have a big effect. Tilling the soil infuses oxygen into the soil and can kick microbes into high gear, causing them to mineralize, or eat the available organic matter up quickly, then fade away due to lack of a food supply.
A diversity of plants in our gardens, and the types of roots those plants develop can also have a positive effect on soil microbial health. Different types of microorganisms get different things from different plants, so a diverse host of plants in the soil support a diverse biological community below the soil. We can achieve this diversity through crop rotations, and through planting a diverse mix in close proximity, instead of planting a monoculture clump in our gardens.
So get out there this summer and explore the health of your soil through the Tighty Whitey Soil Challenge. And farmers, don't think this is only something gardeners should be doing. This challenge originated as a soil health conversation in agricultural fields. So, take a pair of your undies out to an agricultural field and bury them in it, see how the soil community is interacting beneath the surface.