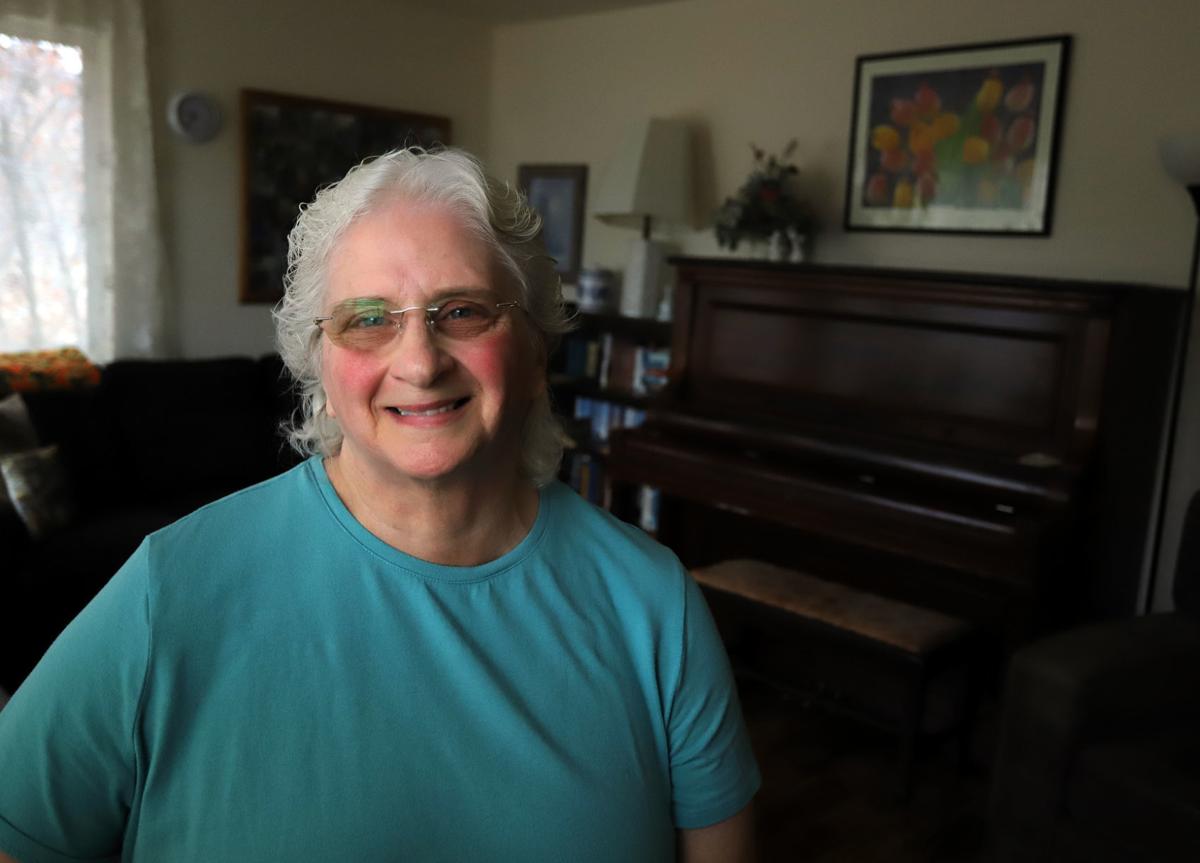 Dear Donna, Before I met you I never have felt loved, valued or wanted, but now I do and I can't thank you enough for that. (A note on Donna Thompson's birthday card)
This March, Donna Thompson will celebrate her 20th year serving at Stevensville's Genesis House.
"I really can't imagine that 20 years have gone by this quickly," Thompson said on a quiet morning at her office inside the unassuming historic home, where staffers have helped women with mental health challenges restart their lives. "I feel just as excited about what's happening here today as the day I started.
"Genesis means a new beginning," she said. "That's what happens here. This is an amazing program that been getting better every year. I know that it's made a difference in women's lives."
Genesis House is a transitional facility that serves women with mental health issues.
It can trace its own beginnings back to the early 1970s when a small group of local women became interested in the concept of community-directed after-care for those dealing with mental illness.
Betsy Douglas was among the first group of people who wanted to develop a program in Stevensville. She remembers when the group first approached the community about the idea, not everyone was happy.
"We wanted to establish a halfway house for women leaving Warm Springs Hospital who still needed some kind of supervision to prepare themselves for living a more independent life," Douglas said. "There were a number of people who initially fought the idea. They were afraid of what it might mean for the community."
The house first opened its doors to four women on Aug. 4, 1976.
From the beginning, volunteers from different churches stepped forward to drive the women to their counseling appointments in Hamilton and Missoula. Initially, that's how Douglas became involved.
Genesis House had two different homes before the board found its present location on College Street.
Thompson said the 1800s-vintage home has gone through several large renovations that have added additional space, an extra bedroom and an office.
"But the steps still squeak like crazy," Thompson said. "We used to have a cat and she couldn't even sneak up the stairs quietly."
From the beginning, the board and staff of Genesis House have focused their efforts on making the house a home for eight women who can live there at one time.
You have free articles remaining.
The nonprofit is privately owned. It doesn't advertise as it quietly goes about their business in helping the women learn the skills they'll need to live independently.
"We help learn skills like cooking, laundry and budgeting," Thompson said. "It's an in-between step that helps give them a fighting chance to make it on their own once they get out in the world."
Thompson said they've had women who have lived up to 20 years at the state hospital before coming to Genesis House.
"It's so awesome to see them come in here and watch them grow and change," she said. "We had a woman in her 20s who had never decorated a Christmas tree before. It was a big deal for her. She felt like she was part of a family."
Every year, Genesis House, at 116 College St., hosts an open house that offers a chance for the community to share the holiday season with the women living there. This year's event is planned for Thursday, Dec. 12, starting at 5:30 p.m. Everyone is welcome.
"The community has always been fabulous to Genesis House," Thompson said.
And the women who come to Stevensville to live there feel that.
"One of the women told me that if she didn't live here, she wouldn't be able to go out in the community," Thompson said. "She feels safe here in this small community. It's an eye-opener for many of them. They come in here scared and they learn that they can trust people.
"We have a good reputation at being successful," she said. "I think that happens because we let the women know right from the beginning that this is their home. We let them know that they need to take care of it. They all sit down and watch TV together. They eat dinner together. It's like a family. I think that's why it works."
Montana State Hospital Clinical Director Sherry Bell said the hospital has women who prefer not to go to a facility that serves both men and women.
"That's one of the reasons we like to use Genesis House," she said. "Some of the women we serve prefer an environment that's all females. It's a much better step-down for them.
"I know some of the individuals who have been discharged into that setting and, knock on wood, have not come back here," Bell said. "That's a good thing and it speaks volumes about the program at Genesis House."
Douglas credits its success to the board and people it's hired to care for the women over the years.
"Hundreds of lives have been turned around here," she said. "We have a very low recidivism rate. I think that happens because there is caring on all levels. The board members all care about what's best for these women. The employees show that they care every day. I think the women respond to that.
"Stevensville is somewhat of a unique place," Douglas said. "I'm on the board of the Clothes Closet. You have Pantry Partners and look at the number of churches in town. You see neighborliness that I don't necessarily think you see in the rest of the country."
Get local news delivered to your inbox!
Subscribe to our Daily Headlines newsletter.