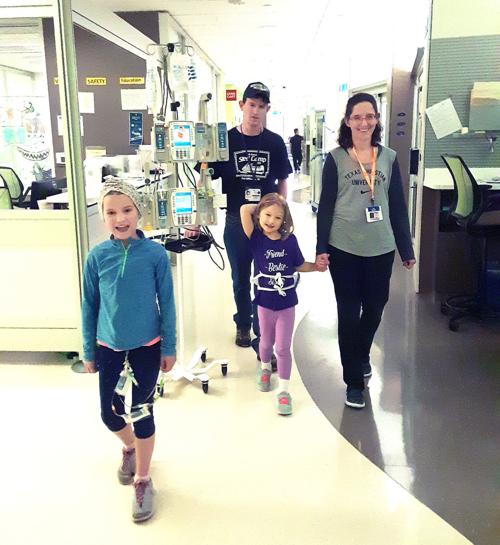 When Stevensville community members gather Sunday morning to share a breakfast at St. Mary's Family Center, they will be offering more than just their money to help a third-grader battling her second bout of leukemia.
Just them being there means a lot to the Roebke family.
"We can't really say enough about the support that we've received from our community through all of this," said Stephanie Roebke. "There are so many moving pieces and parts that you have to deal with daily. If we didn't have our community, family and friends stepping in to help, I'm not sure how we would have gotten through all of this."
It was a shock for the Stevensville family. Neither parent had a family history of cancer. Genetic tests they took later showed no sign that either carried a genetic marker for the disease.
At first, Michelle's symptoms resembled growing pains, but then she became anemic. Following a series of blood tests, the family finally received the devastating news that their young daughter had cancer.
That was followed by more than two years of chemotherapy treatment in Spokane. Michelle and her mother lived for almost a year of that away from their family home.
"It was hard to watch," Roebke said. "She was 4-years-old. She didn't understand what was going on, or what she was going through, or why it was happening. As a parent, you wish you could trade places with her."
The cancer went into remission. Michelle returned to school and a normal life.
"She was doing really well," Roebke said. "She was going to school and had friends."
In March, a routine blood test showed the cancer had returned.
"There were no signs, but the blood work said it was back," she said. "That's a hard thing to communicate to an 8-year-old. She felt just fine. She didn't want to leave her family, school and friends behind."
Michelle was accepted as the 22nd patient in a trial of an advancement of a cutting-edge treatment for leukemia called CAR T-cell immunotherapy that uses a patient's own genetically modified T-cells to find and kill the cancer.
The first version of the immunotherapy targeted one protein, but Michelle's form of leukemia had two proteins that needed to be targeted by the T-cells. While the updated treatment isn't yet approved by the FDA, Roebke said the family decided it was the best choice for Michelle.
"We knew that since she had both proteins, it was in her best interest to go ahead and do the trial," she said. "We need to have the leukemia gone from all perspectives. This is very cutting-edge research."
And, so far, it's shown great promise for the 21 young people who have been through the therapy before Michelle.
The trial is being conducted at Seattle Children's Hospital.
On Sept. 10, Michelle's 6-year-old sister, Emily, provided bone marrow for a transplant.
"It's been great to see and be part of this trial," Roebke said. "We know that it's not only helping our daughter, but it has the potential to help thousands of others."
Since the therapy only targets two specific proteins, it's much less invasive than chemotherapy.
"It's certainly not been as hard on her body," she said.
Roebke said her daughter is doing really well right now, but won't be able to return to school for a year following the bone marrow transplant.
"Her body is really sensitive to germs," she said. "Right now, she's much more active than the average bone marrow transplant kid. We take that as a good sign. She does miss her friends from school. She talks to them on the phone, which definitely brightens her week."
The family doesn't expect to be reunited in Stevensville until sometime after the New Year.
Roebke said her family's goal right now is to spread awareness of childhood cancer.
"Only about 4% of government funding spent for cancer research goes toward childhood cancer," she said. "Most of the FDA-approved treatments are for adults. … I'll talk with anyone who will listen. I know at least a handful of children who have gone through the same treatment that Michelle has gone through in the Bitterroot and Missoula."
"People just don't know about it," Roebke said. "Our thing is to get more people aware of it."
When that happens, she knows from experience that people will act.
Two Stevensville fifth-graders are behind the push to put on Sunday's fundraiser that runs from 9 to 11 a.m. Donations are welcomed.
Ben Meyer of Stevensville said his daughter, Adelaide, and her friend, Riely Gonzales, knew Michelle from Sunday School.
"They were talking about what they could do to help," Meyer said. "When you're 10-years-old, sometimes you have to ask for some help from those older than you."
They found that help in Jeff and Peggy Diepstraten, who Meyer said have been leaders in the community for years. Young and old came together to create an event to help out the Roebke family.
"Jeff and members of the Knights of Columbus will do the cooking," Meyer said. "The primary school-aged kids will help to set the tables and do whatever else they can.… It's one of the best things about Montana living, this sense of community that towns in the Bitterroot have."
Roebke said her family has felt that over and over again.
"All the little and big things that people have done have helped us along this journey," she said. "We're very appreciative of anything and everything that people have done. Whether that be fundraising, stepping in to help with Emily, sending us cards or phone call greetings. All of it has meant so much to us.
"We definitely hope this is our last bout with cancer," Roebke said. "We don't ever want to see it again, but I think it will always be in the back of our minds. I think that's something that will be forever. Once a cancer patient, always a cancer patient."
Get local news delivered to your inbox!
Subscribe to our Daily Headlines newsletter.