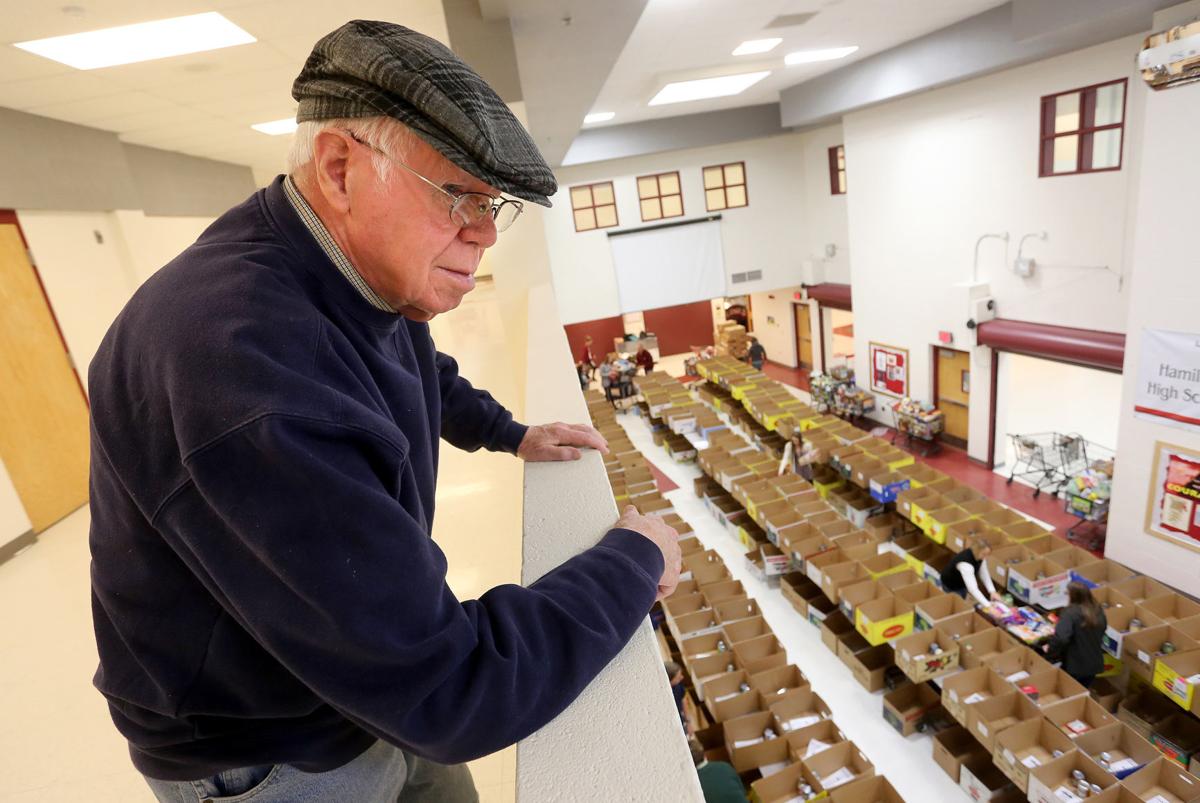 It was 1974 when Bill Delaney and Gail Lewis decided they wanted to do something about the people in their community that were going hungry around the holidays.
That winter they started the Bitterroot Valley Kiwanis Christmas Food Box Program.
In Delaney's workshop, they filled boxes with food for about 37 families and, with the help of fellow Kiwanis members, delivered the boxes to homes around the Bitterroot Valley.
"We decided we wanted to do something for families and their kids," Delaney said. "Kiwanis has always been about kids."
For the past 42 years, Delaney has set aside time to make sure that people in need have some food in their pantry around the holidays.
On Friday, he joined other members of the Bitterroot Valley Kiwanis Club to fill 600 boxes of food that will be picked up or delivered to 300 families over the weekend.
Delaney has been collecting the boxes from a local grocery store since September.
"It takes some time to get that many," he said.
Bitterroot Valley Kiwanis President Christina Dunbar said planning for the club's largest project of the year gets started in early fall when the club reaches out to local sponsors, grocery stores and gathers names of people who could use the food from the Office of Public Assistance and Head Start.
They also work closely with the Hamilton's Haven House and the Darby Bread Box.
Hamilton High School does its part by hosting a food drive competition between the classes. This year, the sophomore class brought in the most food and won a night out at the movies from the Kiwanis.
"This is our signature project," Dunbar said. "It costs about $14,000 to put together."
On Friday, Kiwanis members and members of the high school's Key Club and the middle school's Builder's Club met at the common area in the high school to fill all the boxes with food and other items that ranged from paper towels to toothpaste.
On Saturday, 183 families were scheduled to pick up their boxes at the high school. Another 61 would be delivered to the Darby Bread Box. The rest would be hand delivered to people's homes.
"People are really thankful and grateful when they come in here to pick up their boxes," Dunbar said. "Some start crying. For us, it's a really fun and rewarding time. It's nice to be able to help someone."
As the crews started to fill the boxes Friday afternoon, Delaney said he was proud the legacy the Kiwanis have created in their community.
"We have put a lot of food out there over the years," he said. "We've done a lot of good things for a lot of people. We've done a lot for kids."
And to think there's only been one mishap through it all that Delaney can remember.
"I had a dog come out and charge me when I was delivering a box one time," he said, with a smile. "It bit me on the butt. It was a good thing that I had long underwear on that day. I thought the guy I was with that day might die laughing."
"We delivered that box and went back and got another," Delaney said. "We couldn't quit. We had too much food to deliver."