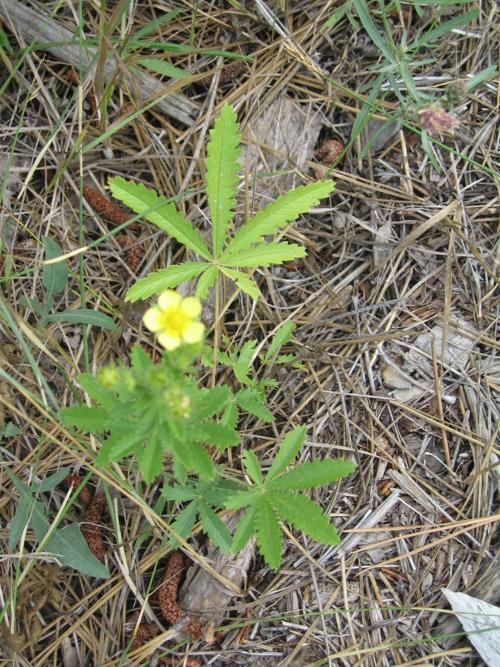 Sulfur cinquefoil, considered to be a part of the rose family, is also known as "five-finger cinquefoil," "rough-fruited cinquefoil," "tall five-finger," "tormentil," "upright cinquefoil," and "yellow cinquefoil."
Sulfur cinquefoil prefers full sun light and has adapted to a wide range of soil conditions. It can commonly be found in grasslands, shrubby/forested areas, logged areas, roadsides and waste areas.
Sulfur cinquefoil is a perennial forb with a single, woody taproot that can grow from one to three feet in height. This plant may have spreading roots, but they are not rhyzominous. The rosettes have long-petiolate leaves which whither before flowering. Leaves are palmate with five to seven toothed leaflets that radiate from the center point.
Leaves are approximately two to four inches long and up to an inch wide and resemble marijuana leaves. Leaves are more numerous at the base. The leaves have a green coloring rather than silver on the underside of the leaf. Each rosette will produce a stem that remains unbranched until the cluster of flowers.
Flowering occurs from May through July. The flowers consist of five light yellow petals with tips that are deeply notched and the center is a darker yellow. Sulfur Cinquefoil can self-pollinate and seedlings quickly mature into flowering plants.
An interesting feature of this plant is the pointed hairs which protrude outward at right angles from the stem and leafstalk. The seeds are a dark brown in color and shaped like a comma. They also have net-like ridges and narrow winged edges. The plant is spread by seeds and via new shoots emerging from the edges of its woody root crown. Over time, the stems sprouting from the central woody crown separate into individual plants, thereby expanding the population vegetatively. Plants can live up to 20 years in this way.
It is a native to Eurasia but it is present in North America as an introduced species. The plant originated in the Mediterranean Basin, and it was first collected in the 19th century in Ontario and in 1914 in British Columbia. In 1947 it was discovered in Ravalli County. This was the first sighting in Montana. Since the 1980s the sulfur cinquefoil population has exploded across the west. This weed has been reported in 27 counties in Montana. As of 2013, sulfur cinquefoil is on the state as a priority 2B.
The woody root crown renders mowing an ineffective control measure. The roots send up new shoots after mowing and can spread the infestation if plants are already in seed.
Digging is effective for small populations if the soil is moist and loose enough and if the majority of the woody root is removed. Repeated cultivation is also effective over time. Several herbicides are effective but may require repeat treatment and a suitable surfactant. If you are considering herbicides to treat the sulfur cinquefoil, or have any questions about sulfur cinquefoil or other noxious weeds please contact the Ravalli County Weed District at 777-5842.