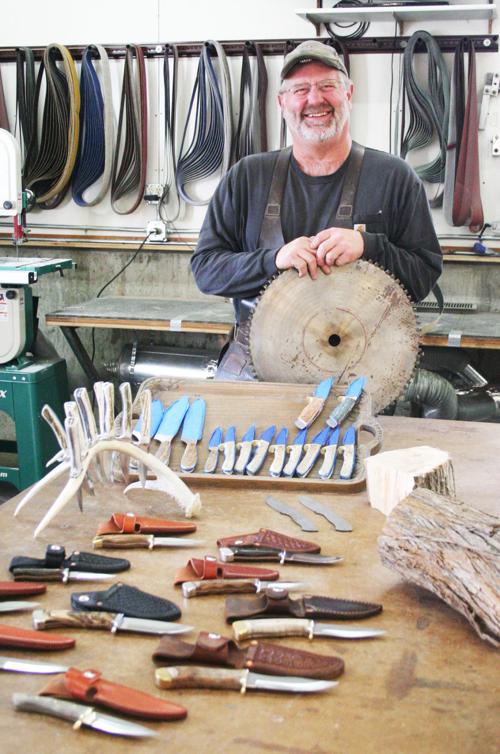 Bitterroot Blades produces custom hunting and cutlery knives of high-quality steel and the finest craftsmanship.
Beautiful knives with sharp gleaming blades and highly polished handles: The true worth is understood and appreciated when held, when the perfect fit and balanced weight is felt.
John Person is owner, designer, steel and wood worker and seller.
"I consider myself a craftsman," said Person. "It is art – that's why it fits into the shows but it is useful art."
Person grew up on his grandparents' small ranch west of Florence and learned to work with metal while repairing farm equipment.
He worked at a lumber mill, then with Frank Ringel, a Ferrier tool maker at Ringel Custom Knives who Person credits with teaching him the skills of metallurgy and metalworking techniques.
Knife sales took off; the business grew so rapidly that they decided to divide.
"I outfitted my shop and started doing art shows," said Person. "My wife and I are now partners in a knife-making business we named after the beautiful valley we live in, Bitterroot Blades."
Starting with gun shows and local art/crafts shows, he credits Debbie Pfau with guiding him to apply to the major art shows that he now travels to all over the United States.
"Jackson Hole, Park City, Tacoma, Belleview … I try to stay with the bigger shows and you have to be juried in," said Person. "Some of these are tough to get in to. I enjoy going to shows and meeting people. I'm pretty good at it."
What he's also pretty good at is starting from scratch and making quality knives from high carbide steel and stainless steel.
For hunting knives, he designs and cuts the patterns from steel circular saw blades previously used at lumber mills in Lewiston and Grangeville, for the steak knives he buys stainless steel by the sheet.
"None of it is stamped out or ready to go - I start at the beginning and end up with a knife."
He sharpens and polishes the blades and tempers them from a Rockwell measurement of 45 to 61 - toughening the metal. Then he makes the handles of wood or elk horn.
"The wood on the handles is box elder, pear, apple, or hawthorn trees – everything about it is bought local and all made in America if not Montana. Wood could be from my yard or someone else's yard nearby. The word is out locally - if you have anything that I might want - bring it by and we'll make a deal – purchase or trade."
Each knife takes approximately a day and a half – not measured by eight hour work days. He works 12 hour days as a rough estimate though every knife is different.
Person credits Jerome Wienand of Frenchtown for answering all his knife-making questions.
For sheaths for the knives, Person works with local leather workers / saddle makers.
"I like doing what I'm doing - it's a lifestyle," said Person. "If anyone is in the market for a good knife, this is the place - it's the best knife you will ever own."