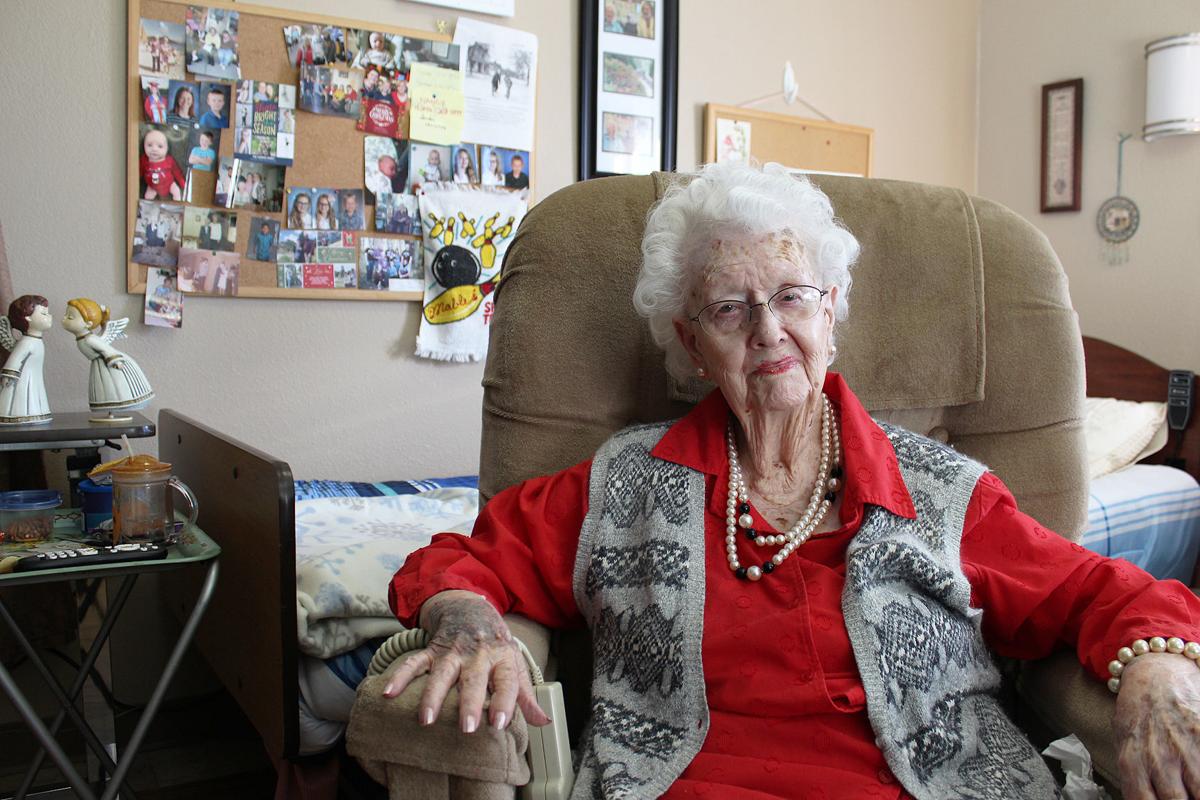 Hamilton native Mable McKillop's 108th birthday is Feb. 10.
Ruth Della Silva, activities director at Discovery Care, said McKillop may be the oldest person in Montana but that she needs to research that information.
"Mable is sharp and fun to have around," Della Silva said.
McKillop said she wasn't sure about the secret to a long life but she attributed her longevity to Montana's fresh air, her many friends and her family always taking the best care of her.
"Montana is the best place," McKillop said.
She was born in Hamilton on Feb. 10, 1912, as the youngest of much older siblings who doted on her. Her dad, an early pioneer of the Bitterroot Valley, came to Montana in 1879, was a Pony Express rider, an Eagles Lodge leader and served several terms as Ward Township constable. Mable's mom, Elizabeth Haynes Stockman, died of gallstones when Mable was only 12 years old.
Mable attended schools in Hamilton, including a few months of first grade at the old Rocky Mountain Lab (now the Hamilton Playhouse) and high school in the square brick building on the south end of Fifth Street (now the Golden Age Center). Her graduation in 1930 was held in the newly completed high school (now Hamilton Middle School).
For 35 years she worked was a switchboard operator for the telephone company on the corner of Main and Fourth streets (now law offices).
On Christmas Day in 1933, Mable married Bell-McCall car salesman Herbert McKillop.
"Of course, he was nice," she said with a smile.
The couple adopted infant girls, Nancy and Judy.
You have free articles remaining.
Mable volunteered to answer the phones for Ed Leach when he first started his mortuary business in the early 1980s and the Leach family became her family.
Karen (Leach) Grimes said she was attending mortuary school when her dad finished the mortuary around 1985.
"Mable answered the phones and handed out folders and that was shortly after she lost her first daughter," Grimes said. "We adopted her as our grandma and she has been our grandma ever since. My and my sister's kids always called her Grandma Mable, no relation at all but our adopted grandma. That's what our kids knew."
Grimes said her sister, Kendra Williams, meets with Mable every Tuesday to visit and sew together.
Mable's friend Nancy Musial, friends with Judy (McKillop) Draft who passed away in November, calls herself another adopted daughter. She said Mable had a lot of adventures and travels.
"She was in a facility years ago and didn't need to be so her daughter Judy got her reestablished in a house," Musial said. "Judy worked for IBM, took great care of Mable and always had grand adventures waiting for her. Mable was the first one on a plane from Montana, saw the Hoover Dam being built, saw Kentucky Derbies and was one of the first people to go through Disney World."
In addition to being a telephone operator, McKillop is a national champion bowler, a pinochle, skip-bo and Bingo player, and a needle stitchery artist who made thousands of table clothes, tea towels and handkerchiefs.
"She is an 80-year member of Eastern Star, they still come and visit her," Musial said. "She had awards and awards from that. Her daughters and granddaughters were Rainbow Girls."
Musial said that Mable was spoiled, in the nicest ways.
"Judy always got Mable box seats at every event," Musial said. "Technology changes and her family always got her the newest TV and radio or phone, every modern convenience. She was always hot to trot and gave up driving in her 80s, gave up a blue Dodge dart. Blue was always her favorite color."
"You name anyone in town and mom has been associated with them in one way or another," Musial said. "Mom has lived a pretty amazing life."
Get local news delivered to your inbox!
Subscribe to our Daily Headlines newsletter.