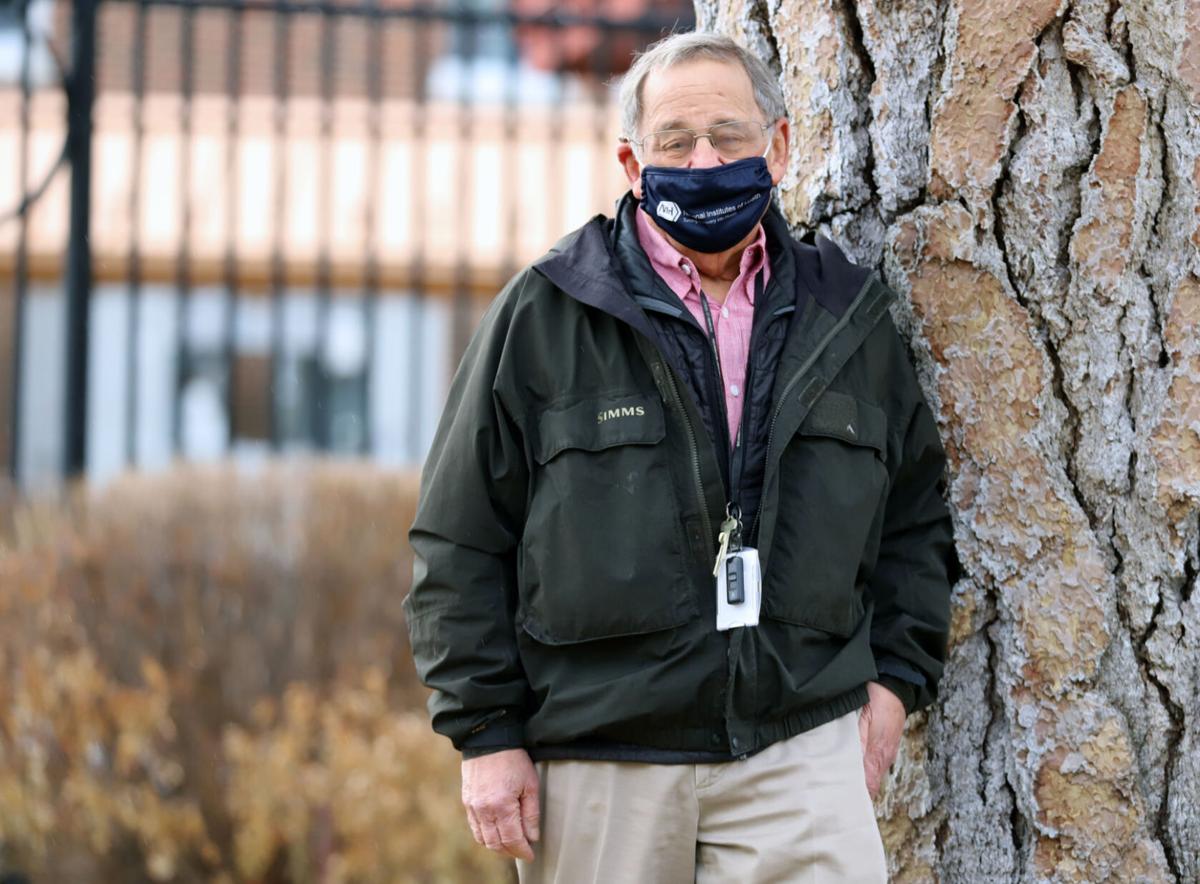 Marshall Bloom was still basking in the glow of being inducted into Montana Bioscience Alliance Hall of Fame when the coronavirus decided to give him a different kind of award.
It was one the longtime associate director for science management at Hamilton Rocky Mountain Laboratories would just as soon gone without.
Bloom was one of the leaders at the federal laboratory who focused research efforts on COVID-19 shortly after it became clear last year the disease was going to have a deadly impact in the U.S. and around the world.
He and other RML researchers took all the precautions to avoid contracting the virus.
Just before Christmas, Bloom developed a little cough that wouldn't go away. As part of the federal laboratory protocol, he filled out the survey required of everyone who developed any COVID-19-like symptoms.
Bloom's tests for the illness came back positive.
On the day before Christmas, he woke up with violent abdominal pain, nausea, vomiting and bad diarrhea.
Bloom went to the Marcus Daly Memorial Hospital emergency room, where health care providers found that his electrolytes were dangerously low. He was placed in the hospital's intensive care unit, where he stayed for four days.
The 75-year-old scientist said that while he didn't develop a fever, lose his sense of smell or taste and his oxygen levels remained steady, the illness was "much, much worse" than any bout with influenza that he's been through.
"My symptoms were slightly atypical from those you hear about, but it turns out that they aren't uncommon with this virus," he said. "I feel very fortunate that I didn't develop severe respiratory issues that someone at my age might have expected to see."
Bloom's wife, Tonia, also came down with COVID-19. She experienced a "bad sinus infection" that was treated with antibiotics.
"We were both very lucky," Bloom said. "We never had to go on oxygen and didn't need any respiratory support. Those who say this is a trivial infection — no worse than the common cold or influenza — that's just a bunch of baloney."
"This is very serious and its impacts linger for a long time," he said. "I'm still feeling weak and run-down. I'm a month out and by 7 p.m. every night I've run out of gas…It's an experience that I wouldn't want to go through again."
Bloom believes he contracted the virus at the grocery store.
"I've been extremely careful," he said. "The only place I take off my mask is in my office when the door is shut, in my car or at home. My hunch is I encountered someone shedding the virus at the grocery store. When I think back five days or so before I got sick, all of the other places I go to people wear masks."
The long-time scientist, who recently led an effort to encourage people to wear masks in a large advertisement in the Ravalli Republic, said there have been people who have asked him if he still thinks masks are effective.
"My answer is a definite yes," Bloom said. "We can make a strong guess that I was shedding virus for probably two days before I started to show symptoms. If I had not been wearing a mask, there's a good chance I might have spread it to someone at work."
None of the preventative measures — that includes masks, hand washing, social distancing and vaccines — are 100% effective, Bloom said.
"I tell people the proper way to think of it is all of those measures are like slices of Swiss cheese," Bloom said. "Wearing a mask is like having one slice. Some virus may get through. Washing your hands is like having another. Some virus may get past that. Even if the vaccine is 95% effective."
"But when you put all those slices together, you can stop the spread of the virus," he said.
Bloom said it's been disappointing that some of the preventative measures have been politicized.
"Whether they are mandated or not, to me it's an issue of personal responsibility," he said. "By wearing a mask, washing your hands and maintaining your distance, you are taking care of not only yourself but your loved ones. For Pete's sake, if first-graders and kindergartners can wear a mask all day, it seems to me adults should be able to wear them into a store."
"We've had almost 20 people in Ravalli County die from this so far," Bloom said.
Even though county public health is overwhelmed due to the pandemic, Bloom said they did follow up with him and his wife.
"Those poor people are swamped with all the cases in the county and now they're trying to set up vaccine clinics," he said. "Yesterday they had more than 2,000 calls from people wanting to get an appointment, but there's not enough vaccine to go around yet. I do think it's encouraging there are 2,000 people in Ravalli County interested in getting the vaccine."
"What we're hearing is that as more people take the vaccine, the level of vaccine hesitancy is going down," Bloom said. "There has been some horrible misinformation being spread out there. There are really two different pandemics happening now. There's the virus pandemic and the misinformation pandemic."
"The virus pandemic is much easier to deal with than the misinformation pandemic," he said. "I can tell you this. If Tonia and I can end up with this virus, then anyone can get it."