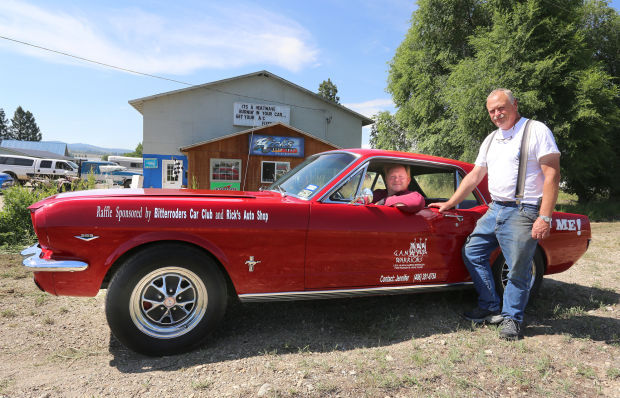 Last August, a small group of Bitterroot Valley women banded together to make a difference for three young boys battling a deadly disease.
The four made a pact to raise $150,000 to help pay for a clinical trial that may be the best hope for 6-year-old Levi Spencer and his 5-year-old twin brothers, Aaron and Alan.
With the help of a group of big-hearted Bitterrodders, they will meet that goal before the year is up.
The car club accepted the donation of a 1966 Ford Mustang from a member of the Spencer family last year. After a good deal of careful restoration work, the cherry red vintage muscle car is now being raffled off at $50 a chance.
The winning ticket will be drawn at Daly Days on July 27 at 3:30 p.m.
By then, Bitterrodders Car Club president Geoffrey Wise thinks all of the 500 raffle tickets will have been sold.
"We're about halfway there now," he said. "I expect it to start picking up as we get closer to the drawing."
Wise said people know the importance of this cause.
The brothers have been diagnosed with Giant Axonal Neuropathy, better known as GAN. The inherited genetic disorder will slowly cause the boys to lose control of their bodily functions. Without some kind of intervention, the prognosis is that boys will become bedridden and eventually die from the disease.
A nonprofit founded in New York state by a couple whose daughter was diagnosed with the disease in 2008 has been raising money to pay for a clinical trial that potentially could unlock secrets on how to treat the disease and potentially other similar ailments.
Hannah's Hope Fund will pay for the expensive clinical trials that could begin this year.
The challenge has always been funding. There are fewer than 100 diagnosed cases of GAN in the world. With numbers that low, it's difficult to get pharmaceutical companies interested in paying for the research.
Sarah Fryer is one of the four women who came together to raise money for the Spencer boys. The group has hosted a variety of fundraisers throughout the year, including a very successful Polar Plunge in February.
If this latest fundraiser goes as expected, Fryer said the $150,000 goal will have been met.
"It's been an incredible journey," she said. "A lot of people have stepped forward to help. We couldn't have done it without them."
Wise said the car club's raffle fits nicely into its founding philosophy.
"We are just a bunch of community and charity-orientated car nuts," Wise said. "We like to do things together that can benefit others."
The organization has been around since 1997. It's 100 or so members mostly live in the Bitterroot, but some hail from as far as away as Kansas.
The club hosts a few car shows a year. When some of those brought a little cash into the club's coffers, Wise said members came together to talk about how that should be spent.
Initially, that extra money went to help out members of the club suffering through bad times. Eventually, it branched out to help other community members with medical needs.
And so it was an easy decision when the women came to the club to see if they might be willing to do something to help the Spencer boys, Wise said.
"They approached our club to ask if we'd be willing to help with the fundraising," he said. "Being a big bunch of softies, we said, 'Of course, we would.' "
The vintage Mustang they retrieved from Texas was mechanically sound with a body 99 percent free of rust. The interior needed some work and the outside could use a little help too.
"It was a project car," Wise said.
A good deal of the mechanical work on the project was undertaken by Rick Pritchett of Rick's Auto Body in Hamilton. Some local businesses chipped in to make the project a success, including Les Schwab and Rick's Graphics.
The finished vintage Mustang would probably sell for close to $20,000 in many markets around the country, Wise said.
"The '66 Mustang is one the most desirable of all the Mustangs to collectors," he said. "It has the most classic style. It was the first year of the muscle car."
Over the next few weeks, the car will be on display at Bitterroot Motors in Missoula, the Pancake Breakfast at the Hamilton airport and the Mildenberger Motors Bitterroot Car show, at Napa Auto Parts in Stevensville on July 12 and the Three Mile Community Picnic on July 13.
Raffle tickets can be purchased at the Filling Station Grill, Les Schwab stores in Hamilton and Stevensville, Stevensville Napa Store, Tire-a-rama, Bitterroot Motors and Dave's Transmission and Repair.