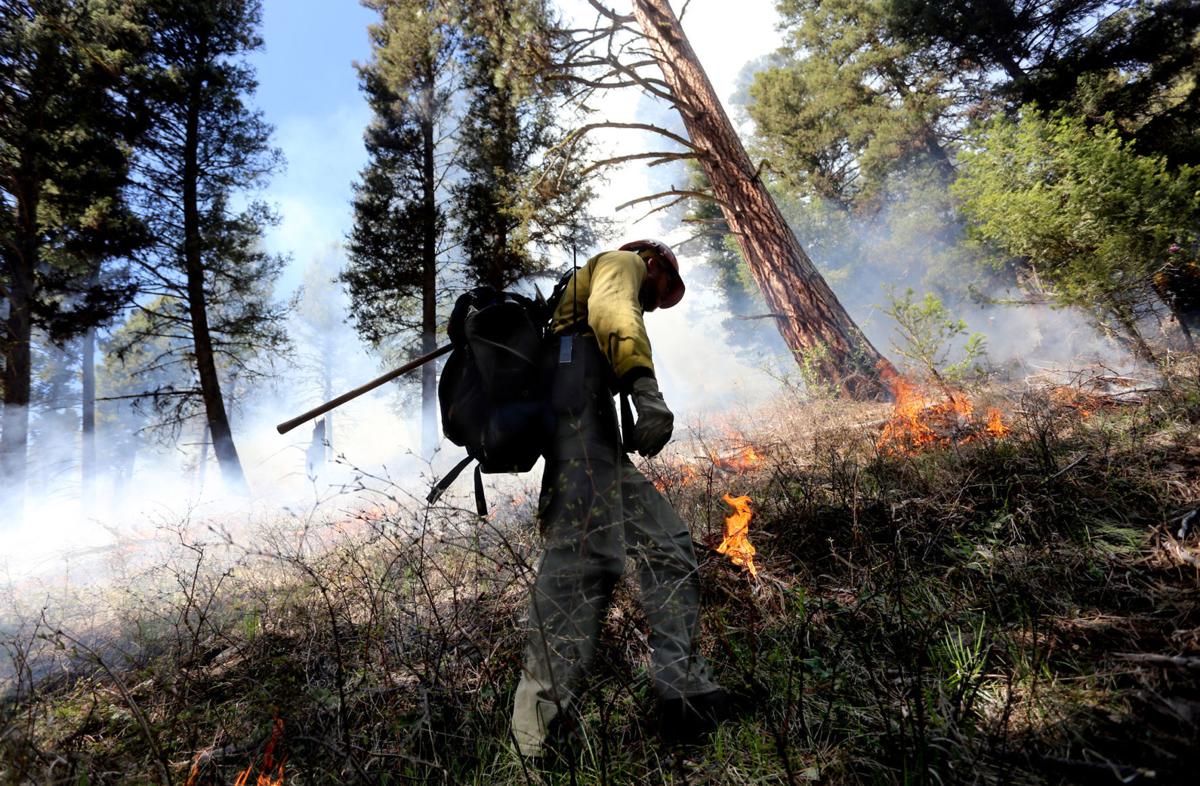 A nonprofit organization focused on educating folks in the Bitterroot Valley about the dangers of wildfire is looking to take its efforts one step further.
Considering that Ravalli County has been identified as having the greatest risk of severe wildfire in the state, with six of its communities in the top 10, the timing couldn't be better.
The Fire in the Root program recently applied for a Montana Forest Action Plan grant to transition its awareness campaign to a formal Wildfire Advisory Council. The council would be made up of community ambassadors.
"The council would be Bitterroot residents speaking for Bitterroot Valley," said Anna Bateson, the Bitterroot National Forest's fire prevention officer. "It wouldn't be run by representatives of different state and federal agencies. It would be folks in the community leading this effort."
The council would likely include concerned citizens and representatives from local fire departments, Realtors, builders, insurance agents, homeowner associations, public health and state and local government representatives.
One of the council's early goals would be to increase the number of the Home Wildfire Risk Analysis completed on the more than 10,000 homes built in high wildfire hazard areas. Since 2016, there have only been 25 assessments.
The Montana Forest Action Plan categorizes almost 3.9 million acres of the Bitterroot Valley as priority areas, with over a half-million acres inside the wildland/urban interface.
The Fire in the Root's application said that while programs are working to reduce hazardous fuels in the wildland/urban interface, connectivity of those programs is lacking. The 2005 Bitterroot Community Wildfire Protection Plan is out-of-date. At this point, the application said all the stakeholders aren't working together.
The Fire in the Root's Mitigation Project has five goals.
It wants to target 4,000 homeowners in priority area communities for rapid risk assessments followed by work to reduce that risk to those homes. It would work to recruit volunteers to serve as preparedness and prevention coordinators for local volunteer fire departments.
It also wants to look for ways to either use or dispose of timber slash locally. And it would create an outreach and education plan that would provide residents with information about wildfire preparedness, prevention and the resources that are available to reduce that risk.
Creating a self-sustaining, local collaborative Fire in the Root Mitigation Council would help in implementing those goals and other projects.
"Such outcomes would result in reduced wildfire risk, fire-adapted communities and improved forest and community health," said the application. "Vegetation will be removed from private land to reduce risk and promote forest health; home — values at risk but also a fuel type itself — will be hardened, reducing ignitability."
"Communities will have a better chance of surviving after a wildfire," said the application.
Bateson said the grant would help pay for a coordinator focused on getting the new council up and running.
"We are going to be looking at doing work in those high-risk areas," Bateson said. "We have to prioritize the wildland/urban interface areas. We will need locals and communities to help us figure out where those high-priority areas are. This is their backyard and their homes."
The proposed council is currently looking for potential members. The first general meetings of the council will be held virtually in March, with an organizational meeting held either later that month or in April. The goal is to have the council up and running by June 2021.
Bitter Root RC&D Community Forester Byron Bonney leads a program that helps homeowners pay for fuel reduction work on the private land around their homes.
Creating a council that brings a lot of different stakeholders to the table could help in the effort.
"Overall I think it's going to be a good thing," Bonney said. "We're all shooting for the same objective. We all want to protect homes and save lives and structures."