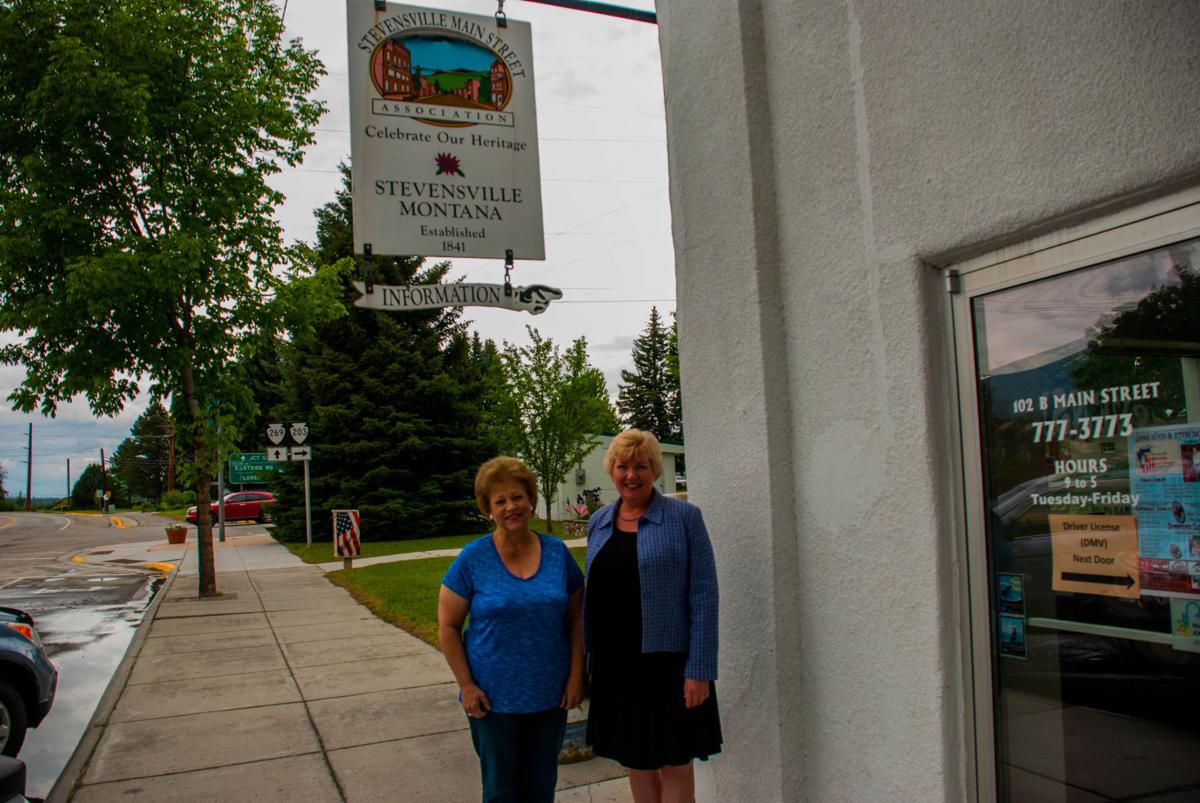 Joan Prather retired Wednesday after more than 16 years of serving as the executive director for the Stevensville Main Street Association.
Prather began working for the Stevensville Main Street Association in 2000 when 13 local businesses signed on for three years to create a budget to revitalize the downtown.  
Prior to working as the executive director, Prather worked in the chamber of commerce and in the offices of a dental practice in Florence and the Stevensville Community Medical Center.  When Prather started, there were six vacant buildings and gaps in the sidewalks of the Stevensville downtown.
When she was first hired, she only worked for the Main Street Association part-time, but that quickly changed.
"People started to come find me at my receptionist job at the Community Medical Center to ask me Main Street questions," Prather said.
As a Bitterroot native, Prather said she already had a strong connection and sense of place in the area, but working for the Main Street Association only strengthened that.
"We have it all right here, the scenic beauty, the river, the downtown with real character," Prather said.
One of the first tasks Prather took up was to broaden the scope of the First Friday celebration at 1888, a local jeweler.  She recognized their success, and asked if the rest of the downtown could join in.  Now, many different communities across western Montana also host a celebration of sorts on the first Friday of every month.
Prather worked within the national Main Street Association's framework for building a vibrant downtown. The four tenets are promotion, design, economic development and organization.
"I always said one of my best qualifications for this job was being a past cheerleader," Prather said. "The First Fridays provided a great social event for community and visitors."
In a way, Prather stayed a cheerleader, but for the town of Stevensville, rather than at any sporting event.
In addition to her work promoting Stevensville and drawing in visitors from both near and far, Prather oversaw the majority of the beautification projects in the downtown Stevensville area.
A streetscape improvement project Prather proposed received a community development block grant from the state in 2012.  After securing private investment of more than $60,000, and working to secure different matching funds, the town had $400,000 to work with.
The streetscape project created bulb-outs slowing down traffic and making the streets safer for pedestrians. The bulb-outs gave businesses the opportunity to plant flowers and shrubs in front of their shops. Prather said many businesses saw an increase in the amount of people flowing in and out of their shops simply from the aesthetics of the plantings.
The project also put in bike racks, benches, and filled in old divots, the leftovers from garage fronts that altered the level of the road and sidewalk,
Prather said she is sad to leave before some of her other projects finished, but that she is happy of what she accomplished and looks forward to spending more time with her grandchild.
"This job is absolutely the best thing I've ever had happen to me, except for becoming a grandma," Prather said.
While the whole Main Street Association board of directors officially chose her successor, Prather said she knew who it would be as soon as she saw the pool of applicants. Lorraine Roach, the new executive director worked her first day on Thursday.
"To find someone this familiar with the program in your community, it was just like woah, this is wonderful," Prather said.
Roach moved from Idaho to Stevensville last year. She's spent the last few weeks shadowing Joan, meeting and getting to know individual businesses around town, but really she's been preparing for this job far longer than that.
With a background in business and hotel management, and a long-time certified member of the National Main Street Association, few applicants could hope to be as qualified as Roach.
"I had people asking me, 'Do you have a replacement yet?'" And I said, 'Yes I do, it's Lorraine Roach,'" They were like, 'Wow, how did you get her," Prather said.
Roach said she wants to build on the success Prather has had by increasing the feedback the association gets from residents and businesses.  Her first plan is to send out a survey to local businesses asking them questions about what is most helpful to them and what changes would they like to see.
The Main Street Association recently subscribed to a program called Grant Station, which aggregates a list of grants provided by foundations and organizations around the country.  Roach said she hopes use the subscription to assist local businesses in finding the right grants for them.
Roach said she really likes the character of the Bitterroot valley and looks forward to getting to know Stevensville even better.