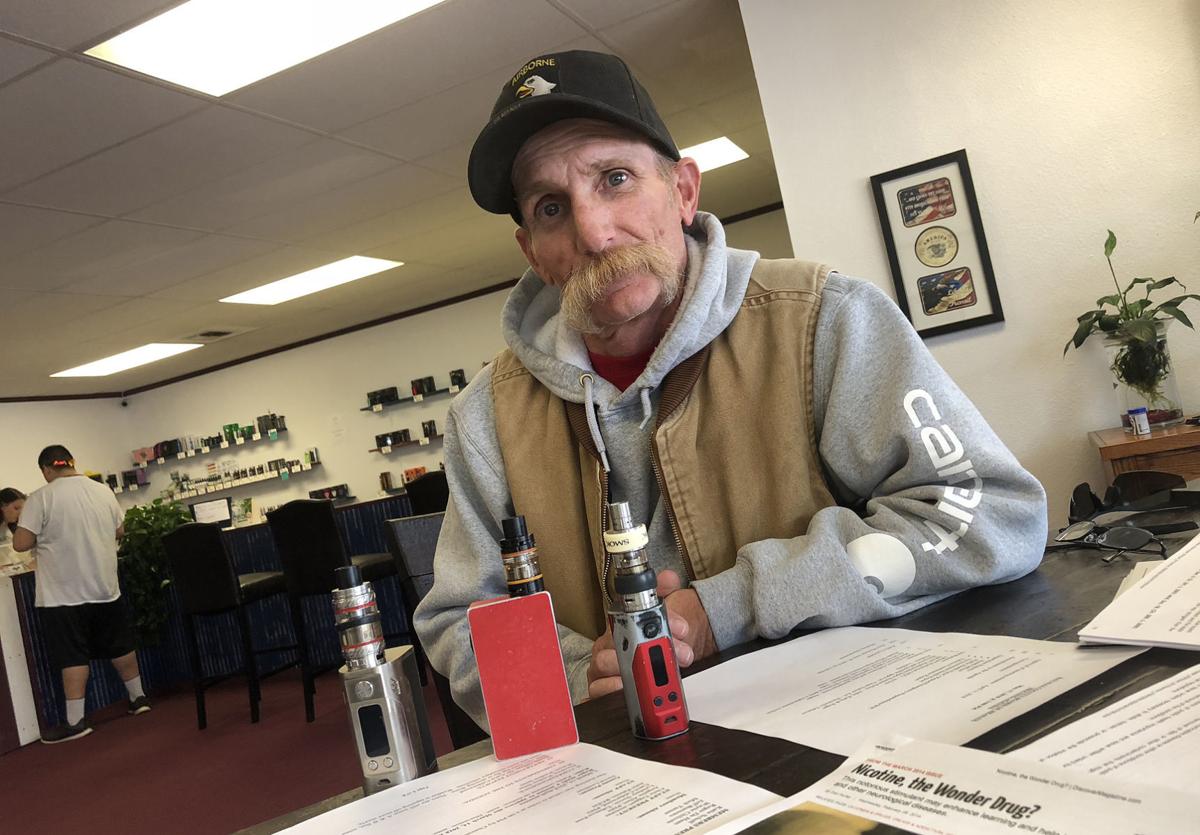 Ravalli County tobacco prevention specialist Lyndsay Stover came prepared last week for what she was certain would be a debate over the merits of banning e-cigarettes and vaping devices from indoor public places.
"I was ready for a fight and nobody was there," Stover said.
The Ravalli County Board of Health voted to include electronic nicotine delivery devices in the county's Clean Indoor Air Act ordinance in a 3-2 vote following a hearing that didn't include any public comment other than Stovers'.
That policy, which was effective immediately, prohibits the use of the devices in public places anywhere in the county.
It's an ordinance that's almost certain to be challenged.
Ron Marshall of Freedom Vapes, a Hamilton business that specializes in vaping supplies, said he had no idea the issue was even being considered. He believes the board didn't do enough to let the community know and then made mistakes in posting meeting times online.
"I would have been there with bells on if I had known," Marshall said. "Who knows what other business owners would have been there if people had known about it… This came up just kind out of the blue."
Marshall and his wife, Deanna, own vape shops in Hamilton, Bozeman and Belgrade. They have testified about issues surrounding the use of electronic nicotine delivery devices on state and federal levels.
"We dealt with this on the state level during the last legislative session," Marshall said. "We argued in front of the state judiciary committee that while it was fine to ban it in schools or county buildings, that decision for private businesses should be left up to the owners."
After the Legislature chose not to include the devices in the state's Clean Indoor Air Act, Marshall said a few counties have done so, including Missoula, Yellowstone and now Ravalli. The ordinance in Yellowstone is being challenged by the Montana Tavern Association, he said.
"My concern is the Board of Health did not follow the proper protocol," he said. "It should have been published in the paper. There should have been public discussion. Maybe there would have been a different resolution."
Ravalli County Commissioner Jeff Burrows serves as the Board of Health's chair.
The board heard several presentations over the last couple of months from Stover about the health risks of the devices and their growing use by young people.
Burrows has his own concerns about vaping's impacts on the younger population, but he thinks the board moved too fast in banning the devices from private businesses without sufficient public input.
"I think we could have done a little more education and outreach before we moved forward with this," Burrows said. "The process could have been better."
Burrows voted against the measure.
The ordinance calls for complaint-based enforcement. If someone in a public place sees someone using one of the devices, they can write a complaint. Businesses will receive two verbal warning. The third complaint can result in a misdemeanor charge and a $100 fine.
Stover said the ordinance sets a uniform standard for people who smoke cigarettes or use some type of electronic nicotine delivery device.
"I think there is a lot of confusion right now on what's allowed and what's not," she said. "This isn't about regulating businesses. Some people were upset because they said we were pushing regulations on businesses. We're just trying to protect people. There are a lot of people who don't want to be exposed to those products.
"I think about my children when they are in the grocery store or a movie theater," Stover said. "I don't think it's fair that my kids would have to breathe that in."
Even with that, Stover said she was surprised there was no one at the meeting to advocate for the other side.
"I was kind of blown away by that," she said. "I think the board failed in regards to public outreach. I think it would have been good for people who use e-cigarettes to have had a voice there. I think it would have been good to have both sides represented."
The Marshalls have presented the board with a Freedom of Information Act request on materials it used to base its decision to ban the devices inside public places. They may consider a lawsuit.
"I think they should just rescind everything on the issue and start over," Marshall said. "Open it up to the public and hear what others have to say. That's the way it should have been done from the beginning."