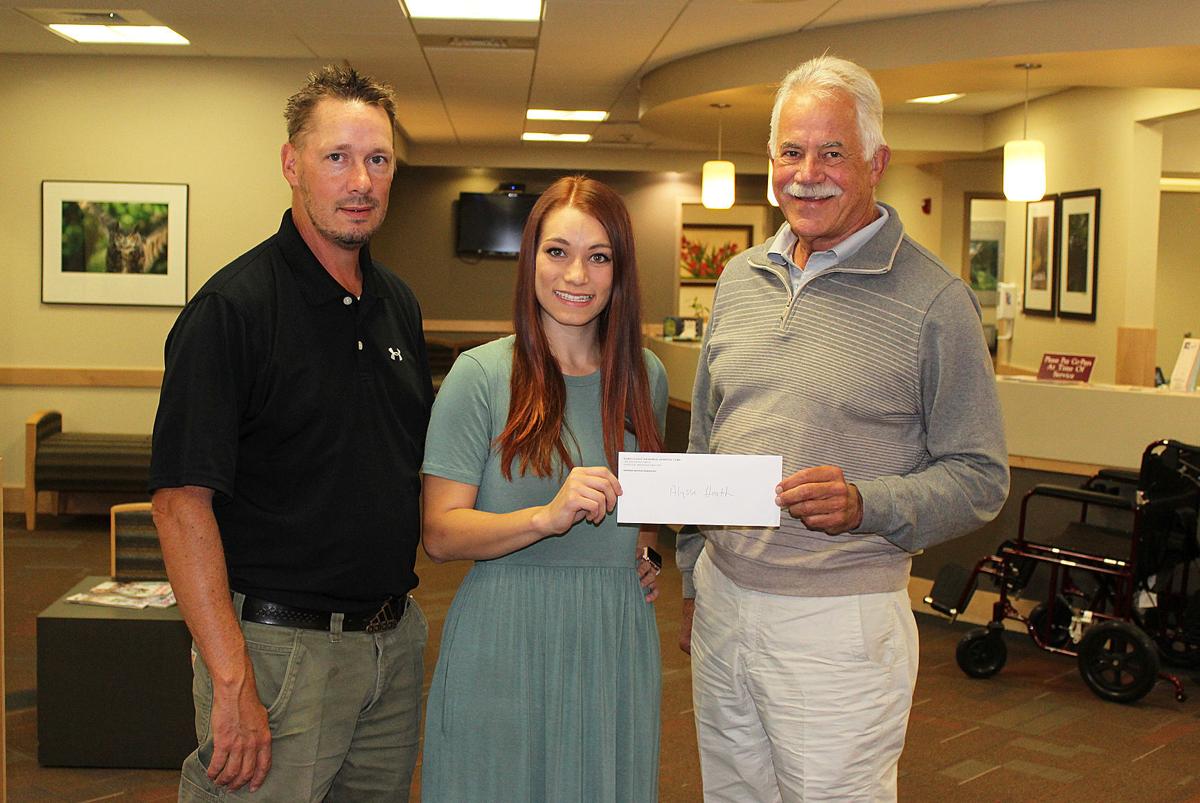 Hamilton resident Alyssa Heath is the recipient of the 2018 Marcus Daly Memorial Hospital and Medical Staff Scholarship, and is enrolled in the physician assistant program at Rocky Mountain University.
"I debated medical school for a long time, but I like that physician assistants can do a lot in medicine," she said. "I like their scope of practice and I thought it just fit me better."
Heath had insight into the medical field as she grew up in a family with a focus on medicine. Her father is Dr. Brett Heath, of Family Medicine Center of the Bitterroot, and her grandfather and uncle were also doctors.
"It was very inspiring to see my dad work with his patients," Alyssa Heath said. "He spent his whole life doing that. I was born while he was in medical school. I enjoyed seeing him work so hard at that and get to know his patients and it seems as though he loves it."
Heath just finished the first of seven semesters in her two-year masters degree program. Her bachelors degree is in physiology from Brigham Young University in Utah. She worked for a year as a medical assistant before beginning the PA program this spring.
"I worked in a family medicine clinic in Utah and I loved seeing the same patients over and over again," she said. "It was really fun to follow their health and watch their progress. I got to know whole families which was really fun. I got to see children and their grandparents come in."
Health said with her family background and with her own experience she is aware of the reality and commitment of her chosen profession. She said sometimes it means missing Christmas morning with your family or other key life events because of dedication to patients and your profession.
"It can be hard sometimes, but I've always known, it is what I've always wanted to do," she said. "You get such a unique relationship with people that I feel is unique to medicine. You fill a very special role in their lives often at very vulnerable moments. You have such an impact on their health and lives."
Heath said the MDMH scholarship is a generous gift that takes some of the stress off of her school expenses.
"The biggest negative of going to PA school is the cost," she said. "It is a very expensive two-year degree. It is very kind of the hospital to invest in healthcare students like this. I think all of the doctors and other healthcare providers who have gone through it know it is a big financial burden to start your career."
Heath said the one-time $4,000 scholarship would cover about half of her tuition for next semester.
"That is money I don't have to pay back with interest which is a huge, huge blessing," she said. "I am so grateful that they offered this and I've seen it given every year. It is so generous to give back to students who grow up in the Bitterroot Valley and go out into the world to help patients and maybe someday come back here."
Heath said she would love to return to the Bitterroot Valley.
"I love it here and am keeping that door open," she said.
Dr. Brett Heath said he is proud of his daughter and appreciates the scholarship.
"Thumbs up," he said. "I know she has worked hard. She has always had an interest in medicine and people so I'm glad she's doing something good. This keeps up the family tradition – her grandpa, her uncle and me. Her grandpa was a general practitioner in the 30s and 40s in Boise."
Doctor Heath said his grandfather helped set up the Western Interstate Commission for Higher Education (WICHE) program. It helps students in 10 western states to enroll in selected out-of-state professional healthcare programs and pay reduced tuition.
Dr. John Moreland spoke for MDMH and medical staff who contributed to the scholarship.
"This helps support kids in the community and gives them motivation," he said. "Some of them return to work in Ravalli County and the hospital and that's always good."
Moreland said his grandfather was also a doctor.
"He delivered me," Moreland said. "It was unintended, my dad was in France in WWII and my mom was staying with her parents. My grandparents drove her to the hospital and another doctor was supposed to deliver but it was too late."
Doctors Moreland and Heath agreed that having a doctor in the family has an impact on everyone.
"A lot of times kids follow their parent's occupation," Dr. Heath said. "Alyssa has always been good at science and just loves people."
Moreland agreed that students need a love of science and math as a starting point to the medical field that has many options.
"Medicine isn't just being a small-town doctor," he said. "You can be anything – a radiologist or a researcher who just looks under a microscope all day long and never sees a patient."
But for future Physician's Assistant Alyssa Heath, patients are the main reason to be in medicine.
Get local news delivered to your inbox!
Subscribe to our Daily Headlines newsletter.