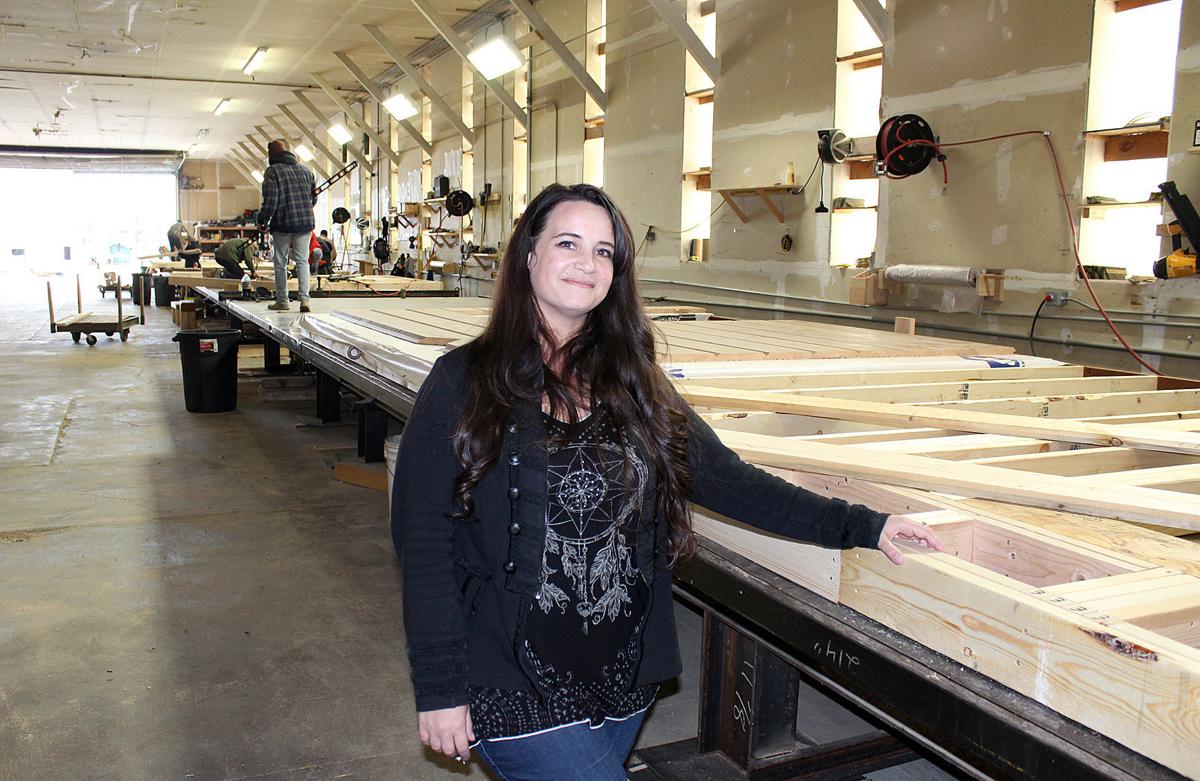 Rocky Mountain Homes has its first female executive in its 40-year history.
Mikel Vandergenachte-Ochs, president of operations, said excellent mentors, belief in the business and love of the people she works with makes the job possible.
She is a fifth generation Montanan and starting her seventh year at Rocky Mountain Homes.
"I'm very invested in what we do here and the valley," Vandergenachte-Ochs said. "It is extremely important to me that we provide a place where people can work, make a good living and enjoy the beautiful part of Montana."
Rocky Mountain Homes is part of the Montana Manufacturing Extension program that is working to bring manufacturing back to Montana.
Vandergenachte-Ochs has a diverse background.
She grew up as a tomboy, studied business administration, detoured into forensics and sociology then married and moved to Germany for a few years. There she worked and planned events at a recreation center for soldiers.
She moved back to the United States, took more business administration classes, and worked in marketing and property management. She has experience as a title examiner, licensed mortgage broker.
Vandergenachte-Ochs started at Rocky Mountain Homes in marketing and expanding the panelized division.
"It fit really well, I was able to fill a lot of holes and have had great mentors," she said.
She credits the mentorship of owner and CEO Craig Rostad and owner and manufacturing Terry Cleveland.
"We started the transition in January, there is a lot of knowledge there," Vandergenachte-Ochs said. "There is a lot of generational differences, millennials, recruiting and I'm able to bring different aspects to the table. We are focusing on lean manufacturing so there is always continual improvement."
Currently, the business south of Hamilton has nearly 90 employees but that numbers fluctuates. There are also offsite employees. Keeping and retaining employees is a challenge with lack of housing in Hamilton and a longer commute from Missoula.
Over Rocky's 40-years Vandergenachte-Ochs said they've sold manufactured or log homes in every state and currently are selling big in Colorado, Wyoming, Idaho, Utah, California, Washington, Oregon and Wisconsin. Currently on pause with Canada but selling big in China and Turkey.
"We've sold in Alaska and just figure out how to get them there," Vandergenachte-Ochs said. "We've had someone put panels in containers and drive it across the ice-road. Our guys can figure out logistics."
The company used to be called Rocky Mountain Log Homes and the company still does sales in logs homes.
"We are known for the quality of our logs. We use dry, dead, standing logs and we have a great reputation," Vandergenachte-Ochs said. "We incorporate a lot of logs and our most popular is half-log siding that looks like a full log home."
The company builds complete custom homes, ranging from high end to little guest houses. They are designed and engineered for the build sites and can be completely installed in eight to 10 days.
Panelized building is becoming the wave of the future offering time savings with less waste.
Rocky Mountain Homes is expanding to meet those needs.
"Our niche is that 'mountain rustic' but there is a need for it everywhere so we are claiming our space and looking at where we want to be and where can we maximize our return to keep this business healthy," Vandergenachte-Ochs said.
She said one challenge in her job is the variety of personalities she works with.
"It is helpful to have old-school employees who are assertive," she said. "It is important to be assertive and recognized as being able to contribute. I think there is the need prove yourself a little bit more but the guys are receptive. They know I know what they are doing and how it works. I've had great mentors and there are great people that work here."
She said she has a lot to learn, the interest to learn it and the desire to continue to blaze the trail in non–traditional roles for her daughters.
"Being president of operations is a huge responsibility that I take very, very seriously," Vandergenachte-Ochs said. "I want my daughters to know they can do anything. I was raised by my dad and there was never an implication that I'm a girl so I can't do it. We figured out how to get it done. Until I left home I didn't know there was a perception of difference of what females and males can do."
Rocky Mountain Homes typically does between $19 and $22 million worth of business each year including onsite construction of large high-end homes.
"We build $2-3 million dollar homes and that takes a lot of intricate detail and that is a big part of our business outside of manufacturing," Vandergenachte-Ochs said.
She said the key to success is pride in the product.
"We love what we do," she said. "I love seeing our homes in the wild and I tell my kids it is a one of a kind legacy. But our biggest pride is that we are one big family and we take pride of being here in the valley. This industry is about service and it doesn't work without a lot of great, dedicated people. We bond together when things get tough. I love our product and the people that make it."
Rocky Mountain Homes and Whisper Creek Log Homes are located at 1883 Highway 93 S. Hamilton. For more information call 406-375-1869 or online visit rockymountainloghomes.com.
Get local news delivered to your inbox!
Subscribe to our Daily Headlines newsletter.