Marilyn Morris loves lavender.
She lives on the west side of the Bitterroot Valley and raises lavender plants as a hobby that fills her life with happiness.
"I think it is an absolutely beautiful plant the way it grows," she said. "It is a beautiful plant and I want fields of it. It is calming, which I'm into calming, and I just thought 'I want to grow lavender' so that's what I'm doing."
Thirteen years ago, she readied about a half-acre of her land and planted 2,000 lavender plants. They got hit with a frost before they went dormant and she lost all of them.
"But I was determined, I couldn't stand that all of that was wasted so I just did it again," Morris said.
She has divided the half-acre in to several sections with diverse ages of lavender plants and uses some plots to test different varieties. Lavender comes in over 100 varieties including different colors of yellow, pinks, purples and blues. She taught herself how to raise the plants that she waters with overhead sprinklers.
Her westward view includes the Bitterroot Mountain range behind a flowing sea of deep purple.
The lavender growing process is that all winter the plants are ugly little brown and woody shrubs. In the spring the green starts coming up (about eight inches). From the middle of June to the middle of July the lavender magic happens with stems blossoming deep purple flowers loaded with the fragrance often associated with soap.
"When it grows it gets to a premium time with a tight window of optimum harvest before the plants are past their prime," Morris said.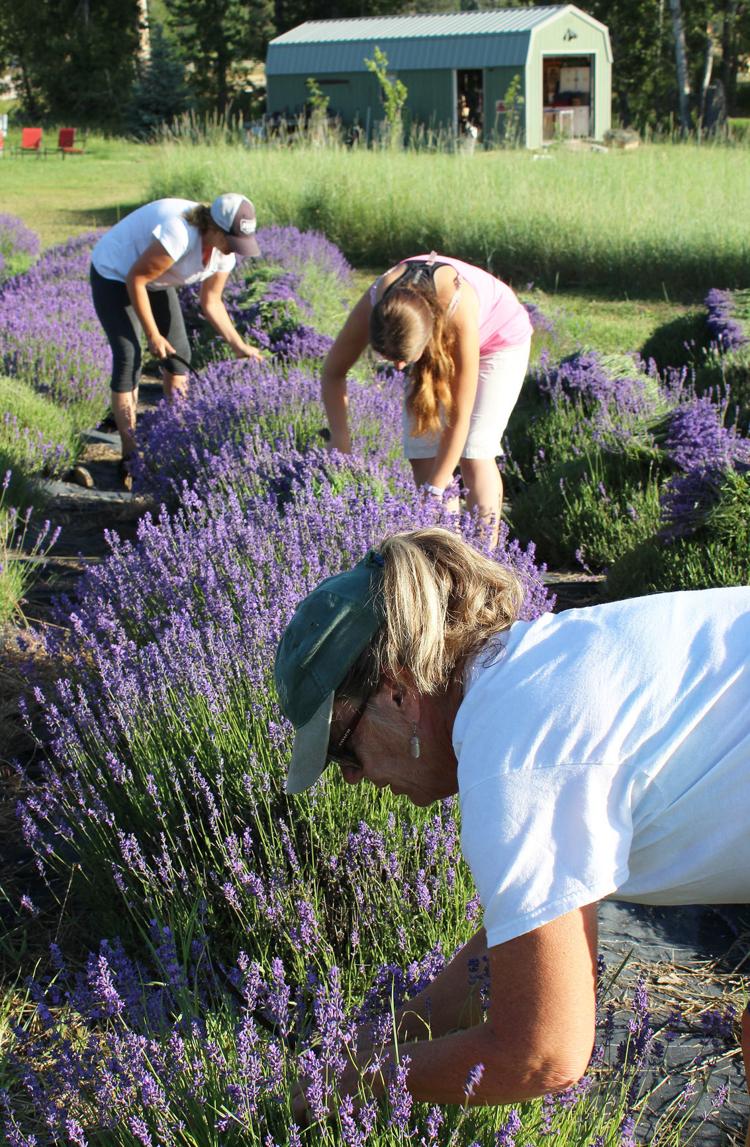 This summer she hired Alicia McEwen (first grade teacher at Corvallis) and Makala Montgomery in the middle of June to help her with harvest. They cut the flowering stems and leave the woody shrub on the plant to work its magic again the next spring.
"You've got to clean your plant before it goes to bed in the winter or it creates a woody mess," Morris said. "If you leave any stems or leaves on top you have a ton of old woody stems in the middle of your lavender. I know that from experience."
For the tight window of three-weeks, harvest takes place from 7 a.m. to 11 a.m. in the cool of the morning.
"When it reaches 65 degrees the honey bees come out and they are on it," Morris said. "By the end of the day each plant can have 20 honey bees. They don't care about us at all they care about is the nectar."
Morris doesn't keep her own bees; these bees are flying from somewhere else.
"For the bees to make lavender honey, I'd have to have acres of lavender," she said. "But they are loving it and I've seen the bees dig in and push open the blossoms. They are getting loaded with nectar. Their legs are loaded with it."
McEwan said the bees "look like they have sweat pants on."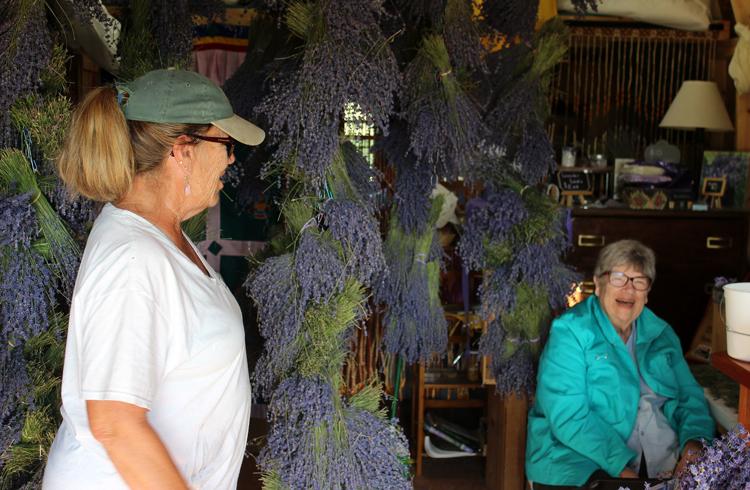 The harvesters shake each bush to shoo any bees away then grab a hand full of blossoming stems, slice them using a small handheld scythe and set them on top of a bush that has been harvested. They gather lavender bunches, band them together and take them to the lavender shed where they are hung to dry then bundled with purple ribbons for sale or gifts. Sachets are made from flowers that fall during the process.
You have free articles remaining.
Register for more free articles
Stay logged in to skip the surveys
The challenge of harvest is working bent-over for four hours every day for three weeks.
The rewards are the peaceful-quiet mornings, the colors, the camaraderie and aroma of lavender.
"Working here you end up getting dirty but a lot of the pollen and oil sticks to your skin," Montgomery said. "When you leave here you don't smell like sweat and dirt you smell like lavender. After work I throw my clothes in the washer on 'hot' and 'maximum dirt' and my dryer always smells like lavender."
"Everywhere I go people say I smell like lavender," she said. "Yeah, we are lavender girls. We are kind of freaky, I think we love lavender a ton. It is so pretty out here. We can't complain when we are working."
Montgomery called lavender a "peaceful plant."
"Marilyn is sharing peace in the valley," Montgomery said.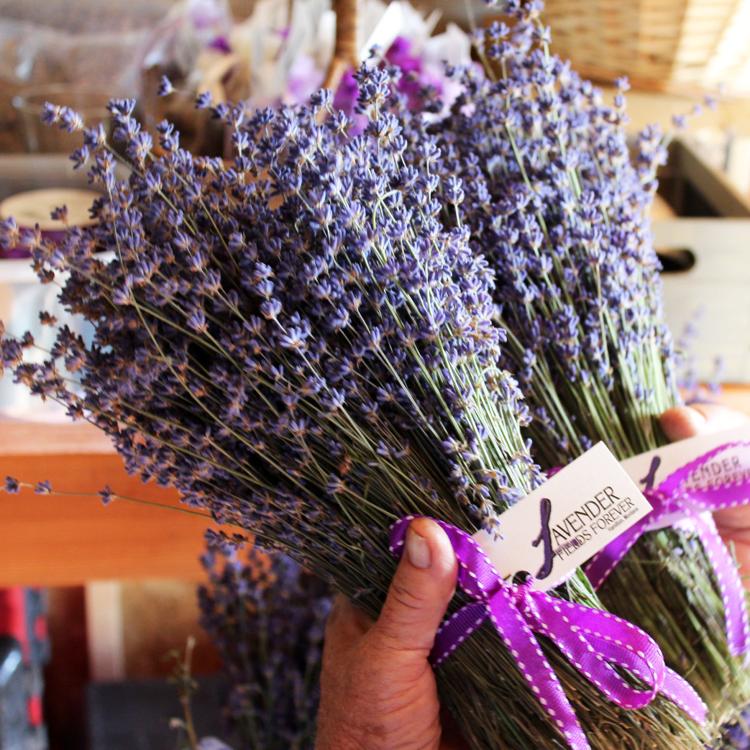 Morris mostly gives away her lavender to people who provide helpful service in her life, nonprofits for fundraising and a teacher of meditation classes at Trapper Creek Job Corps.
Morris said she loves the reactions she receives from recipients.
"It's like taking Krispy Kreme doughnuts to the office," she said. "Everybody gets happy. I never see anyone get grouchy around lavender."
Morris's friend Mary Pape comes from Tacoma, Washington, during harvest to work in the lavender shed and help bundle dried lavender for sale at farmers market.
"I only enjoy working the morning," Pape said. "It was a late harvest this year. I'm getting older and more decrepit but once I work here, getting in and out of the ranger, going around to water everything, I go home and feel better for weeks."
The Morris Honey Company was the commercial bee keeper for the Bitterroot Valley since the 1960s. Marilyn Morris sold the bee business and is growing the lavender that has always been her goal.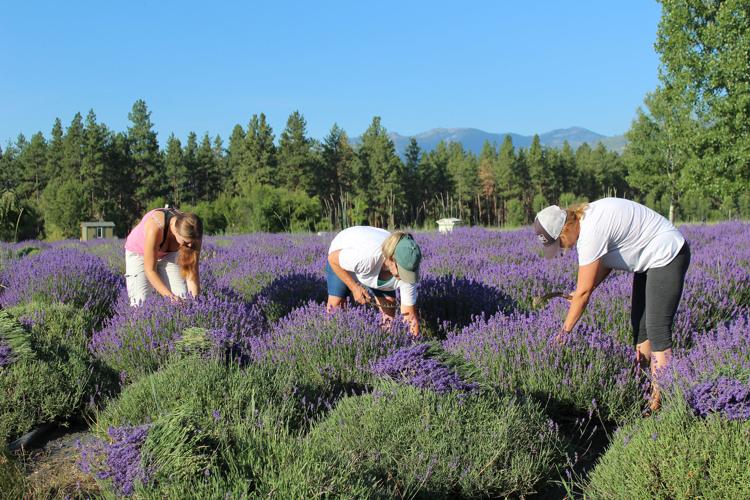 Lavender Fields Forever is the name of Morris's licensed business and she just hopes to make enough money to break even.
"I go to the farmers market for three Saturdays and in the past have sold it to someone for distilling the oil for essential oils," Morris said. "I call it a hobby. I'm thrilled if I make enough to pay for everything. I could get it in stores and do all sorts of stuff and make a bit of money but I love giving it away. Lavender is beautiful, provides therapy for my friends and makes people happy."
To find the lavender for sale at Hamilton Farmers Market on Saturday, just follow the scent.