A hiker's decision to save a few steps by cutting between switchbacks may be endangering the future of some of the Bitterroot National Forest's most scenic trails.
Last summer, the Bitterroot Forest's five-person trail crew spent a day and a half building a rock wall and hauling in forest debris to cover the user-created trails between switchbacks on the popular Blodgett Overlook Trail west of Hamilton.
Nearly all of that work has been undone by new trails created this summer by hikers who opt to head straight down the mountain rather than staying on the trail designed to keep erosion in check with a walkway that's safe for public travel.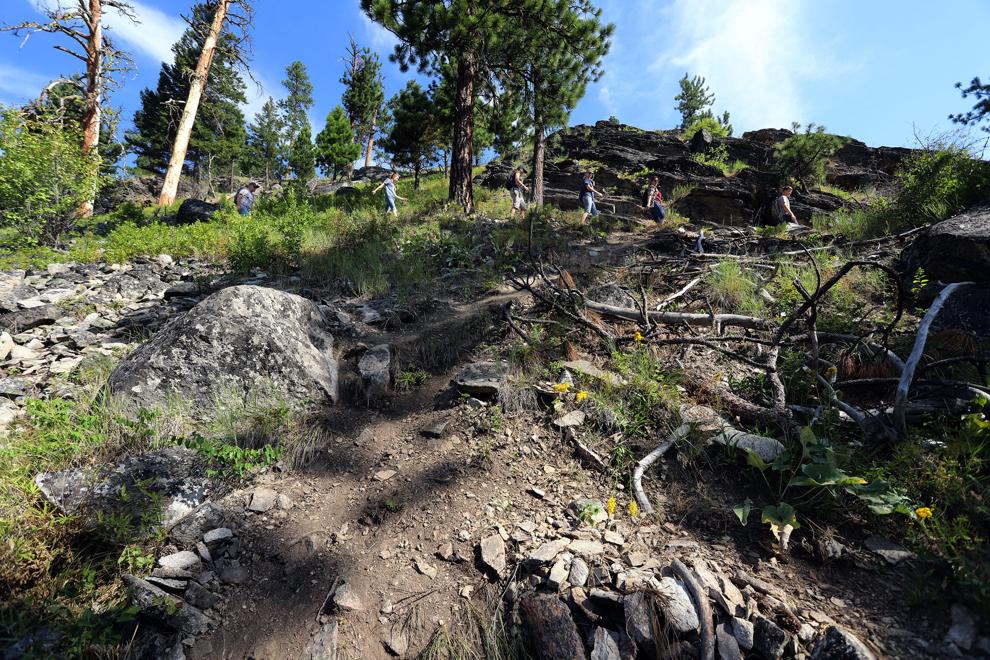 Bitterroot Forest Crew Supervisor Steve Bull can't help but shake his head in disgust as he walks up the trail and points out the work his crew accomplished last year to shore up the steep hillside, and the new trails that have appeared since then.
"It took my guys a lot of work last year to get all of this done," Bull said. "You put all this energy into it and then seen all these new trails appear. It's insane."
Bull's trail crew is charged with the impossible task of maintaining 1,800 miles of trail on the Bitterroot Forest.
"We have the same amount of trail as there is highway between here and Chicago," he said. "When we have to work on projects like this, it means there's less time that we can spend on things that are broken."
On Thursday, Bull was working with a Youth Conservation Corps crew to help shore up a short section of a user-created trail that was already cutting a deep groove into the steep mountainside. The high school students and their supervisors were packing large rocks up the trail to help build a new wall that will protect from erosion and hopefully keep hikers on the main trail.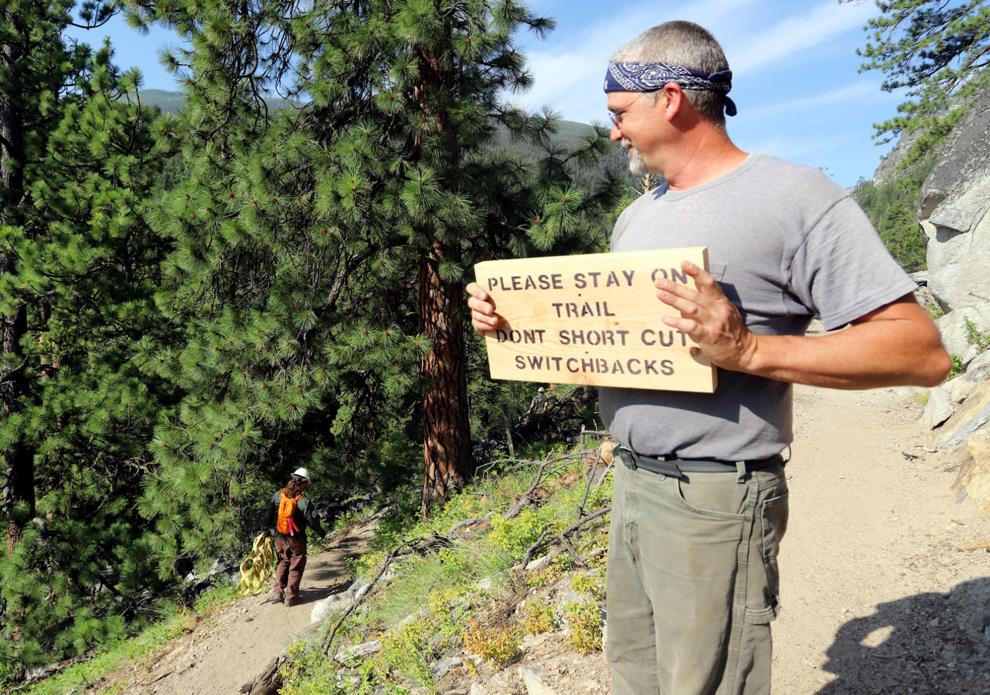 Bull doubts that his trail crew be back to Blodgett Overlook Trail again this year to work on the other four or five new user-created trails that have appeared this summer.
That could turn into a large problem for the thousands of folks who make it a point to hike the 1.5-mile-long trail that offers expansive vistas of the valley floor, ending with a breathtaking view of Blodgett Canyon.
Bitterroot Forest Staff Officer Cole Mehn has served as an agency soil scientist in the past. Despite the fact that it's been less than a year the new switchback cutoff trails have formed, Mehn can already see them beginning to erode.
"If we don't stabilize these, then they'll erode and could eventually wash away the trail," Mehn said. "Once these trails are created, it can be hard to get the soil stabilized again. These are dry sites with coarse soils. It's difficult to get vegetation reestablished, especially if people continue to disturb the area."
Mehn said it's obvious that it doesn't take long for the damage to occur.
"There might not be much to see after the first five people take the shortcut, but that often is enough that will cause others to follow," he said.
Once the water starts to go straight down the mountainside, it doesn't take long before erosion begins to cut into the actual trail. If it persists long enough, the whole trail can be washed away.
"In 10 years, that little trail will become a gully," Mehn said. "And that becomes a safety hazard for others wanting to hike the trail."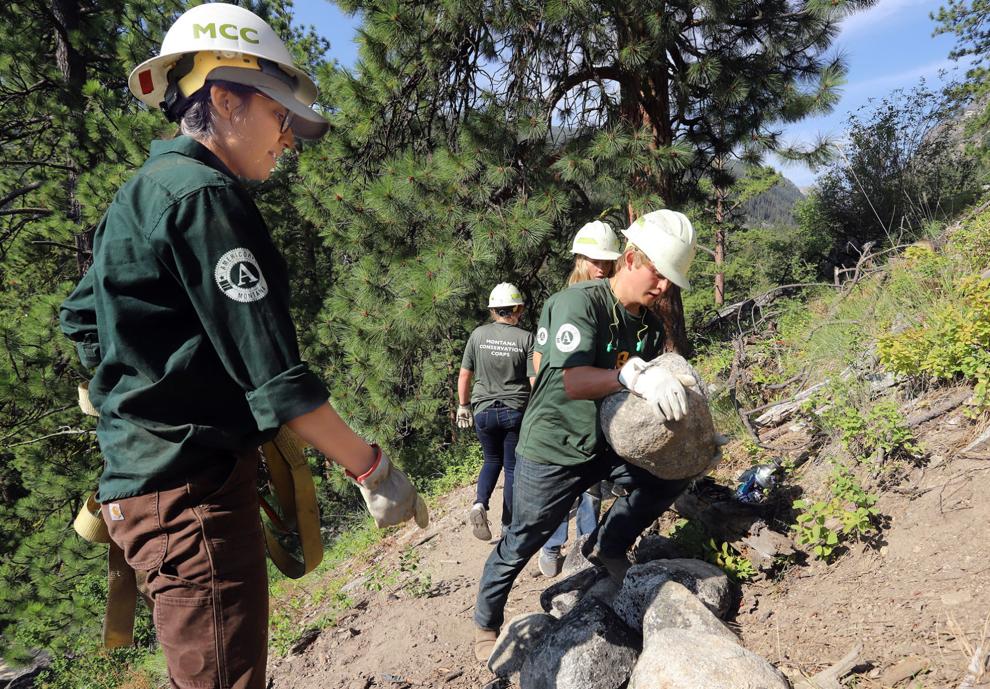 If a trail does wash out, Bitterroot Forest officials may not have any other options other than to close it.
"Every option is on the table," said Bitterroot Forest spokesman Tod McKay. "We're certainly hopeful that we won't have to go that far, but we don't have the resources to have people constantly at the Blodgett Overlook Trail."
Bull sees similar damage occurring at other popular front range trails that include a number of long switchbacks. The trails to St. Mary's lookout and the Bear Creek Overlook are the good examples.
"I think that a lot of people just have no idea that they're supposed to stay on the trail, but that's something that really needs to change," Bull said.
For that to happen, Bull said the Forest Service needs the public's help.
"There was a time many years ago when you would see trash in the backcountry, but then people started the 'pack it in, pack it out' movement," he said. "The public began to police that and now you just don't see any more trash in the backcountry. It took a cultural awareness to make that happen."
As trails in the Bitterroot Forest become more popular, Bull hopes that same cultural awareness will help people preserve the natural beauty that they come to places like the Blodgett Overlook Trail to enjoy.
"This is one of our better designed trails," he said. "We shouldn't have to be spending much time here. …Trails like this one are designed so people can keep their heads up and look around while they're hiking. Isn't that whole point of being out here in the first place?"