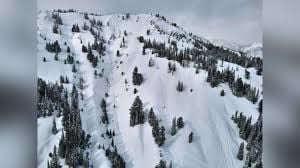 A Corvallis man was killed in an avalanche Friday in Idaho's Sawtooth Mountains.
Andy Jessop, 30, was snowmobiling in the Smiley Creek drainage when he triggered a very large avalanche while trying to climb a slope, according to a preliminary report from the Sawtooth Avalanche Center.
Jessop's airbag deployed, but he was caught in the debris flow and carried about 600 feet down the mountain. Members of his party were not able to revive him at the accident site.
The avalanche traveled about 1,000 feet and stretched across a 500-foot gully. The avalanche report said the contours of the gully funneled the slide inward. Debris was piled up to 30 feet deep at the point where it stopped.
Jessop was a father of five, a well-known mechanic who owned Innovative Auto Services and a member of the Ravalli County Police Reserves.
His body was escorted by a procession of vehicles late Friday from the top of Lost Trail Pass to Hamilton.
Ravalli County Sheriff Steve Holton said his office planned a four-car escort, but it quickly grew as word spread about Jessop's death. Holton's caravan was joined by vehicles from the Montana Highway Patrol, Missoula County Sheriff's Office, volunteer fire departments and personal vehicles.
Jessop was "a dependable, honest, steady, steady guy," Holton said. "He leaves behind a wife and five children. We all feel horrible for them. It's just a really tough deal."
People turned out to support the family and honor Jessop.
"It turned out to be pretty amazing," Holton said. "It was supposed to be pretty small, but by the time it was done there was a line that was three-quarters of a mile long. It was a pretty amazing tribute to a pretty amazing young man."
In his obituary, his family said: "Andy was loved and respected by all who knew him, and will be greatly missed. He was a man of strong convictions and stood up for truth and righteousness; he was honest, almost to a fault. He spent his short 30 years serving others, and never turned down anyone who needed help."
The funeral service was held Tuesday, Feb. 23 at the Pinesdale Chapel.
A GoFundMe site has been established to support Jessop's family at bit.ly/37yftRB. As of Tuesday at noon, it had raised over $98,500 toward its $100,000 goal.
On Monday, the avalanche danger in the Bitterroot Mountains was rated as considerable.
The snowpack in the Bitterroot watershed Monday was at 106% of the median. Just a few weeks ago, the snowpack was at 83%, but a couple of recent storms made up for the deficit, said Bitterroot National Forest hydrologist Rebecca Lloyd.
The Missoula Avalanche Center put the avalanche danger at considerable on wind-loaded slopes in west-central Montana.
The snowpack has multiple weak layers. The high wind the area experienced this weekend could make the situation even more dangerous, she said.
"It's something for people to think about," Lloyd said. "The snowpack isn't very stable on the steeper slopes."
With another storm in the forecast and temperatures looking to bounce above and below the freezing mark, Lloyd expects a continued period of snowpack instability in the mountains surrounding the Bitterroot Valley.
"It's not going to be a recipe for stable conditions out there," she said. "People should definitely check out the conditions before venturing into the backcountry. I'm not a backcountry skier, but if I was, I wouldn't be out there."
Jessop's death was the 31st avalanche fatality since the middle of December.