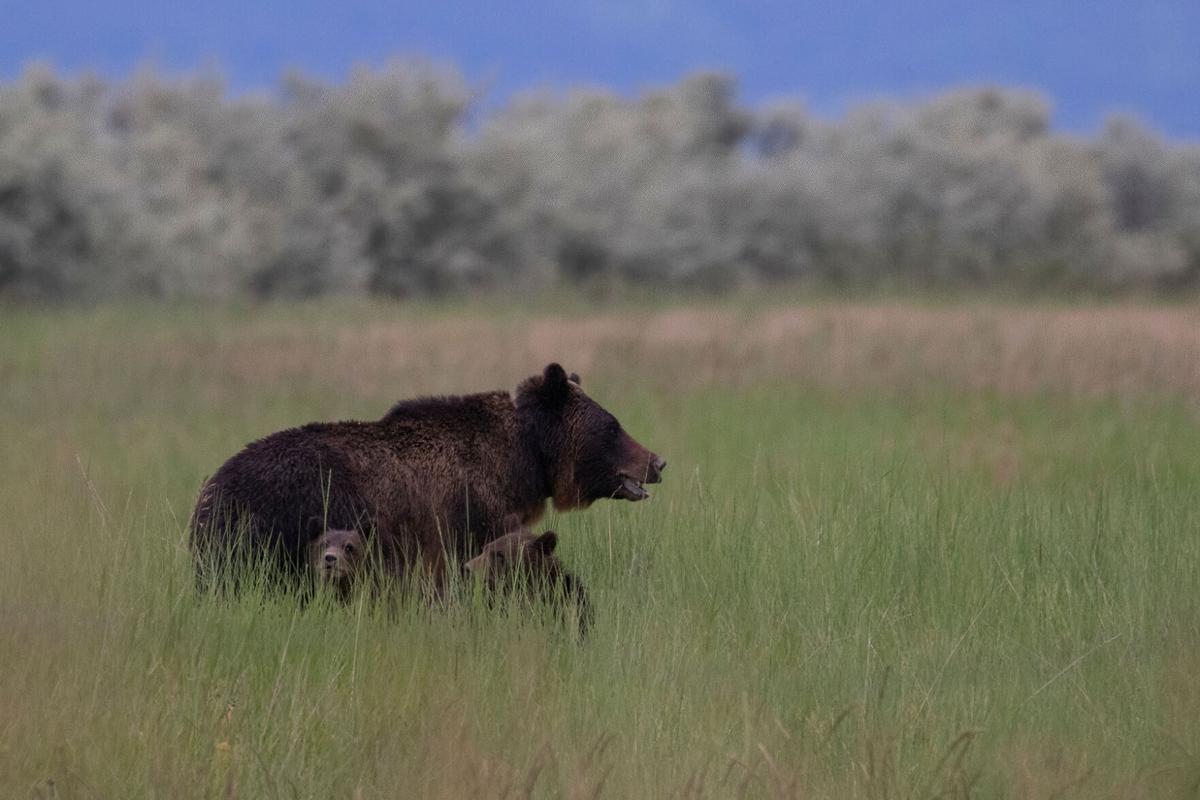 It's a rare grizzly bear that makes it to age 25. So the death of one known as "The Matriarch" this month on the Highway 93 corridor between Ronan and St. Ignatius got special notice.
"She was one of the experienced animals that had been around for a while," said Dale Becker, wildlife program manager for the Confederated Salish and Kootenai Tribes on the Flathead Indian Reservation. "She was an interesting part of the puzzle. We always hate to lose those females."
The Matriarch died in a road collision at about 2 a.m. on Sept. 4 while crossing Highway 93 near Post Creek. The highway there borders the Ninepipes wetland complex of tribal, state and federal wildlife refuges on the west and several creeks that drain the towering Mission Mountains to the east.
It's also a road reach just north of one of the most extensive wildlife crossing structure systems in North America. Between Evaro and St. Ignatius, 41 underpasses and one major overpass have been placed to help wildlife cross the roadway and keep motorists safe. But north of St. Ignatius, the conglomeration of pothole lakes, county roads, driveways and other right-of-way intrusions have stalled efforts to complete the protections.
"We are working with the Montana Department of Transportation and the U.S. Fish and Wildlife Service to come up with highway improvements that will work for grizzlies when the highway reconstruction resumes in the Ninepipe area including the construction to add a 500-foot Post Creek bridge", said CSKT Wildlife Biologist Whisper Camel-Means. "This is sad to see them killed and a complicated issue to fix, grizzly bears are smart and move around where they want to."
2018 recorded eight grizzly bears killed along Highway 93 in the Flathead Indian Reservation. Before that, only nine grizzlies had died on that stretch of road between 1998 and 2016, according to CSKT records.
So far in 2020, the Matriarch is the third highway mortality bear in the Northern Continental Divide Ecosystem, which extends from the Canadian Border and Glacier National Park south to Missoula. Two older male grizzlies died earlier this month along Highway 2 near Marias Pass while feeding on a roadkilled horse. Montana Fish, Wildlife & Parks bear manager Wesley Sarmento said keeping attractants out of roadways is a growing problem.
"The landowner refused to pick it (the horse carcass) up, which certainly drew the bears in," Sarmento said of the dead horse. "Technically, dead livestock is the landowner's responsibility, but it might be we end up paying the Montana Department of Transportation to pick it up so bears don't get hit."
Highways aren't the only problem. Grizzlies have also died along Montana's railroad tracks, drawn in by train-killed carrion and spilled grain.
"This year, we had a female hanging around the tracks along Highway 2, because there was grain there stuck between the rocks that wasn't getting sucked up with a vacuum," said U.S. Fish and Wildlife grizzly recovery coordinator Hilary Cooley. "She wouldn't leave the area even when they tried to haze her away. We were really concerned and thinking we might have to move her preventively. "
Beyond the problem of unintentionally killing wildlife and putting people at risk, the transportation corridor deaths pose a frustrating threat to grizzly recovery efforts. The Matriarch was a "trend bear," meaning data on her physical condition, success raising offspring and travels all helped understand how grizzlies in the NCDE are thriving.
Grizzly bears have been a federally threatened species under Endangered Species Act protection since 1975. At that time, fewer than 600 grizzlies were presumed to inhabit the Lower 48 states.
Today about 2,000 grizzlies live in the United States south of Canada, and nearly half of those are in the Northern Continental Divide Ecosystem. The second-largest population, about 750 bears, prowls the Greater Yellowstone Ecosystem surrounding Yellowstone National Park.
The U.S. Fish and Wildlife Service has tried twice to delist the grizzly bear in the Greater Yellowstone Ecosystem in 2007 and 2017. Court challenges rejected both attempts for inadequate scientific evidence that the bears were recovered enough to be turned over to state management and possible trophy hunting.
Matriarch was born in 1995. FWP biologists captured her first in 2001 in the Swan Valley and fitted her with a radio collar. That first collar lasted until 2005. She was captured and collared again in 2015, but lost the transceiver a year later. In that time, she was never considered a "conflict bear" or linked to damage of human property, Becker said.
The tracking data showed she spent most of her time on the Swan Valley side of the Mission Mountains. She bred frequently with another well-studied grizzly known as Sias, in 2002, 2006 and 2009. Sias was prone to trouble, getting captured and collared in the Ronan vicinity while breaking into a corn barn. He was captured again in the Swan Valley in 2011 after being suspected of breaking into at least nine garages and sheds in search of food. After FWP biologists euthanized him, they found his teeth were so worn down he probably had difficulty finding wild food sources. Sias was 13 when he was killed.
DNA analysis shows The Matriarch has at least nine surviving offspring, and her female cubs have gone on to raise at least 11 of their own cubs. One of those was captured on a Stevensville golf course in 2018; one of the only grizzlies found in the Bitterroot Grizzly Recovery Area since bears were extirpated there in the 1930s.
Be the first to know
Get local news delivered to your inbox!