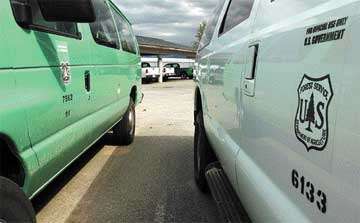 For years, the rigs used by the U.S. Forest Service have been a familiar green, an agency tradition almost as old as the Smoky Bear image.
But that, said Willie Boyer, is changing over time.
"The large majority are still green, but as time goes on, we're getting fewer green and more and more white (vehicles)," said the regional fleet manager for the Forest Service in Missoula
Standard white could be the future look for the agency's entire fleet of cars and trucks, he predicted. But not because of policy change.
"Our policy has always been, since 1956, that we will order Forest Service green, and if the manufacturer can't supply it, then we'll accept standard white," Boyer said.
In recent years, automobile manufacturers have limited the supply of non-standard colors like Forest Service green, and with certain models, the agency can no longer get the hue altogether, Boyer said. Region One of the Forest Service purchases from 180 to 200 vehicles a year as older ones are retired, he said.
"Of that, probably between 20 and 30 percent are coming in white in the last three years," Boyer said.
"So my prediction is that by the next four, five, six years we'll probably see the majority of the vehicles becoming white, and green will be just phased out by attrition," he said.
Look in a Forest Service parking lot, Boyer said, and you'll see something like 20 to 30 percent of the vehicles are white.
Boyer said Detroit auto makers more reluctant to offer the color have cited, among other things, costs associated with a production process not geared up to produce vehicles in non-standard colors. Auto makers started requiring a larger minimum number of vehicles before they would paint the color, Boyer said, and last year Chrysler quit offering Forest Service green altogether.
The vehicles could be re-painted green, but that would cost from $1,800 to $2,200 each - money the agency can't justify spending in a time of tight budgets, though officials prefer the older color.
"And in the interest of saving taxpayer dollars we have been directed not to repaint vehicles," Boyer said.
Sedans, station wagons and sport utility vehicles are harder to get in Forest Service green, he said. The agency still gets green pickups, except Dodges, but that, too, seems likely to change, Boyer said.
He said the rigs are green for two reasons - safety and identity. It dates back to a study in 1956 to determine what color would be most visible and safest for working in the woods. Before that, he said, the trucks were dark green, but "you couldn't tell them from the trees."
The 1950s-era study concluded the bright-green with a gray top was the most visible color scheme. That combination lasted until about the mid-1970s, when manufacturers no longer supplied a gray top, though the rest of the vehicle stayed bright-green, Boyer said.
The bright-green cars and trucks have also become a sort of Forest Service symbol, part of the agency's identity.
"Frankly, that agency identity has become a pretty strong point in that children and adults alike know that, when they see the ranger driving around in the woods in a green truck, there's someone they can get help from or they can get directions from," Boyer said.
Many recreationists surveyed have mentioned the green trucks as the first thing they think of associated with the Forest Service, Boyer said.
The trend is also evident in the Bitterroot National Forest, where between a quarter to two-thirds of an estimated 130 vehicles now are white, said fleet manager Brent Garrard.
It's not just the Forest Service that's run into trouble getting vehicles in non-standard colors. The Air Force has had problems getting traditional blue, Boyer said. He said there's been some talk of enlarging the Forest Service shield on the doors to help make them more identifiable.
"I think folks can expect that will happen in the future as we get white vehicles," he said.
The Forest Service chooses Ford, Chevrolet and Chrysler vehicles based on low bid and what manufacturers produce the type needed, he said. "Retired fleet vehicles" are ever-popular in western Montana and can be seen in use long after their government days, minus the Forest Service markings. Typically, they're replaced every eight to nine years, Boyer said, and are offered at sales twice a year, like the one coming up in Missoula in November.
Boyer doesn't think a color change would affect people's interest in buying retired rigs. They'd buy them if they were purple, he supposed, because of their reputation for being well-maintained.
Boyer, whose personal car is blue, prefers green for agency rigs. "I like the green better as a tradition," he said. "But I guess that's progress."
Be the first to know
Get local news delivered to your inbox!