Amid a bitter national debate over federal monuments, three Montana groups have banded together to focus attention on problems closer to home: loss of access to places like the Crazy Mountains and Upper Missouri River Breaks.
"Losing Ground, Montana's Endangered Access Report" lists the top five, most-high-profile places in the state where public access either has been lost or is threatened due to conflicts over historic rights of way, the groups wrote in a statement. The Crazy Mountains were ranked No. 1.
"That's the one that's pretty scary," said Kathy Hadley, of Artemis Sportswomen. "That's a huge landscape of federal lands that's pretty inaccessible."
Artemis, a regional women-only hunting and fishing organization, added its voice to the report released Thursday along with Montana Mountain Mamas, a Bozeman-based group, and the Montana Wildlife Federation. The other highlighted areas in the state included the Flint Creek Mountains north of Anaconda, the Bears Paw Mountains south of Havre and McGregor Lake near Kalispell. A website provides more information on the areas and a television ad highlights the issue.
"These are places that have been clearly contested," said Nick Gevock, conservation director for the Montana Wildlife Federation. "I'm sure there are more out there."
Contested
Public access to public lands has become an increasingly divisive issue in the past 20 years, often a result of native ranchers selling out to newcomers who close off what have long been publicly used routes. The road and trail closures require the public to sue to have the gates and signs removed.
Sometimes a federal, state or county agency or official will step in to add weight to the public's access claim, but those cases seem to be the exception. In Montana, the small but dedicated Public Land/Water Access Association has long been the group carrying the banner for keeping public land easements open. Even then it can take years and thousands of dollars in attorney fees to litigate a case. In the meantime, access routes often remain closed to the public.
"There's so much of it going on that it's hard to keep track of it all," said Randy Newberg, host of the television hunting show "Fresh Tracks" and a public land access advocate who lives in Bozeman. "The future of hunting, fishing and shooting is dependent on access."
Bozeman resident Becky Edwards, of the Mountain Mamas, said public access is also important to Montana women and their families and is a quality of life issue.
"Blocked public access is just one more barrier to getting our kids outdoors and unplugged from electronics," she said in a statement.
Crazy access
The Crazy Mountains access issue has generated a lot of public interest over the past two years after a trespassing citation was issued to a hunter for using what he believed to be an historic forest trail. After the Bozeman hunter, Rob Gregoire, settled the case, the Livingston-based Forest Service supervisor, Alex Sienkiewicz, was temporarily removed from his post for an internal investigation.
Documents revealed landowners in the Crazy Mountains had complained to local and federal officials about Sienkiewicz's behavior. He was eventually reinstated, but the agency's tactics have had a chilling effect on an employee who had been a strong public land access advocate.
"Some worry that what's happening there may harbinger what's to come on public land across the nation," wrote Christopher Solomon about the Crazy Mountains in a recent story for Outside magazine.
Newberg said the problem is partly rooted in the value attached to large landscapes and the wildlife that inhabit them. Once those features become valuable, people figure out how to make it their own, he said.
"I get to travel the West, and this same dynamic applies for every state I go to," Newberg said. "It's a uniquely American problem."
National fuss
Actions by Montana's homegrown Secretary of the Interior, Ryan Zinke, have helped fuel statements like the one made by Solomon. Although touting Teddy Roosevelt as his conservation hero, Zinke has stoked concerns that such statements are only camouflage after he advocated for shrinking four national monuments and changing management at six others.
The announcement comes in the wake of several western states and some Montana legislators advocating that federal lands be returned to the states because they would be better managers. Many hunting and conservation groups have called those proposals a "land grab" that would result in the sale of federal lands to private individuals.
Because of such cues at the national level, the "Losing Ground" authors are calling on Montanans to lobby the Trump administration and their representatives to fully fund the Forest Service and Bureau of Land Management, who administer large chunks of public land. They also are calling for full funding of the Land and Water Conservation Fund, which helps states like Montana purchase lands for public use.
New ways
As those programs and agencies have been repeatedly chopped, Newberg sees hope via other avenues.
"Some of the big lands initiatives, the money for those is less and less," he said. "That means we're going to have to raise more money from the nonprofit and private sector."
To that end, Montana Gov. Steve Bullock earlier this week announced the privately funded Montana Public Land Access Network, or MT-PLAN. The network creates a mechanism for the state to take donations for creating or improving public land access via private easements and funding other projects to facilitate access, according to Tom Kuglin's Helena Independent Record story.
"I thought that was a pretty great step," Hadley said.
Livingston resident Erica Lighthiser, of Mountain Mamas, said there has been so much focus on public lands in the news lately that maybe there's a chance to encourage public advocacy for homegrown solutions.
"The diversity of people who care about public lands in Montana is pretty significant," she said. "I feel like there's a sense of hope in terms of what's happening in this state."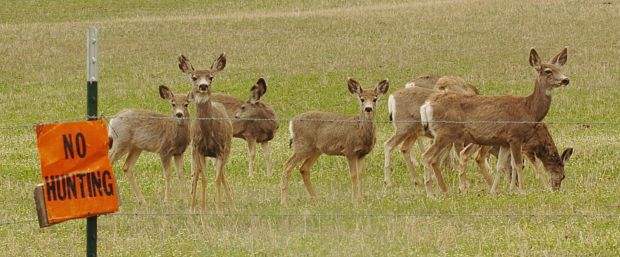 Dialogue
Lighthiser sits on a group with the Crazy Mountain Stockgrowers Association; the Forest Service; Fish, Wildlife and Parks; the Montana Department of Natural Resources and Conservation; and the Rocky Mountain Elk Foundation to discuss access problems in the Crazy Mountains. Although the group has been meeting since April, no concrete proposals have been proposed. Until an easement or right of way is agreed upon, the meetings have benefited the parties simply by increasing dialogue.
"Access starts at the local level," Hadley said. "It's a hard problem, and it's getting harder."
Newberg agreed, saying he has no answers but he remains hopeful.
"Conservation and access is never easy," he said. "It's never convenient, and it's never comfortable. No matter the position we advocate, somebody isn't going to like it."