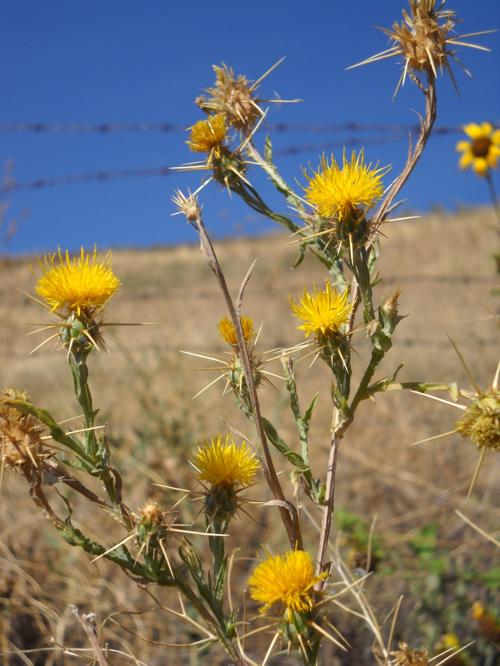 We all know there are noxious weeds in the Bitterroot. Noxious weeds are exotic, invasive plants the State of Montana has labeled as plants that are detrimental to agriculture, forestry, livestock, wildlife and native plant communities. Spotted knapweed, yellowflag iris, leafy spurge and oxeye daisy are some troublesome examples of noxious weeds with which you may be familiar. Many of you are aware of these pests and are taking steps to manage them and teach others about the negative effects of these weeds.
The State of Montana has a list of 32 noxious weeds that, by law, we (as residents) must manage. Some weeds are very established while others have made it onto this list because they are relatively new invaders. By putting the new invaders at the top of the list with the highest priority we can potentially prevent widespread infestation and devastation to native and agricultural environments. This concept is called Early Detection, Rapid Response (EDRR).
Right now in our county we have focused on rush skeletonweed (Chondrilla juncea), blueweed (Echium vulgare) and common bugloss (Anchusa officinalis). Both rush skeletonweed and blueweed are on the state list while common bugloss is on our county list. We manage common bugloss because it is new to Montana and has not been identified elsewhere in the state. We (with the help of curious people questioning the plants they see) have detected all of these new invaders to Ravalli County relatively early and we are working to eradicate them before they invade further.
I'm writing this article because there are several non-native weeds with highly invasive qualities that are not state listed and I want you to be aware of the implications before we have a new knapweed on our hands.
Ravalli County is located on the western border of Montana. This means that we border states with different invasive priorities. For example, Ravalli County is very concerned about yellow starthistle. We have no known populations in our county, but in certain parts of Idaho it has taken over. We are on the lookout for this weed so we can catch it before it spreads like it has in Idaho. Because we are a county bordering a different state (as opposed to other Montana counties) we must keep our eyes open to new invaders.
Idaho, Washington and Wyoming are managing some of the same weeds as we are, but they also have their own sets of problem weeds that they have listed as noxious or identified as highly invasive. We should be aware of the invasive weeds that are present in the counties and states around us. This awareness and education will help Montana keep its native, wild and agricultural areas weed free.
The U.S. Department of Agriculture in their recent publication "New Invaders of the Northwest" have identified several weeds we should all get to know as new invaders. Some of them are already present in Ravalli County. The Weed District is not aware of the locations of many of these populations. Do we have a lot? A little? We don't know. This is why we ask you to get educated about invasive weeds and noxious weeds in Ravalli County. What's that unidentified plant growing in your yard? Not sure? Bring it to the Weed District.
Some new invaders that have already been spotted in this county include: blueweed, clary sage, silverleaf nightshade, white bryony, plumeless thistle, Himilayan balsam, wild four-o-clock, crown vetch, garlic mustard, mediterranean sage, creeping yellow cress, garden loosestrife, velvetleaf, wild caraway, medusa head and ventinata.
For pictures of these new invaders check us out on facebook (Ravalli County Weed District). We will be posting a weed a day so we can all get to know these new invaders better and be able to identify or at least question the plants we see. Just think of it as preventative health care for your land.