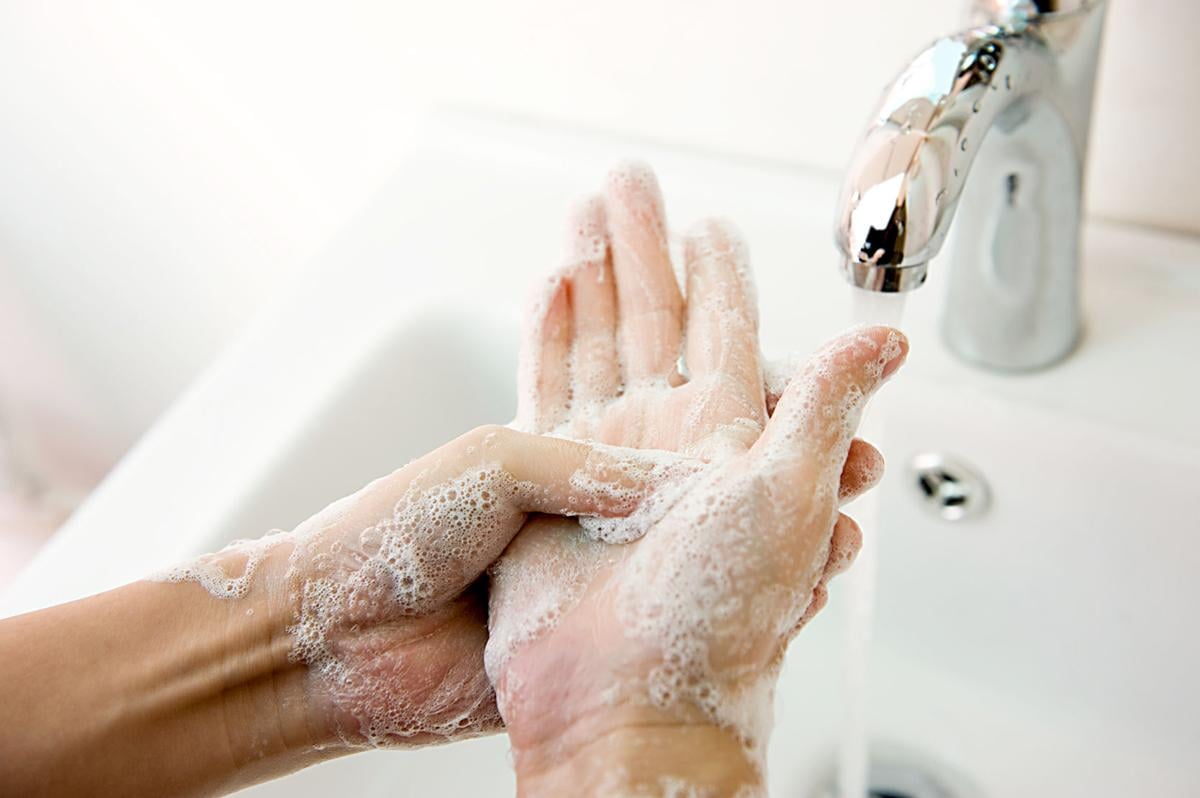 Hand washing seems like such a simple task and although we know that it is an important means of reducing your chance of getting sick, many people still do not understand or recognize its value. During this time of the year when illnesses such as influenza and norovirus can spread quickly, it is all the more important to take those several seconds needed to clean your hands with soap and water or a hand sanitizer.
The origins of handwashing as a means of reducing the spread of infection can be traced to a Hungarian physician, Ignaz Semmelweis, who was practicing at a hospital in Vienna, Austria. In 1847, Dr. Semmelweis noticed a high incidence of postpartum fever and death in women cared for by interns who had performed autopsies. Dr. Semmelweis had the interns wash their hands with a chlorinated lime solution, which in today's world plays an important role in public health and environmental hygiene through its disinfecting, sanitizing and bleaching properties. Dr. Semmelweis noted an immediate reduction in the incidence of fatal postpartum fever from around 10 percent to 1 percent to 2 percent. Envision Dr. Semmelweis saying, "Here is the proof," only to be rejected, ridiculed and ignored. He was dismissed from the hospital, and harassed so much by the Vienna medical community that he moved away to Budapest. He spent many years arguing with prominent European medical professionals only to eventually be committed to a mental institution where he died. It was only after his death, when Louis Pasteur developed his germ theory of disease, that Dr. Semmelweis' practice of hand washing became more accepted.
Fast forward to today and let's examine what has changed. Various studies have shown that hand washing compliance has improved in some instances, but remains poor in others. The American Society for Microbiology has been monitoring hand washing habits of U.S. adults since 1996. During recent phone surveys, 96 percent of adults report washing their hands after using a public restroom, whereas observations showed 93 percent of women and 77 percent of men actually performed the task. When the studies began in 1996, overall hand washing compliance in public restrooms was 68 percent, but despite this apparent improvement, 81 percent of us have seen (or heard) someone leave a public restroom without washing their hands. Additional data shows hand washing prior to handling or eating food hovers around 83 percent for women and 71 percent for men, that 43 percent of mothers do not wash their hands after changing a diaper, and only 39 percent of Americans reporting washing their hands after coughing or sneezing.
Microorganisms are either "resident" and normally reside on our skin in stable numbers or "transient" and attach loosely to the skin through contact with other people, surfaces and equipment. Some microorganisms are pathogens, causing disease and surviving for hours, days or months on some surfaces. The good news is that many transient microorganisms can be easily removed with regular hand hygiene practices. When asked why hand washing or hand hygiene was not done, most people indicate they don't think it's necessary or important, they forgot, they didn't have time, soap and water or hand sanitizer were not readily available, or their hands were too dry and irritated.
In the healthcare industry, proper hand washing with soap and water, and the use of hand sanitizer are clearly associated with reducing the risk of healthcare associated infections. It is important for people to realize that the risk for HCAIs is no longer restricted to the hospital environment; skilled nursing facilities, medical clinics, and home health and hospice settings also present as areas of risk. The Centers for Disease Control and Prevention, the World Health Organization, and various other organizations have joined forces to promote hand hygiene improvement in health care around the world. Hand hygiene is just one element of reducing the incidence and burden of HCAIs, and performing hand washing or hand hygiene at the right time and in the right way goes a long way to protect the lives of the individuals we health care workers have our hands on.
So which is better – soap and water or hand sanitizer? Many studies found that alcohol-based hand sanitizers or rubs (ABHRs) that contain an alcohol concentration of 60-95 percent are more effective at killing microorganisms than hand sanitizers that do not contain alcohol or contain lower concentrations of alcohol. When used correctly, ABHRs very effectively inactivate and reduce many microbes on one's hands, but people frequently do not use enough or they wipe it off before it has dried. ABHRs are not as effective as soap and water with certain microorganisms, such as Clostridium difficile and Norovirus, and ABHRs are not as effective when your hands are visibly or heavily soiled.
Hand washing with soap and water must also be done correctly to be effective. Studies show that roughly 5 percent of people wash their hands properly and long enough. People frequently miss fingertips, the thumb, the back of the hand and the wrist area and wash for an average of six seconds, and that's providing they even use soap. The CDC says that at least 20 seconds is needed in order to remove disease-causing germs from your hands. Another important note is that antibacterial soaps are not more effective than regular soap, and liquid soap is generally recommended for public places as germs can grow on bar soap and can be passed from one person to another.
Last, but not least, is that in order to be effective, either method must be used regularly. That means before making or eating food, after playing with animals, after using the toilet, after playing outdoors, after coughing or blowing your nose, and any other time you believe your hands may have been contaminated. ABHRs come as gels and foams in small, convenient-sized containers and as hand wipes, so if soap and water is not available, ABHRs are an acceptable substitute and can contribute handily to improving personal compliance with hand hygiene. And remember that hand hygiene protects you as well as family and friends, particularly when you are sick.
For questions and or comments contact Alida Merritt, Katherine Herczeg, MSN, RN, CPHQ, at Marcus Daly Memorial Hospital's Quality Improvement/Infection Control Department. Working together to build a healthier community.