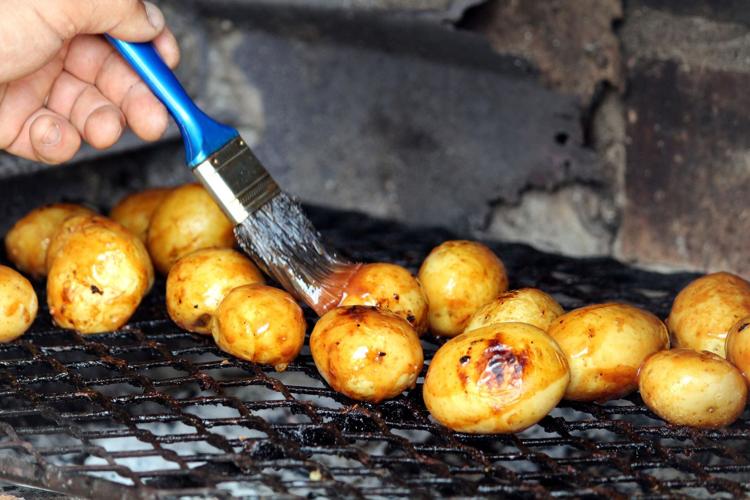 Memorial Day is the unofficial first day of summer.
We may feel as though we've lost much of spring, given orders to stay at home, self-isolate, and socially distance.
No Opening Day. No St. Paddy's Day celebrations. No family gatherings for Easter, Passover, or Ramadan.
So, we're all in agreement that spring was a bit of a bust.
But summer is almost here — a reason to celebrate.
And while we're pouring that drink, why not also add a bit of that booze to a savory sauce or a marvelous marinade?
Whether you cook turkey or beef burgers, ribs or pork chops, chicken breasts or legs, fish, or vegetable kabobs this holiday weekend, one of the condiments on our menu will be the perfect complement.
Now, we know that some dedicated die-hards have been cooking outside all year long, even in the snow.
But the majority of us have been gearing up for grilling season, and are very excited for it to begin.
Warm weather. Cold drinks.
It's time for the start of summer, as we welcome the Memorial Day weekend.
Best Grilled Margarita Chicken Ever
2/3 cup chopped fresh cilantro
2 tablespoons coarse black pepper
2 teaspoons garlic powder
2 teaspoons onion salt
1 cup ready-to-drink margarita
2 tablespoons honey
1 cup light olive oil
6 skinless, boneless chicken breast halves
Place cilantro, pepper, garlic powder, and onion salt in the bowl of a blender. Pour in margarita and honey. Purée on high speed until smooth, then reduce speed to medium-low and slowly add the olive oil; blend until creamy.
Place chicken breasts in a resealable plastic bag or glass bowl; pour marinade over top and toss to coat. Refrigerate for 5 hours or overnight.
Preheat an outdoor grill for medium-high heat and lightly oil grate.
Remove chicken from the marinade, shake off excess, and discard remaining marinade. Grill the chicken until tender and juices run clear, approximately 7 minutes per side.
Bourbon-Cherry BBQ Sauce
2 14.5-ounce cans tart cherries, drained
1/4 cup plus 3 tablespoons bourbon, divided
2 tablespoons sugar
1/3 cup honey
1/3 cup unsalted ketchup
1/4 cup unsalted tomato paste
1/4 cup apple cider vinegar
1 1/2 teaspoons kosher salt
1 teaspoon black pepper
1 teaspoon onion powder
1/2 teaspoon dry mustard
1/8 teaspoon ground red pepper
Place cherries in a food processor; pulse until almost smooth.
Bring cherry purée, 1/4 cup bourbon, and sugar to a boil in a small saucepan over medium-high. Reduce heat to low; simmer 20 minutes. Strain mixture through a fine-mesh sieve over a bowl to yield about 1 cup liquid; discard remaining solids.
Add cherry liquid to pan; bring to a boil. Stir in remaining ingredients. Reduce heat to medium-low; cook 10 minutes or until slightly thickened, stirring occasionally. Cool.
Note: Use the sauce to baste chicken, pork, or ribs when grilling them is nearly done.
Source: Adapted from Julia Levy, Cooking Light
All-Purpose Beer Marinade for Grilling
1/4 cup olive oil
2 tablespoons Worcestershire sauce
1/4 cup balsamic vinegar
1/2 cup Guinness Extra Stout
3 cloves garlic, minced
2 tablespoons brown sugar
2 teaspoons onion powder
2 teaspoons chili powder
2 teaspoons ground cumin
1 teaspoon smoked paprika
1 teaspoon ground black pepper
2 teaspoons salt
Stir together all ingredients and pour into a gallon-sized zipper-top bag).
Add whatever ingredients you'll be grilling: meat, fish, or vegetables. Place in the refrigerator and marinate for 2 to 12 hours.
Discard the marinade and grill the meat, fish, or vegetables as desired.
Fireball Whiskey Barbecue Sauce
1 teaspoon extra-virgin olive oil
1/2 onion, diced
4 cloves of garlic, minced
3/4 cup cinnamon whiskey
2 cups ketchup
1/3 cup apple cider vinegar
1/4 cup Worcestershire sauce
1/2 cup brown sugar
1 teaspoon salt
1 teaspoon black pepper
1 teaspoon red pepper flakes
1 teaspoon hot sauce, optional
Place olive oil into a medium saucepan and heat over medium-high heat; tilt saucepan until bottom is coated with oil. Add onion and garlic and sauté until onions are translucent. Pour in the whiskey and stir to combine. Bring to a boil then reduce heat to medium-low and let simmer for about 10 minutes.
While the onions, garlic, and whiskey are simmering, in a medium bowl combine the remaining ingredients.
When the onions have finished cooking, add the sauce mixture and stir together. Bring back to a boil, then turn the heat back down to medium-low and let simmer for 20 to 30 minutes. Taste the sauce and season to taste, adding a bit more salt, pepper, sugar and/or hot sauce as needed.
Note: Use the sauce to baste pork ribs when grilling them is nearly done.
(c)2020 The Blade (Toledo, Ohio)
Visit The Blade (Toledo, Ohio) at www.toledoblade.com
Distributed by Tribune Content Agency, LLC.
Satisfy your cravings
With our weekly newsletter packed with the latest in everything food.