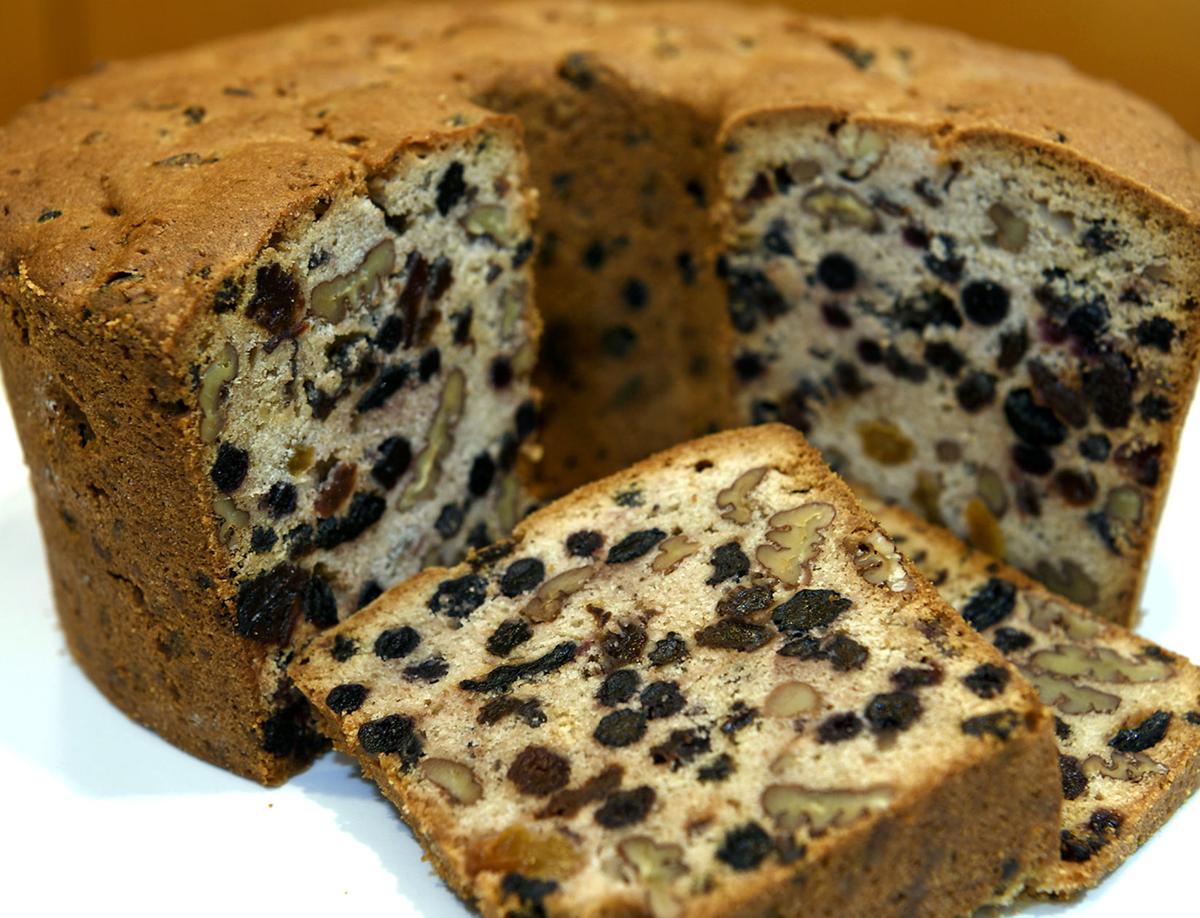 Now's the time to bake this extraordinary fruit and nut bourbon cake for the holidays. I like to have this cake on hand during this time of year, ready to serve impromptu to friends who drop by for conversation and tea or coffee. This is not a fruit cake. I say this because I know people who either love or hate fruit cake. But this cake is in a class by itself. Weighing over 5 pounds (!), it's packed with toasted pecan halves and whiskey-marinated dried fruits — golden raisins, dark raisins, dried blueberries and dried sour cherries. No sugary, dyed, glacéed fruits!
This beauty of a cake is fun to make, but you'll need to plan a bit beforehand. You should soak the fruits at least a day ahead so that they absorb as much of the liquor as possible. The classic butter cake batter, similar to a pound cake, is a snap to make in a heavy-duty stand mixer.
The butter should be cold but malleable. Take it straight from the refrigerator and cut it into tablespoon-size pieces. Put the butter into the mixer bowl and let it stand 10 to 15 minutes or so, to soften slightly, while you get the remaining ingredients ready. Beat the butter with the flat beater on medium speed for a minute or two to cream it. You want it to be just soft enough to combine easily with the sugar.
I like a combination of unbleached all-purpose flour and cake flour to give this cake a light texture. For best results, weigh the flour.
Vanilla, nutmeg and mace add great flavor. Mace and nutmeg are part of the same plant. Nutmeg is a seed, and on the outside of that seed grows mace — orange-colored "fingers" that envelop the nutmeg. Nutmeg's flavor is stronger than mace's, and the two complement each other beautifully. For best results, grate nutmeg just prior to use.
Holiday Whiskey Cake
Makes 1 large cake, about 24 servings.
1 ½ pounds dried fruit, equal amounts of golden raisins, dark raisins, dried blueberries and sour cherries, or any other fruits you like
12 ounces pecan halves (about 3 ½ cups), toasted on a baking sheet in a 350-degree oven for 8 to 10 minutes until fragrant
6 large eggs, refrigerator temperature
2 cups sifted unbleached all-purpose flour (8 ounces)
2 cups cake flour (scoop and level — 8 ounces)
2 teaspoons baking powder
2 teaspoons freshly grated nutmeg
1 tablespoon vanilla extract
1. Combine the fruits and bourbon in a heavy-duty zip-top bag or large glass container with a screw-cap lid and let stand at least one day. Turn occasionally to encourage the fruit to absorb the liquor.
2. On baking day, toast and cool the pecans. Butter a two-piece 10-inch tube pan. Line the bottom with a ring of waxed paper or cooking parchment. Butter the paper, the pan's tube, and dust the inside of the pan all over with fine dry unseasoned bread crumbs. Tap out excess crumbs.
3. Cut the cold butter into tablespoon-size pieces and put them into the bowl of the electric mixer. Let stand while you prepare the remaining ingredients.
4. Warm the eggs in a bowl of warm water for 5 minutes.
3. Adjust an oven rack to the lower third position and preheat the oven to 300 degrees.
4. In a large bowl, whisk together thoroughly both flours, baking powder, nutmeg, mace, and salt.
5. Beat the butter on medium speed with the flat beater for about 1 minute, until smooth and creamy. Scrape the bowl and beater. While beating on medium speed, gradually add the sugar. When all the sugar has been added, scrape the bowl and beater and add the vanilla. Beat on medium speed 5 minutes until the sugar and butter turn almost white. Stop to scrape the bowl and beater once or twice.
6. On low speed, add one of the eggs; then beat on medium speed just until incorporated. Repeat with the remaining 5 eggs. Beat only until the batter is smooth.
7. On low speed, add the dry ingredients one-fourth at a time, beating only until incorporated after each addition. The batter will be thick. Remove the bowl from the mixer stand and scrape the batter off the beater. Add the fruit with any liquid that hasn't been absorbed, and stir into the batter with a heavy wooden spoon. Stir in the nuts.
8. Spoon the batter, in installments, into the prepared pan, packing it down to remove air pockets. Smooth the top.
9. Bake 2 ¼ to 2 ½ hours or until a wooden skewer comes out clean and internal temperature registers about 200 degrees. The cake will be nicely browned. Cool in its pan on a wire rack 30 minutes. Remove the cake from the pan and peel off the paper. Set the cake right side up on a wire rack to cool completely, 3 to 4 hours. Wrap tightly in two or three layers of plastic wrap and let stand at room temperature at least a day before serving. Cut into thin slices with a serrated knife. Leftover cake, wrapped airtight, stays fresh at room temperature for 4 or 5 days. Wrapped airtight, the cake freezes well for 3 to 4 months. Keep the cake wrapped while thawing, then unwrap and serve.
Greg Patent is a James Beard Award-winning cookbook author for "Baking in America," a food journalist, blogger and radio co-host for "The Food Guys" on Montana Public Radio. Please visit his blog, www.thebakingwizard.com, and follow him on Twitter and Facebook.
Satisfy your cravings
With our weekly newsletter packed with the latest in everything food.