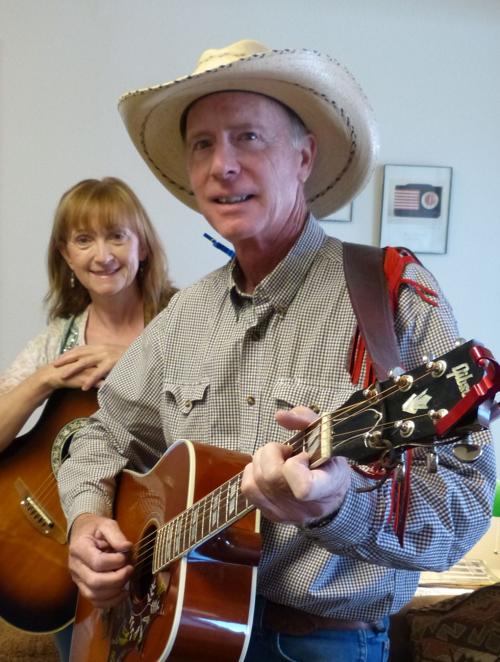 If you could choose the best possible way to enjoy a late summer afternoon, it would probably include more than a few laughs while swapping yarns, maybe a couple moments of thoughtful introspection, and a whole lot of music, wouldn't it?
Well, you just planned the program for the Ravalli County Museum's "An Afternoon of Cowboy Music & Poetry," set for Saturday, Sept. 13, from 3-6 p.m.
The event is now in its fifth year, but its roots go much deeper, according to museum director Tamar Stanley, referring not just to the museum's collection of oral histories, but also to the traditions of the earliest white occupants of the valley. The hay is in, the cows are still on summer pasture – why not take a break and entertain ourselves?
The event is about "the Western legacy and lifestyle of the valley," said Stanley, who said that cowboy poetry is about "the honest, day-to-day existence of somebody who works hard, every day of their life." Those settlers had a creative life, too, she notes, and this event celebrates that creativity, and how it still resonates with our very different lives today.
Montana cowboy singer Doug Hogan and Charla Bauman, "The Casino Creek Yodeler," created the event for the museum, and will once again serve as the hosts. They'll be joined by a roster of locals for "a few yarns gracefully told," music by a variety of local performers, as well as some "good cowboy pickin'," and artful yodeling.
Guitarists Hogan and Bauman will delight with western tunes, both solo and duet. They'll also recite some cowboy poetry and stories, and generally ride herd on the afternoon's events.
Every year the duo seeks out local artists who complement their own talents, and this year they unmasked retired extension agent Rob Johnson as a cowboy poet. Johnson, who currently works at "trying to overcome the cattle business" on his own small spread, will recite a couple of his compositions. Bauman credits Johnson with being one of the biggest, long-time champions of the event.
Another newcomer to the gathering is local blacksmith Wil Wilkins, who draws on his years of experience packing and guiding in the Frank Church/River of No Return Wilderness for some of his poetic, songwriting, and storytelling inspiration. He'll also recount how he came to know country legend Patsy Cline, leading into a medley of her tunes, performed by Bauman.
Wilkins was also instrumental in crafting the original timber-framed Grantsdale School bell tower. The afternoon will present a good opportunity to observe the progress in re-erecting the tower on the museum grounds.
The afternoon's youngest performers will be Kylie and Carson Rhoades, aged 12 and 9, respectively, from Stevensville. Kylie is a remarkably accomplished fiddler, and Carson is proving to be a quick study on the mandolin. Kylie won the cowboy poetry contest at this year's Ravalli County Fair, and she'll recite her composition for the crowd.
"We always look for kids," said Bauman, who termed Kylie "just marvelous."
The event is popular with audiences "from 9 to 99," according to Stanley, as grandparents bring their grandkids to share a part of their lives that is not as prominent in valley culture as it was in generations past.
The entertainment roster is rounded out by Dr. Lawrence Hammond, a local internist, who is also an accomplished guitarist and songwriter. He'll entertain with a couple of numbers, with Pam Small accompanying on bass.
The afternoon's program also includes a couple of opportunities for audience participation, relating a favorite yarn, and joining in with the performers for a sing-along finale – "a real crowd-pleaser," according to Stanley.
The action all takes place on the museum's lawn, underneath the maples. There will be plenty of time to enjoy some simple refreshments as well, including burgers and brats from the grill, and iced tea or sodas.
Tickets for the event are $10 for museum members, $12 for non-members, and kids admitted for $5; they're available at Mountain Music, Rooted Music, Chapter One Book Store, at the museum or at the gate. For more information, call the Ravalli County Museum at (406) 363-3338.