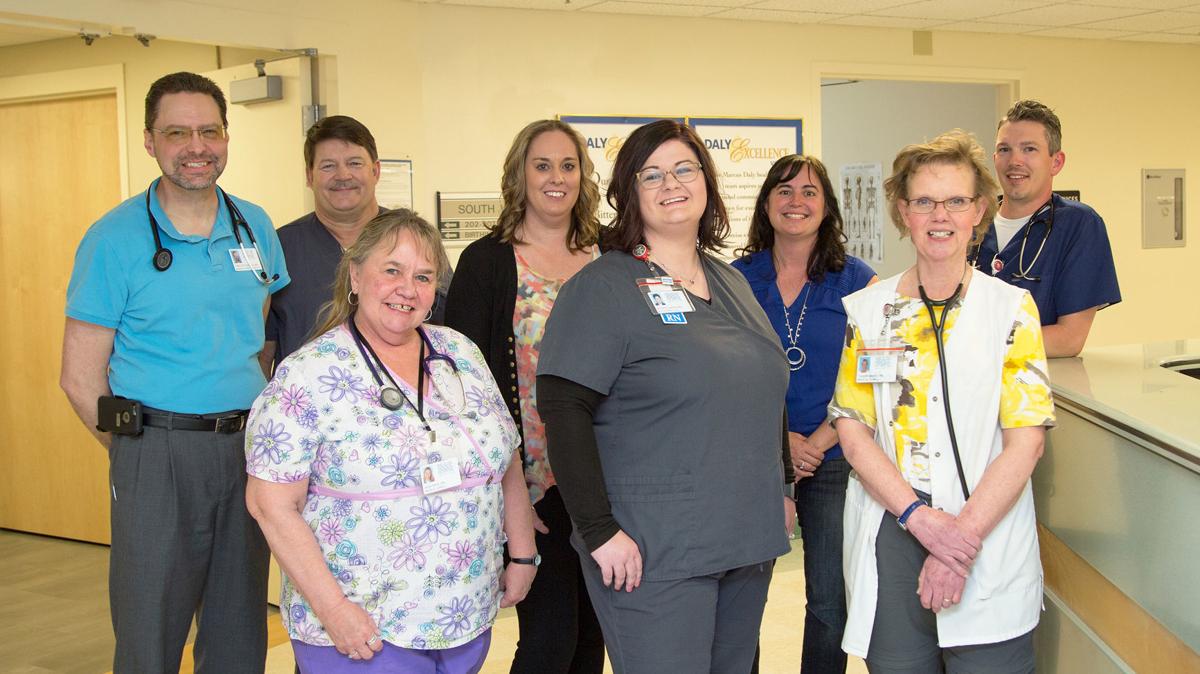 In celebration of National Nurses week the Ravalli Republic and Missoulian  asked the community to send in nominations about a nurse who made a difference in their life or the life of a loved one and what makes them an extraordinary nurse.
Out of nearly 70 nurse nominations across Western Montana, eight work at Marcus Daly Memorial Hospital — Todd Wohlman, Randy Yeargan, Heidi Baye, Michelle Cornelison, Brittany Leatham-Olney, Jennifer Bush, Tammy Bruns and Cary Robinson.
These nurses met on Monday to discuss why they help patients. Most hadn't known they had received a nomination.
Randy Yeargan was a paramedic for 24-years before earning his Bachelor of Science in Nursing (BSN) at age 50 and is now an Emergency Nurse at MDMH.
Yeargan was nominated by a neighbor whose husband received care from Yeargan for three years.
"He had a lot of health problems and I'd go over and take care of him," Yeargan said. "He was a neighbor and I'd help him out. I'm still helping, I mowed her pasture for her yesterday."
He is proud to help in the emergency room every day and take care of people. He said he was surprised at the nomination but felt he hadn't done anything special to earn it.
"Caring for people is what we do, no matter if we're on the job or not," Yeargan said. "You have to believe in it."
The nurses agreed with Yeargan that giving care was part of life.
Michelle Cornelison, is a registered nurse (RN) and an inpatient nurse who recently earned the labor and delivery nurse position at MDMH.
She said she wanted to be helping deliver babies since she was 10-years-old. Her nomination said she is always looking for ways to help people in need. She is currently serving as a surrogate mother, something she has wanted to do for years.
Kathy Padilla, RN, chief nursing officer, said Cornelison also works additional hours to help the hospital.
"I appreciate nurses who do that to take care of the community," Padilla said explaining that with the nursing shortage in the United States of 1.4 million in the next 18 months due to retirements and those leaving the profession, nurses who work extra hours are essential.
"Picking up extra shifts is another way they give of themselves so that we can maintain and keep open," Padilla said. "This is a difficult profession to be in because you are giving every day, physical, mental and emotional to our patients. These nurses give so much to our patients every day, it is nice to honor them."
Tammy Bruns, RN, works at Hamilton Obstetrics and Gynecology and everywhere as a floating nurse. She's worked at MDMH for 29 years and is a lifelong-learner.
"I've wanted to be a nurse since high school and I love helping people," Bruns said. "You have a God-given gift that you give to people and just keep on going. If someone needs help you just do it and help them where ever they're at, there is no need for recognition."
She encourages anyone considering nursing to do it.
"Especially, If they like to help people and have an eagerness to lend a helping hand," Bruns said. "At some point we'll all have an emergency. If you like to help people give it a try, it is very fulfilling. The energy to help just never runs out. I couldn't do my job if I didn't love it. If it gets to a point that I don't love it, it is time for me to stop."
Heidi Baye, worked as a licensed practical nurse in the Bitterroot Physicians Clinic for the past 20 years, before that she worked in pediatrics in Seattle for 17 years. Baye entered the medical profession at age 16, volunteering in physical therapy at a nursing home.
She was surprised by the nomination.
"It is very humbling to know someone would actually step forward and say something," Baye said. "It is very sweet."
The nomination said, "Heidi is always a delight, courteous, and knows her stuff. When sending messages to the doctor she works with, she always gets right back to you and when a patient is in a bad way, works with registration to get a patient in when they are booked."
Baye said the centralized theme with all nurses is, "this is just what we do every day."
"It doesn't matter what economy status you're in, we treat everyone with respect," she said. "We just do it."
Baye said nursing is hard emotionally but "knowing that you did the best you could for that day makes it possible," she said.
Jennifer Bush, BSN, is an emergency nurse leader who agreed that nursing is hard and emotionally tough.
"You have to have a balance," she said. "You could give 150% of yourself but then you'd have nothing left to give. We keep each other in check. Trying to fix everything is the innate personality that drives us to be nurses and wanting to care for others."
Padilla added that positive self-talk is an important characteristic of nurses.
"You have to know you've been the best you could be for that day and know it was enough," she said. "You have to be okay with knowing you did everything you could do and be at peace with that."
Bush said co-workers are family intertwining at work or in the community.
"Our hands touch our friends, our family members whether going to clinics or the hospital so we have that connection," she said. "I feel we need to take care of each other and recognize when someone is having a hard time. Everyone rallies behind coworkers. We are a smaller hospital and know each other."
Padilla said, "Jenn takes care of her staff like she used to take care of her patients with making sure everything is going well for them."
Bush's nomination said she is smart, has strong leadership and exemplary people skills.
"She stands head and shoulders above all the others," the nomination said.
Todd Wohlman, MSN, is an inpatient nurse.
"He is a great communicator," his nomination said. "His interactions with patients are always clear and articulate. He ensures that the patient and their family understand the instructions and remain informed regarding their care and timeline."
Cary Robinson, RN, is an inpatient nurse who shares whatever information he knows that might benefit others. New to Montana, he helped fill sandbags during the heavy rain season.
"He is an inspiration to his family, friends and community," his nomination said. "Cary is a person who goes above and beyond in making a significant impact on those who are fortunate enough to meet him."
Brittany Leatham-Olney, has a Master of Science in nursing education. She is an inpatient nurse, a nurse educator and the People's Choice Award Winner.
She was nominated by a family who appreciated her extra efforts and steps in making a mother's home-going peaceful and private.
She has worked as a nurse 23-years, at MDMH 10-months and said her previous facility of 500 beds wouldn't have allowed her efforts for the nominating family.
"It is more personal at a smaller facility and I think people here step out of their way to help and make sure all the needs are met," Letham-Olney said. "We wear more hats and pull together a little bit more."
Leatham-Olney said she is honored to be selected as People's Choice.
"I don't think I did anything beyond what anyone of us would have done," she said. "I just happened to be the one."
Gail Simpson, RN, has a new role as the manager of nurses in primary care clinics for in patient services. She has done many nursing roles from medical surgery to school nurse and encourages anyone interested in nursing to follow their dreams.
"If there is something in you that makes you want to care for people just do it," she said. "There are so many options in the nursing field that you can find your perfect spot. If it is in you no one will be able to stop you, it's who you are."
MDMH has approximately 150 nurses. Leatham-Olney said MDMH is able to attract quality individuals because, "nurses are family."
"We are family," Bayes agreed. "You feel supported as an employee. We all come together for each other. Coming from Seattle where it was chaotic and finding this little gem of a valley was totally by accident but it was supposed to be this way."
Laurie Pinheiro, specialty clinic nurse manager, said it is an honor to work with the nurses.
"Their patients, providers and co-workers love them, they are great people," she said.
Bush said the nominated nurses are a small percentage of employees at MDMH.
"Each nurse would have a story similar to ours and beyond nursing, hospital-wide you would see that community and empathy from other employees as well," she said.
Padilla said there are hidden and unsung heroes and National Nurses week spotlights a few examples.
"This helps us see the brilliance, knowledge base, hard work, empathy and courageousness, resilience and strength that they have day in and day out," she said. "I'm privileged to be part of their lives as we take care of the community."