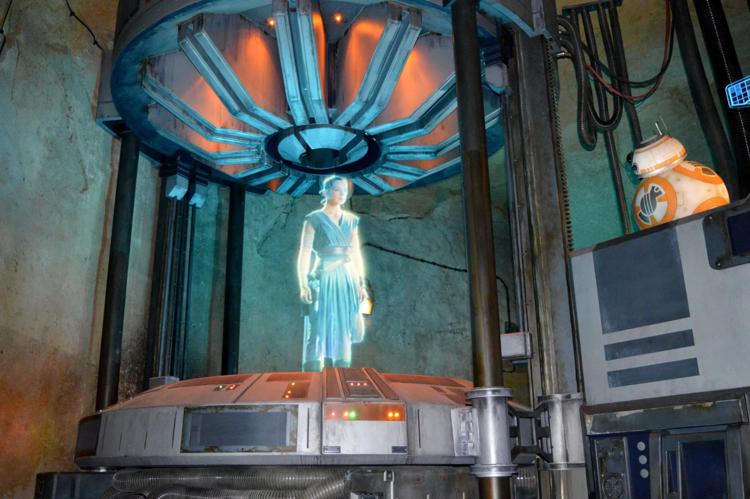 Keep it on the down low, the local Batuu residents will whisper to you, but the Resistance is hiding here in the trading port town of Black Spire Outpost.
The Resistance is the scrappy, hope-fueled band of rebels fighting on the side of good against the new aspiring evil empire, The First Order. (Both factions are known to anyone who has seen the last two Star Wars films.) Stormtroopers patrolling Black Spire have made the First Order's presence in Batuu known to locals and visitors.
To enter Rise of the Resistance, you sneak behind a waterfall and through the long tunnels of a Resistance encampment. If the line runs slowly, fans will have time to savor close up views of rebel flight suits, helmets, macrobinoculars and the breath masks found on the Millennium Falcon.
Once you enter the camp, you are now a recruit. Any trepidation you had about that will be overcome by a personal appeal from two Resistance heroes: a charming Rey hologram and a more corporeal, burbling, film-accurate BB-8. Rey explains we are evacuating Batuu to meet at a secret Resistance base in another system.
The doors open, and you're back outside. There's BB-8 again, in position in Poe Dameron's signature black X-Wing. You scurry onto a transport ship flown by the multi-jowled Nien Nunb of "Return of the Jedi" fame. As you can see out of the windows, and feel beneath your feet, we are taking off with Poe and a few other pilots in the Resistance fleet.
No sooner have we left the Batuu atmosphere and we're attacked by First Order TIE fighters. A short battle ensues, and our little ship is captured, swallowed up by a much larger Star Destroyer.