BIG TIMBER — The Montana Cowboy Hall of Fame is stepping back from plans to open a large facility here after years of planning, saying undisclosed wetlands on part of the properties leased by the organization swamped their plans.
Back in 2012 the nonprofit picked Big Timber for its first physical location that, if everything went to plan, would eventually have a heritage center, exhibition hall, event center, a place to display information about the Hall of Fame inductees, an outdoor arena and more.
The spot was seemingly perfect: a building erected for a Ford dealership that never opened and an adjacent 24-acre parcel, easily viewed from Interstate 90 and right off the exit for the west side of town. A prospectus estimated it could draw 98,600 visitors a year to a community where that kind of economic boost would make a huge difference.
But now organizers say the wetlands, and more specifically the lack of being able to work with the owner of the property the wetlands sit on, have quashed all that.
"Rather than remedy the previously undisclosed and presently unmitigated wetland issues that our board discovered through our development efforts at the site, the landowners have chosen to terminate the lease to purchase contracts," read a statement last week from Hall of Fame vice president and communications director Ariel Overstreet-Adkins.
"No path forward to develop the building site exists. This termination reverts the land and all site improvements made during the lease to the landowners."
The hall had lease agreements for two properties: a six-acre site that has the Ford dealership building owned by Big Timber contractor Tom Merritt and a 24-acre parcel owned by Doug and Mary Lair, who operate Lariat Development.
The wetlands are on the Lairs' property. Contacted Wednesday, Mary Lair, a real estate agent, would discuss only the termination of the lease, which happened in December.
"They were in default of several areas of the lease," she said. "The taxes were in arrears and they stopped making lease payments over two years prior to the time we terminated."
Records provided by the Hall of Fame show payments on the leases stopped in 2015, and the amount of taxes paid on the properties dropped by half that same compared to the year before. Overstreet-Adkins said the Hall of Fame stopped making payments when the wetlands issue arose but was still trying to negotiate a way forward. That path ended when Merritt's termination letter came last month. It's effective at the end of July.
"Once we realized what was going on, we stopped investing in the property," Overstreet-Adkins said. "It's very disappointing, and that would be an understatement. So many people have given so generously of their time, money and support on this project. To see our progress stymied in this way is devastating."
Knowledge of wetlands
The Hall of Fame hired a Livingston attorney and a water resource engineer this spring to determine if the Lairs knew about the wetlands problems before they leased the property.
Through a Freedom of Information Act request, the Hall of Fame found the Lairs applied for what's known as a Section 404 permit application in 2009 as part of plans to build a subdivision on the 24 acres.
That type of permit is filed when a landowner knows or suspects a project may have water that falls under the Waters of the United States designation, a rule from the federal Environmental Protection Agency and U.S. Army Corps of Engineers that regulated bodies of water that flow into navigable waterways. The rule had long frustrated ranchers and others who say it gave the agency too much power over stock ponds and ditches. Under the administration of Republican President Donald Trump, the agencies have moved to repeal the rule.
Tom Coleman, the water resource engineer, found Doug Lair had hired an environmental consultant in 2009 to conduct a wetland delineation and that consultant identified a wetland that fell under the Waters of the U.S. rule.
"It is my opinion that Mr. Lair would have had knowledge that wetlands were present or possibly present on the property as early as 2009 and that it is reasonable for the Cowboy Hall of Fame to have expected this environmental concern to have been disclosed during the real estate transaction," he wrote.
Robert Cole, who handles 404 permits for the U.S. Army Corps of Engineers in Montana, said in May that he hadn't had any communication on the permitting process for the site in more than two years.
"As far as I'm concerned, it's closed," he said then. "I've got the file sitting on my desk, but I finally just closed it and put it in a file cabinet. The only person who calls me on this is a reporter every six to eight months."
A 412-page proposal from 2011 trying to draw the Hall of Fame to Big Timber didn't mention the wetlands in response to direct questions about any concerns, environmental or otherwise, related to this site that would require remediation before the site could legally be developed. The question also asked if an EPA study had been conducted at the site.
In an answer to a question about environmental concerns, the proposal says only said there are drainage issues from irrigation.
Earlier this spring, before Merritt's lease termination, the Hall of Fame felt the best path forward would be to take ownership of the properties outright, which would allow them full control of the permitting process. It would have cost $1.2 million to buy the Lair property and $980,500 for the Merritt parcel. But at the same time, the Hall of Fame's board decided to stop fundraising given the uncertainty over permitting.
"We are kind of stuck between a rock and a hard place," Overstreet-Adkins said. "Our board decided that in order to be the best stewards of our fundraising dollars, we wouldn't go ask for money to develop the site with unresolved issues. We could not in good faith continue to solicit funding and invest in the site until we saw a path to overcome the site development barriers that we had identified. Our board's priority to was to ensure that a donors investment could be used as intended."
Tax records show the Hall of Fame brought in $246,852 through gifts, grants, contributions and membership fees in 2013 and $245,858 in 2014 in an effort to build a capital campaign for the project. That dropped in 2015 to just $120,458, showing the slow in fundraising efforts.
Records from the Hall of Fame show about $850,475 was spent between 2012 and 2015 on the Big Timber site, including $500,000 in grant money from the state Department of Commerce.
About $81,500 of the state money was expended on a Wolf Point location, which is where the hall was designated to go by the Montana Legislature in 2003. That was amended in 2011 to open the site options up through a selection process.
The Hall of Fame got pitches from Big Sky, Livingston, Miles City, Madison County and Twin Bridges, Wolf Point and Big Timber. The board of directors traveled the state to meet with local planning groups and each town submitted detailed proposal packets. 
Big Timber won out because of visibility of the potential location and the access from Interstate 90, plus the existing infrastructure and because it was on a tourism corridor between Yellowstone and Glacier National Parks.
A Department of Commerce document from June 2015 shows a rough breakdown of how the grant money was spent at the Big Timber site. The hall spent $231,360 on architectural planning to produce construction-ready documents like an exhibit master plan and construction and design documents. Documents showed the potential to draw tourists traveling between Yellowstone and Glacier National Parks, as well as benefits a large event center would offer.
About $115,000 was spent on construction, including infrastructure like water and sewer, as well as some building and exhibition construction and site signage.
Bill Galt, a Hall of Fame board member, said he was frustrated with all the financial investments made at the site.
"All the money we spent on engineering and architecture and everything, and then to get hit with this after all the planning we'd done. That turned into a waste of money."
About $40,000 was spent developing a capital campaign, something that included a donor prospectus and national campaign feasibility testing study. An additional $29,000 was spent to develop a donor prospectus and determine funding potential for the Big Timber site. Money also went toward a Museum Without Walls, a touring exhibition trailer. That hasn't been on the road lately because the Hall of Fame didn't have enough money to operate it. 
"We had to tighten our belts, so we have not been able to utilize that," Overstreet-Adkins said.
The Hall of Fame was aware of the big financial load it was taking on with the two lease payments, but felt it was the best approach.
"We knew when we selected the site that the combined $13,500-a-month lease payments would be a huge demand on the organization. We carefully evaluated the risk and reward of this and saw a good path forward with a lower cost to entry and phased development," Overstreet-Adkins said.
Galt said that though money was tight for the organization, it was doing OK with fundraising efforts until they had to be shut down because of uncertainty at the site.
"Once we found out that we had those wetlands issues and once we were made aware we might not get that approach and we might not be able to build as we planned, we thought it would be a little dishonest to go out and keep trying to raise money for something we weren't sure was going to turn out. It was a good spot. Transportation-wise, it was going to bring in a lot of people. The whole thing is we were lied to."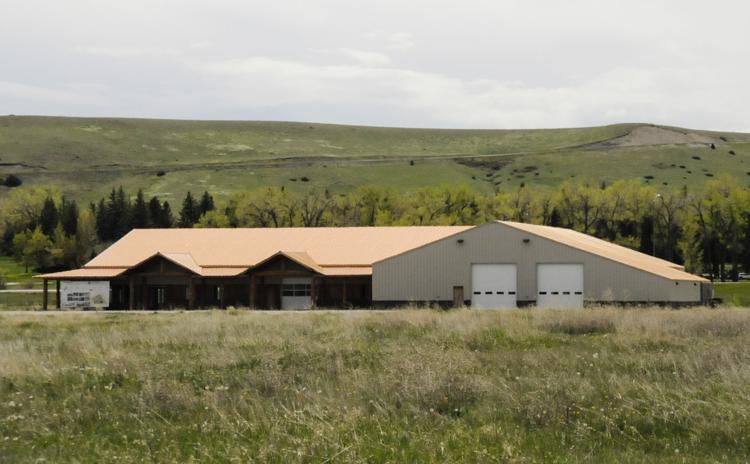 Big ideas
Plans for the Big Timber site were ambitious, but the prospectus said it was feasible.
Phase one would use half of the existing Ford dealership to house a welcome center, gift show and interactive exhibit about the cultural heritage of Montana, plus other exhibits to honor Hall of Fame inductees. The other side of the building would be an event center that could host the induction ceremony and also be available to rent. Later plans incorporated a pavilion, main entry drive, landscaping, separate Hall of Fame building, many exhibition spaces and galleries, a corral, amphitheater, outdoor arena and interpretive trail.
Overstreet-Adkins, a Big Timber native, said the facility would have been an incredible addition to the community.
"This is a project I'm very invested in. I've spent a lot of time on it. I care a great deal about the project and the community of Big Timber and I know our board of directors all feels the same way."
Merritt said the decision to terminate the lease agreement on his parcel was because the Hall of Fame stopped making payments and hadn't made any improvements to the building. The organization did spend money to put in an arena on the Lair property and that will stay with the property as stipulated in the lease.
"It's time for me to move on," Merritt said Wednesday. "They had stopped making payments because of their struggles. They just stopped. It's been quite a while."
His parcel does not have wetlands issues and thinks the hall could have opened up there without needing the Lairs' property.
Overstreet-Adkins said the Hall of Fame evaluated other options and tried to work out a boundary adjustment but could not.
"We were concerned that without a boundary adjustment, some of the issues we discovered on the larger parcel would continue to plague the smaller parcel either directly or indirectly," she said. "Without the resolution of the wetland issue, our engineer informed us that we would not be able to acquire a commercial permit for our planned development."
'Everybody was so excited'
Meggan Cirrincione, whose grandparents were inducted into the Hall of Fame in 2016, said in May the facility would mean a lot to her family.
"I thought that was so cool and such a great place because it's along the interstate and could bring a lot of people," she said. "The first thing I thought of was my grandparents. Their story is the stuff they're trying to recognize. Everybody was so excited about it."
Her grandparents are Henry Valgamore and Lorraine Valgamore, who, in their late 80s, still live 13 miles west of Big Timber on their ranch.
When Henry Valgamore's family moved into town in the 1940s, it didn't keep the young boy who loved ranching away from his family's homestead. On Fridays after school he'd ride his bike the 13 miles from Big Timber to Glasston to herd sheep and do other chores, cycling home Sunday afternoon. When the couple leased land for cattle in the 1960s, Henry worked out of town during the weeks for the highway department and Lorraine would load her four daughters into a wheelbarrow and push them around while she cared for the cattle, chickens, sheep and pigs.
"I know that my grandparents would like to see it, but at the same time it's been five years," Cirrincione said.
Overstreet-Adkis said she doesn't want the Hall of Fame to walk away from the Big Timber community yet.
"What our future looks like is unclear as far as what our vision will be," she said. "We need to take some time to re-evaluate and one thing I want to make clear is I don't think this necessarily means that we're no longer working with Big Timber. We invested quite a bit of money and time. I think the board has worked so hard, and that's why this is especially disheartening to have this fall apart because of undisclosed wetlands."
She also emphasized the Hall of Fame is still conducting its inductee process.
"I think what we're really going to try to focus on is our mission as we always have. Our Hall of Fame induction process has been so successful and such a wonderful bright spot for us as an organization and as the state of Montana."
Trustees across Montana are voting now on the 2017 induction class and the results will be announced in the coming month. The induction ceremony will be held next February at a Great Falls hotel.