When Randy Grow's draft lottery number came up in 1974, he reported for military service.
His vision didn't pass muster and he was dismissed with a polite, "Thank you for your interest. Next!" he said.
Determined to serve somehow, Grow picked up his bugle and dedicated himself to playing taps at veterans' graveside funerals and military ceremonies.
Since then, the Billings bugler said he's played taps at about 4,500 services.
"I have the final farewell. I hope to bring dignity, honor and closure to the family," Grow said.
Today, Grow will be among at least a dozen other buglers who will play the iconic 24-note call at Gettysburg National Cemetery in Gettysburg, Pennsylvania. The buglers will play a "rolling taps," Grow said, with one bugler after another playing the call.
The Sept. 4 sounding of taps will cap "One Hundred Nights of Taps" at the cemetery. The event, sponsored by the Lincoln Fellowship of Pennsylvania, Gettysburg National Military Park and Taps for Veterans, has featured the call at 7 p.m. every night since Memorial Day to honor those who fought in the Civil War and all wars before and since, said Wendy Allen, of the Lincoln Fellowship.
"Gettysburg and the Gettysburg National Cemetery are special, solemn places, and we are humbled to bring this experience each and every night this summer," Allen said in a news release.
Buglers who have performed include veterans, Civil War re-enactor buglers, community band members, students and music teachers.
West to east
More than 3,500 Union Army veterans as well as veterans from more recent wars are buried at Gettysburg National Cemetery. The bugle call takes place at the Soldier's National Monument, the site believed to be where President Abraham Lincoln delivered "The Gettysburg Address" on Nov. 19, 1863, to dedicate the cemetery. The short address is one of the most famous speeches in American history.
In the battle of Gettysburg, which began on July 1, 1863, Confederate troops under the command of Robert E. Lee ultimately were defeated by Union troops under Gen. Joseph Hooker, and then Gen. George Meade, after three days of battle. When the fighting ended, more than 51,000 Americans were dead, wounded or missing. Lee retreated, and the war continued for two more years.
A Glendive native, Grow, 61, learned to play the coronet in grade school and first began playing bugle calls as a Cub Scout at Boy Scout jamborees.
Grow has bugled taps everywhere he's lived during the years, from Great Falls to Idaho Falls to more recently, Billings.
Since moving to Billings in 2007, Grow has played the call at the Yellowstone National Cemetery in Laurel many times, sometimes as often as four times a week. He also plays taps quarterly at the cemetery, when the remains of veterans who have no survivors are interred.
"It's always been my honor and privilege," Grow said.
The most services Grow has bugled in one day has been six — four at the Yellowstone cemetery and two in Billings. He typically plays at about 120 services a year.
He rarely knows the deceased when he plays taps. And he doesn't get nervous.
"The moment the horn comes up, it's time to honor the veteran," he said.
The horn
Grow is committed to playing taps live, from a real instrument. While some places use digitally recorded versions on a device tucked into the instrument's bell, Grow said it's not the same.
"There is no heart and soul to it," he said.
Some buglers play taps exactly as written.
"Myself, I take my time with it," he said.
Adjusting to circumstances goes with the territory, he said. There was the time Grow had to improvise to be heard over helicopters flying overhead, and another when he timed his phrasing around unexpected gongs from church bells.
When it's cold outside, he tucks his bugle under his arm to keep it warm and blows into the mouthpiece to keep it and his lips ready to play.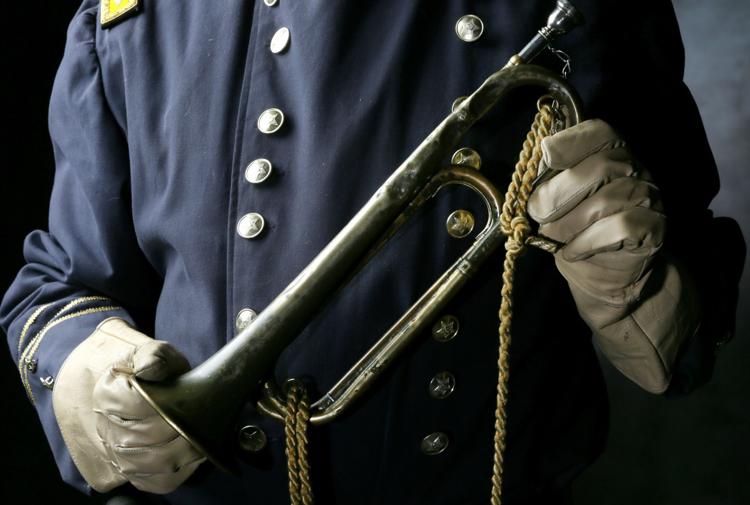 Grow's "go-to" bugle is a well-worn, pre-World War I military issue Conn instrument he bought at a pawn shop in Missoula.
Grow said he saw it on the wall and asked the owner if he could try it to make sure it didn't leak air. Three guys were in the shop having coffee and one of them, who was rather gruff, asked Grow if he knew how to play the bugle.
Yes, Grow responded, and played a few calls as requested by the man. The bugle was priced at $30, but the owner told Grow he could have it for $10 because, Grow said, he had made the man, a retired two-star general, smile.
Nicknamed "The Old Timer," the bugle "sounds fantastic," Grow said.
The event
For the Gettysburg event, Grow said he will be wearing his replica of a Civil War-era uniform. The outfit is one he wears when shooting period firearms as part of activities with the Single Action Shooting Society.
Grow said he thinks his invitation to play at Gettysburg stems from an encounter he had while on his way to play taps at the Yellowstone cemetery. Wanting to "look presentable" at the service, Grow said he stopped for a haircut by a friend who has a salon in Laurel.
There was a customer, Dick Hatfield, ahead of him, but Hatfield gave him his spot. Grow showed his bugle to Hatfield, who asked to hear it. As he played, Hatfield, retired from the Air Force, snapped to attention and tears started flowing, Grow said.
Hatfield, whose nephew gives tours at Gettysburg, and Grow became acquainted.
Several months later, Grow said, Hatfield called and told him he'd been invited to bugle taps at Gettysburg.
"I'm so deeply humbled even to be asked to do this," Grow said.