The room smells of cinnamon rolls and Farmer Brothers Coffee, and the kitchen staff is hard at work preparing chicken breasts served on a bed of roasted vegetables. Out on the dance floor, a dozen senior citizens work through their morning yoga session, doing their calm heart meditation and various poses.
While the sun is just finding the windows of the Missoula Senior Center, the Higgins Avenue building is already bustling with activity. Lori Chase, the day's instructor, urges her class to block out the noise, relax and clear its collective mind.
"Your body is a mountain, your breathing is the wind," she tells them. "Your mind is like the sky. Your thoughts are the clouds. Let them drift by."
For the past 50 years, the senior center has kept the city of Missoula's aging citizens busy with card games and coffee. Photos of the center's past presidents line the wall – images dating back to 1969 when U.S. men lived an average of 69 years and women just over 74.
But just as the black-and-white photos on the wall have given way to color, those at the senior center know times are quickly changing. The population of those over 60 in Montana is growing while the portion of those under 60 is shrinking.
The U.S. Census Bureau estimates that more than 30 percent of Montana's population will be older than 60 by the year 2030, marking an increase of 43 percent from 2012.
The center is racing to get ahead of the "silver tsunami," bracing for a wave of aging baby boomers who are living longer than their grandparents did, and whose demands will require the center to adapt to a new generation of needs or go the way of movies on VHS.
"When people see 'senior center,' they think walkers and old gray-haired people, but that's not who we are," said Michelle Hastings, director of the Missoula Senior Center. "That's not who we want to be. We're trying to move into this new generation of boomers, and it's a struggle."
***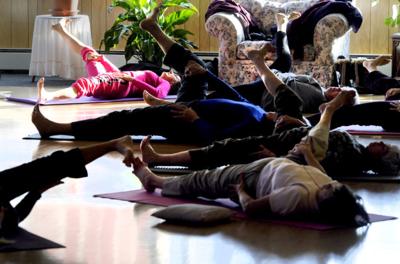 Historically, most of those who use the center have worked and retired, and they've done their volunteering. With their labors behind them, they've used the center to socialize, play games and eat discounted meals.
The offerings have established centers across the state as a community mainstay. They can be found in nearly every city and town, and their offerings have changed little over the years.
But unlike older generations, baby boomers are seeking more than cards, bingo and pinochle. Looking to stay relevant amid the changes, the Missoula center is working to give a new wave of seniors what they want.
"For our age, we're still working, raising our children, or maybe our grandchildren," said Hastings. "Society has changed and the culture of senior centers has changed. We've done a lot of brainstorming so we can serve everyone we possibly can."
The challenge facing senior centers is a precarious one, pitting the wants and needs of older customers against those of a new generation of aging citizens.
By definition, the "silent generation" includes those born between 1925 and 1942, and they now account for most of the center's clients. Baby boomers, born between 1943 and 1964, are also entering the mix. They're more active than their elders, they're working longer before retiring, and they're looking to redefine aging.
"There's an awakening in awareness that we can age different than our parents did, and I think we're living examples of that," said Louise Harvey, 68. "When we first started coming here for yoga, there were four people. We frequently have up to 20 people now, and that's just in two years."
Staying active may be the hip new trend that most separates boomers from those who came before them. The senior center now offers t'ai chi and yoga alongside party bridge and dominos. The cover songs of the 1950s have given way to the sounds of Full Grown Men and Russ Nasset and the Revelators.
While it's not always popular among those accustomed to the center's slower pace, Hastings said, the facility needs to look forward if it hopes to stay relevant.
"It's very expensive to run a center," said Hastings. "Without any assistance from the federal, state or local government, it's hard to say where senior centers will be. The demand will be higher because of our population of boomers, so our overall use will have to grow."
***
The concerns aren't reserved for the center alone. The Missoula Council on Aging also is engaged in the discussion on what the future holds, and it plans to host a community discussion next spring on how and where the center should grow or change.
What will the senior centers of tomorrow look like, if they even exist? What will it take to get baby boomers involved as they grow older? How do the centers remain viable in a community that will be older than it is young?
"Do you see a use for a senior center in the future, and what would it need to look like?" said Susan Kohler, director of the Missoula Council on Aging. "You don't want to alienate your current users, but you can't keep a center running without community support."
More than 11,930 people over the age of 60 lived in Missoula County in 2000. By 2010, that number increased 36 percent to 18,689. Ravalli County saw an increase of 13 percent, from 9,606 seniors in 2000 to 10,944 by 2010.
The trend is expected to amplify in the future as boomers continue to age, and some, including Kohler, believe the current senior center is ill-suited to meet the mix of needs.
"Boomers want a clean, fresh building, lots of classes, and opportunities to do things with dances while listening to '70s music, like 'Stairway to Heaven,' " said Kohler. "Most of those at the centers now are our parents. They thought we were drug-crazed sex addicts listening to Zeppelin."
Kohler said senior centers across the state are struggling with the same issue and asking the same questions – how do they attract younger seniors? The answers aren't always popular, and many centers can't afford to make the changes, including those who have no paid directors and rely on volunteer services.
But as Kohler said, baby boomers have defined every decade they've entered, largely due to their numbers. She feels that Missoula, at least, is ready to have the conversation on what the future holds.
"The community should be supporting our older adults just like we support our younger children and our families," Kohler said. "The senior center is an old building. It'll have nothing but more repair challenges, so it'll make sense at some point to look at it."